Our Heritage
A Local Basketball Legacy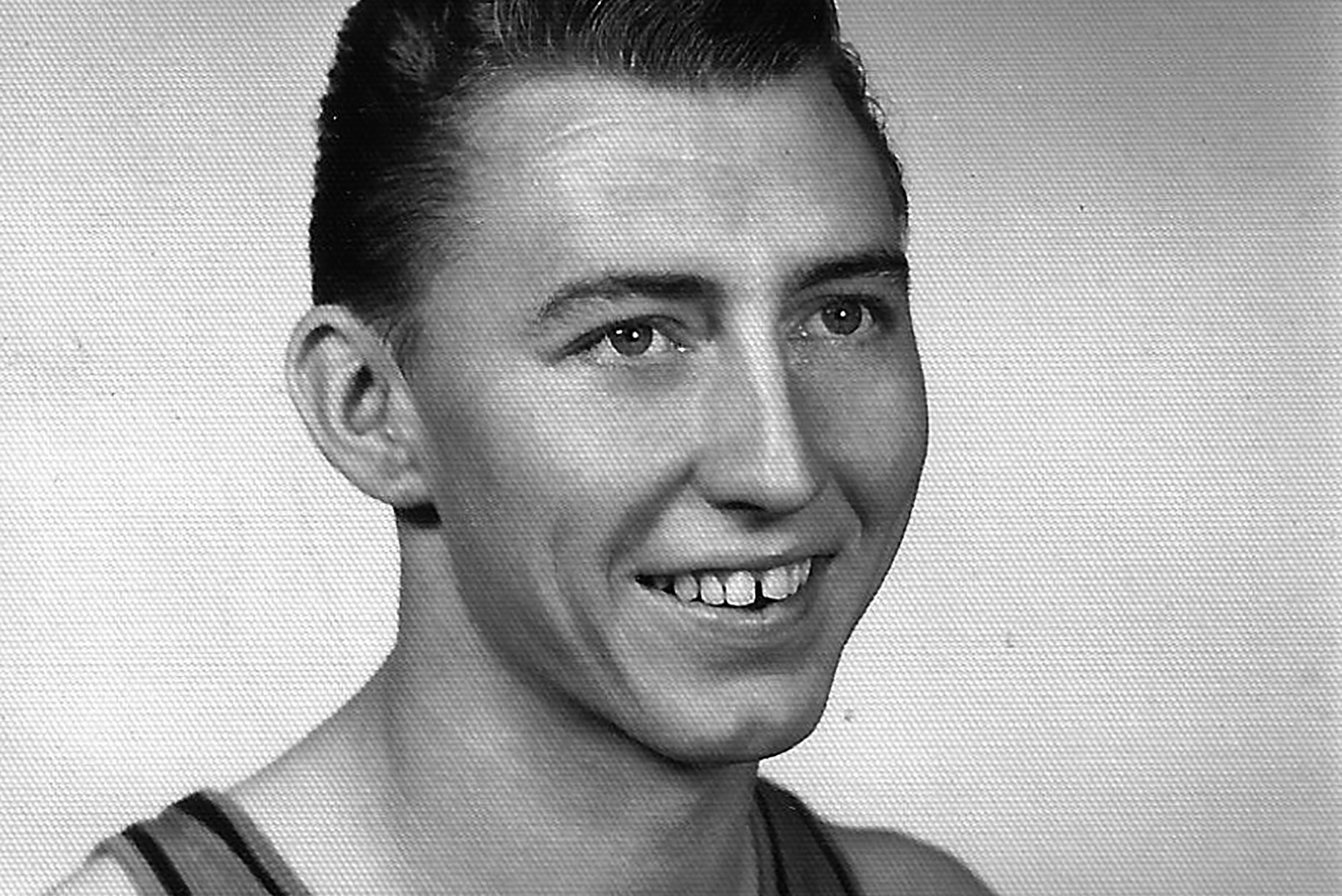 All you basketball fans out there, as well as you history buffs … this one's for you. Our local history has no less a case of March Madness than the Road to the Final Four. The town of Youngsville, Wake Forest's neighbor just to the north, has a long history and a close relationship to Wake Forest and to Wake Forest College and University in so many ways, but none more so than in basketball. For decades, the tiny Franklin County town was a basketball powerhouse. Youngsville High School won the state 1A basketball championship in 1956, 1968, and 1970. Former Youngsville High players frequently were recruited to play college ball for Wake Forest University, both before and after the move to Winston Salem. Among Youngsville standouts were coaches Al DePorter and Larry Lindsey, along with players like Jerry Mitchell and Marshall Winston "Twig" Wiggins (pictured).
The 1956 team started what you might call a dynasty. Jerry Mitchell played for Youngsville High School and went on to play for the Wake Forest Demon Deacons. Likewise, so did Twig Wiggins. Among the other standout players on that 1956 team was legendary high school coach Larry Lindsey. All played under and credit Youngsville High School coach Al DePorter for their success in basketball, business, and life. To say coach DePorter stuck with his team is an understatement – he left his position at Youngsville High School and followed Wiggins and Mitchell to Wake Forest University in its first year in Winston-Salem to be assistant coach under the legendary Coach Horace "Bones" McKinney. Bones McKinney was such a colorful character that he could be the subject of another entire article. Once Mitchell and Wiggins graduated from Wake Forest, DePorter returned to his beloved Youngsville that he still calls home today.
Larry Lindsey played college ball at Pembroke after having to turn down a basketball scholarship at NC State due to an ankle injury. He returned to his native Youngsville to coach his high school alma mater to two more state championships in 1968 and 1970. After the 1970 championship, he moved down the road to coach at Wake Forest-Rolesville High School, now again Wake Forest High School. In 28 years of coaching Lindsey had 610 wins and 156 losses. In 1972, Lindsey was named the top prep coach in the nation by Sports Illustrated. His teams made the state championship playoffs 28 times and won eight state champion titles. In 2011, Lindsey was named to the North Carolina Sports Hall of Fame, an honor usually given to the pros in big time North Carolina sports. Perhaps for Lindsey, even a greater honor was that in 2003 the gymnasium at Wake Forest High School was named for him.
Twig Wiggins, after graduation from Wake Forest University, went on to coach basketball at both the high school and college level. In 1970, Wiggins left the head coaching job at Elon University and returned to the Wake Forest area where he started a business based in his native Youngsville. He has played a major role in the development of recreation programs in the area. Wig-gins, along with former teammate Larry Lindsey and friend Lin Green, formed a recreation board to promote and advise the town on recreational programs. He did not totally give up coaching – he has coached his two daughters and his grandchildren's teams as well.
By the way, Wiggins, Lindsey, Mitchell and Coach DePorter all continued to play competitive sports. In 1995, the four, along with friends Bob MacGillavray and Alley Hart – both also former Youngsville basketball standouts – won the North Carolina Senior Games and went on to win the national title in Chicago that same year. The team was named the Fifty Sixers for their high school championship year. Twig continued to be a phe-nomenon in the Senior Games, winning an additional five national gold medals in 2001, 2003, 2013, 2017, and 2022. In addition, the Fifty Sixers won two silver medals and one bronze medal. Twig is not the only member of the Wiggins household with National Gold – Sarah, his high school sweetheart, won National Gold with a team of Franklin County ladies in 1999. Sarah and Twig married after their sophomore year at Wake Forest College.
Today, Twig Wiggins is the only member of the group who still plays competitive basketball. Jerry Mitchell passed away in 2007. Wiggins and Lindsey live in Wake Forest, MacGillavray lives in Raleigh, Hart resides in Wilmington, and DePorter still calls Youngsville home.
Ed Morris
Executive director of the Wake Forest Historical Museum & Wake Forest College Birthplace.