North Carolina's Seasonal Sensations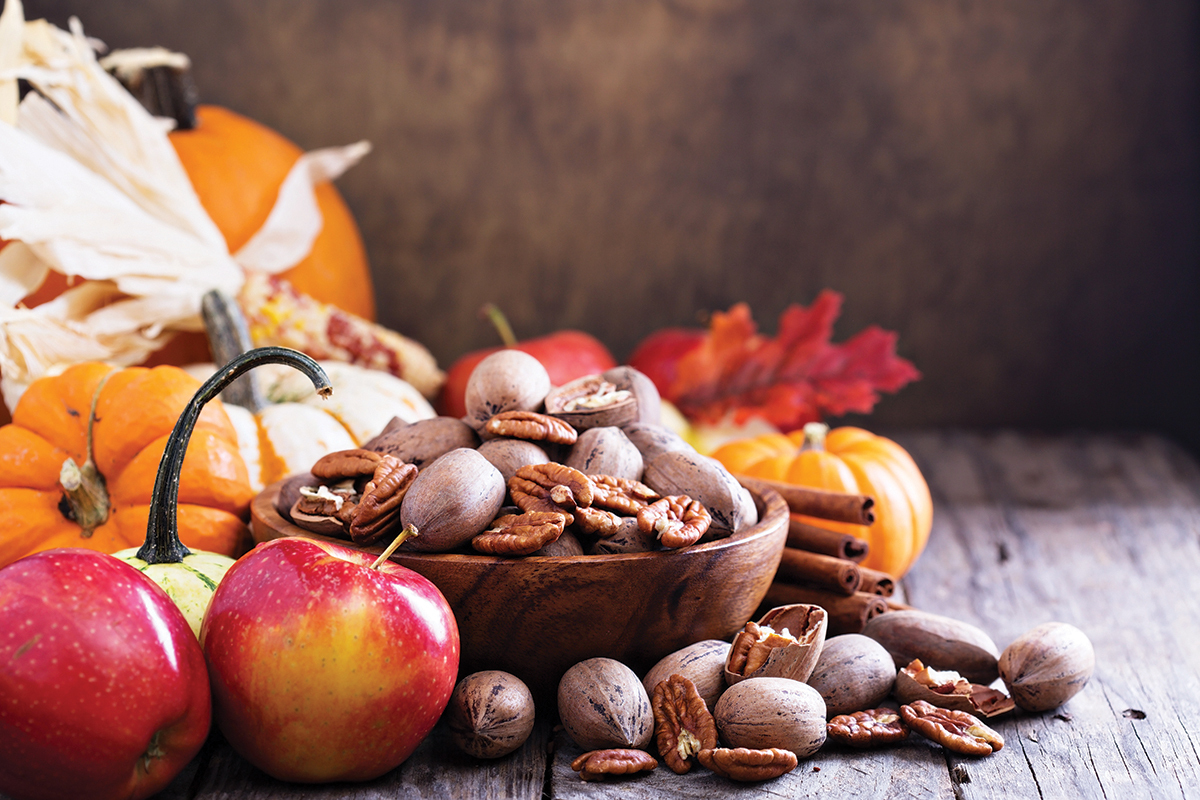 Fall is finally here! And that means it's time to snuggle up with warm, comforting food that's as good for the body as it is for the soul – especially several of North Carolina's seasonal sensations: pumpkins, apples, and pecans.

PUMPKINS
In North Carolina, pumpkins are grown more than any other veggie in the month of October. Not only are pumpkins loaded with vitamins and minerals that boost the immune system, they also promote healthy vision and eye function, and are known to reduce the risk of some cancers and heart disease.
Both the pumpkin's flesh and its seeds are rich in alpha-carotene, beta-carotene, fiber, potassium, zinc, and Vitamin A. So, eat and enjoy those pumpkins, but be wary of the delectable treats for which the pumpkin is deliciously known.
Usually found in pies, cakes, bread, muffins, and cookies, pumpkin can quickly go from being a healthy choice to one that piles on unwanted pounds. But don't worry – there are tons of pumpkin dishes ready for the making that are as healthy as they are delicious, such as hearty pumpkin soup and the following savory wild rice and pumpkin cakes.
Wild Rice and Pumpkin Cakes
– 1 cup wild rice blend, cooked and cooled
– 1/3 cup dried cranberries
– 1/3 cup dried apricots, diced small
– 1/3 cup carrots, diced small
– ½ cup toasted pecans, chopped
– ¼ cup part-skim milk mozzarella, shredded
– 1 cup pumpkin puree
– Olive oil or cooking spray
– Mesclun greens
Cook the rice according to the directions on the package.
Fold in cranberries, apricots, and carrots for the last 10 minutes of the cooking time – you just want to cook the carrots and plump up the cranberries and apricots. Gently fold in pecans, cheese, and pumpkin.
Divide rice into 10 balls, flatten each into a cake, and place on an oiled, foil-lined baking sheet.
Bake 10 minutes at 350 degrees F, or just to heat through, and serve over a handful of mesclun greens.
APPLES
This fall, feed the ones you love a healthy dose of all the wholesome benefits another local seasonal sensation has to offer – the apple.
With only 85 calories and 5 grams of dietary fiber per medium apple, this fruit packs quite the healthy punch. For starters, the apple's soluble fiber reduces cholesterol by absorbing it before it gets into your arteries. It also helps regulate blood sugar levels. Insoluble fiber helps curb the appetite, keeps you regular, and may reduce the risk of colon cancer.
What's more, apples, like other fruits and vegetables, aren't just low in calories and high in nutrients … they're also full of phytochemicals, bioactive substances that appear to have valuable health benefits we're just beginning to understand.
The holiday season is in full swing – and what better time to try out some takes on healthy and delicious apple recipes, such as homemade applesauce, apple parsnip soup, apple pie with dried cherries, or this tasty apple pomegranate crisp. Each dish is sure to please even your pickiest holiday eater.
Apple Pomegranate Crisp
– 4 medium apples, peeled and cubed
– 1 cup pomegranate seeds
– 2 tablespoons brown sugar
– ½ teaspoon salt
– ½ teaspoon cinnamon
– ½ teaspoon ginger or pumpkin spice
– 1 cup old-fashioned rolled oats
– ¼ cup loosely packed brown sugar
– ½ cup walnut pieces
– ¼ cup whole wheat pastry flour
– 1 teaspoon cinnamon
– ¼ cup unsalted butter or coconut oil
– 1 teaspoon vanilla extract
Preheat oven to 375 degrees F.
In a large bowl, toss apple cubes and pomegranate seeds with sugar and spices. In another small bowl, combine oats, brown sugar, walnuts, flour, and cinnamon.
Add softened butter and vanilla, and mix thoroughly with a fork or your hands.
Spray an 8 x 8 inch baking dish with non-stick spray. Layer the fruit and then the oat mixture evenly on top.
Bake for 25-30 minutes, or until crisp is golden brown. Serve hot.
PECANS
This season offers the perfect opportunity to gather your family around the dinner table, giving thanks for the blessings in our lives. Many families indulge in all the holiday favorites that make Thanksgiving a meal to remember. And in many cases, those favorites are as healthy as they are tasty, with some of those favorites featuring another North Carolina seasonal sensation – pecans.
Pecans are packed with antioxidants like Vitamin E that may protect against heart disease. They also contain plant sterols, fiber, and heart healthy monounsaturated and polyunsaturated fats, all of which may help lower cholesterol levels. Now that's something to be thankful for!
This Thanksgiving, try a healthy pecan dish in place of one that's loaded with unwanted fat and calories, like spiced pecans or this sweet potato pecan casserole – both perfectly delicious for the holiday season.
Sweet Potato Pecan Casserole
– Cooking spray
– 3½ pounds sweet potatoes (about 5 medium), peeled and cut into 1-inch chunks
– 1/3 cup honey
– 1 large egg
– 1 teaspoon ground cinnamon
– ¼ teaspoon ground nutmeg
– 1/8 teaspoon ground ginger
– Kosher salt
– 1 tablespoon packed dark brown sugar
– 1/3 cup finely chopped pecans
Preheat the oven to 350. Mist an 8-inch square baking dish with cooking spray.
Bring a few inches of water to a boil in a pot with a large steamer basket in place. Put the sweet potatoes in the basket, cover, and steam until tender, 20 to 25 minutes. Transfer the potatoes to a bowl and let cool slightly.
Add the honey, egg, 1/2 teaspoon cinnamon, the nutmeg, ginger, and 1/2 teaspoon salt; whip with an electric mixer until smooth.
Spread the sweet potato mixture in the pre-pared baking dish.
Mix the brown sugar, pecans, and the remaining 1/2 teaspoon cinnamon in a bowl; sprinkle over the potatoes.
Bake until hot and beginning to brown around the edges, 40 to 45 minutes.
For more recipes and healthy lifestyle tips, visit the WakeMed Voices blog (where you can also subscribe) at wakemedvoices.com. The WakeMed Voices blog provides an outlet for their many experts to share information on topics important to the health of patients and the community.