Nip Spring Allergies In The Bud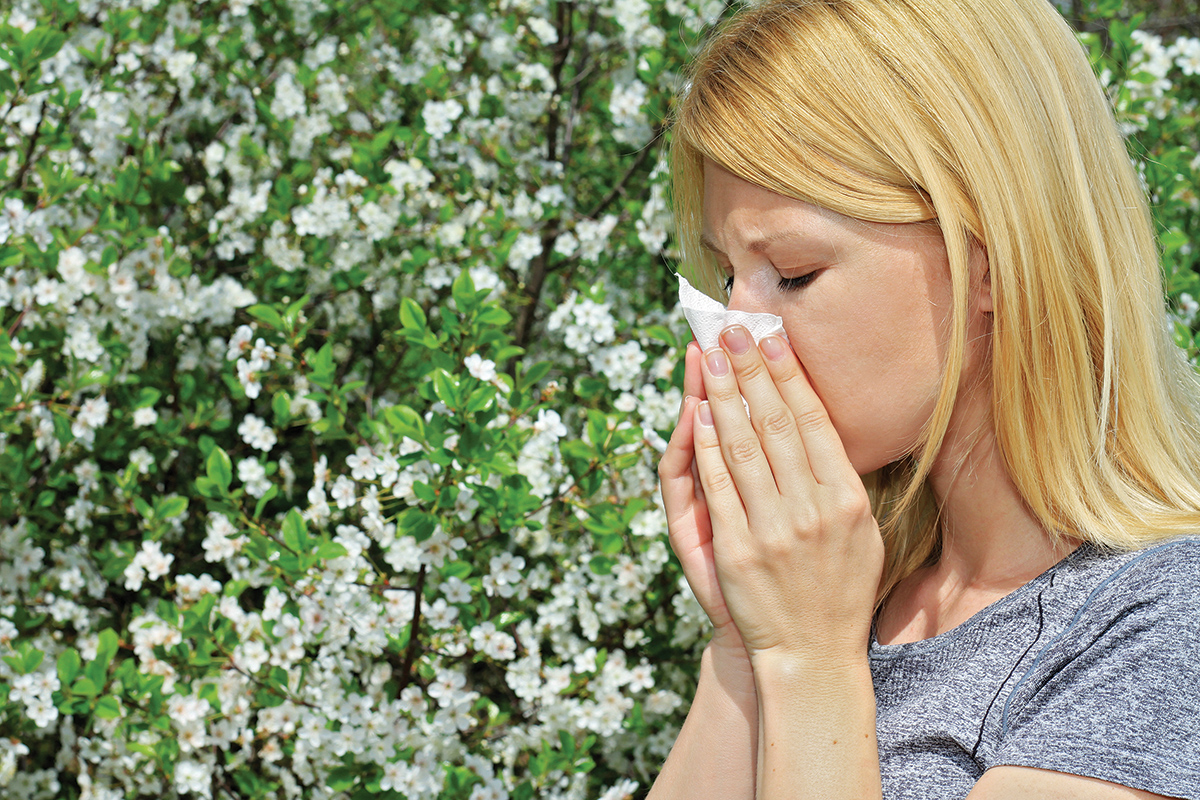 We started seeing the pops of color on forsythia bushes and daffodils a little earlier this year due to an unseasonably warm winter. It is these blooms that are the typical hallmarks of the transition from cold and flu season to spring allergy season. Some have welcomed an early visit from warm weather and blooming flowers with open arms. But if you suffer from allergies, you may be in no rush for the seasons to change.
We spoke with ear, nose, and throat specialists Dr. Michael Ferguson and Dr. Allen Marshall from Wake Physician Practices-Ear, Nose & Throat (ENT) – who both see and treat patients at the practice's North Raleigh office – about how to find some relief against the itchy, sneezy, stuffy side effects of allergies.

North Carolina is a particularly bad state for allergies. Our environment is a great place for plants and trees that produce allergy-causing pollen to grow, making spring in central North Carolina a challenge for many allergy sufferers.
Typically, this cloud of yellow dust arrives towards the end of March or beginning of April, and lasts a couple of weeks. "You might be surprised to learn that the yellow pollen coating your car, driveway, and every other surface is actually not the kind of pollen that contributes to allergies," explained Dr. Allen Marshall.
That dreaded yellow pollen is, however, a good sign that other allergy producing pollens that are not visible to the eye have also arrived. What are the most common types of seasonal allergies that we tend to experience in the Triangle? Dr. Michael Ferguson gave us a rundown:
– Grasses (Bermuda, Bluegrass, Bahia, Johnson);
– Trees (Oak, Hickory, Cedar, Birch, Elm);
– Dust mites, pet dander, mold, cockroach, fungus.
If you know that you suffer from spring allergies, it is probably a good idea to proactively begin treating yourself when you start seeing the flowers bloom or traces of pollen in the air. "The good news is many people are able to control their allergies with over-the-counter drugs and remedies," said Dr. Ferguson. There are several over-the-counter allergy medicines on the market that are quite effective, including oral antihistamines and topical nasal steroid or antihistamine sprays. But it's important to note that antihistamines containing decongestants may impact blood pressure. Those with known high blood pressure should check with their physician before taking these medications regularly.
Prescription drugs often have fewer side effects than over-the-counter allergy offerings. Your doctor can help determine which medicine or treatment plan will work best for you and your allergy symptoms, whether seasonal or year-round.
Both Drs. Ferguson and Marshall advised that if your symptoms are more severe than normal, if your symptoms are not responding to treatment as you expected, or if you suspect your cold or spring allergy has caused a respiratory or sinus infection, make an appointment with a doctor. Your primary care doctor or a specialty physician, such as an ENT doctor, can prescribe an allergy drug for you or refer you to an allergist if needed.
Additionally, those with chronic allergies can develop sinusitis. According to Dr. Marshall, cardinal symptoms of sinusitis include facial pressure as well as pain in the face, forehead, or teeth that persist for more than a week. The American Academy of Otolaryngology-Head and Neck Surgery reports an estimated 35 million people develop chronic sinusitis each year, making it one of the most common health complaints in the U.S.
It is important for those suffering from allergies to limit their exposure to allergens. Of course it's not feasible to avoid allergens altogether, so Dr. Ferguson and Dr. Marshall suggested a few helpful tips to remember:
– Shower or bathe after spending time outdoors;
– Wash your sheets and pajamas in hot water to kill dust mites;
– Use hypoallergenic bedding;
– Wash your clothes often to remove allergens;
– Indoor humidity levels should run between 30% to 40%. Use a humidifier or dehumidifier to prevent mold growth;
– Limit your time outside during peak pollen seasons;
– Close doors and windows during high pollen count seasons.
While organic honey may offer some dietary benefit, it has no measured impact on preventing and/or treating seasonal allergies added Dr. Marshall.
WakeMed ENT Physicians
Offering a wide range of ear, nose, and throat services to adults and children including nasal and sinus care along with allergy treatment. Their North Raleigh office is conveniently located in the Physician Office Pavilion at WakeMed North.