New Year, New Style
Design Trends For 2020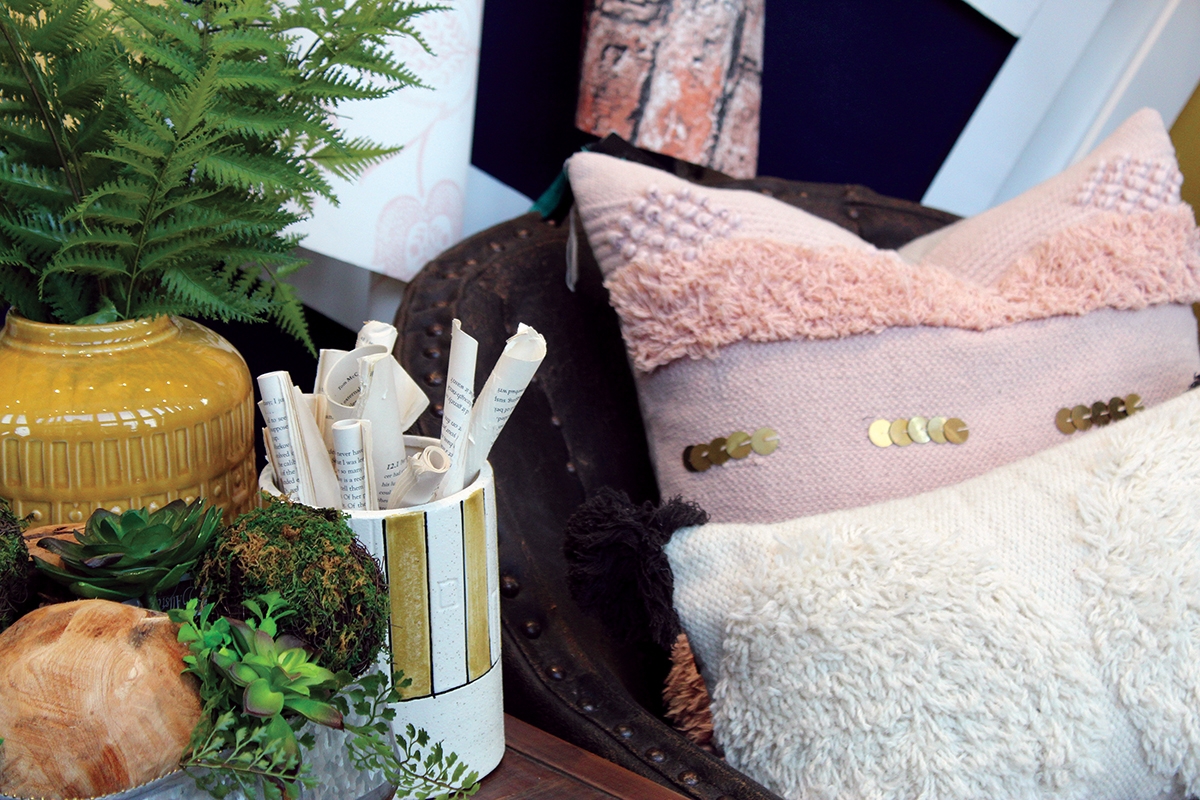 As we rang in the new year, we left 2019 with a renewed spirit. In this world of technology, our minds and souls are craving warmth and coziness. As computer screens glare and cell phones send out their cold blue lights, the trends for residential and commercial design are centering around wellbeing, individuality, comfort, and sustainability.
Luxurious textiles and earthy materials mark one of the foremost trends of 2020. Fabrics in velvet, silks, and sheers are bringing in much-needed texture. The mixing of bold fabrics – both in pattern and in color – are hot for the new year. And offsetting these bold colors and patterns – incorporating even more texture – are the ever-so-popular earthy materials of rattan, jute, sisal, and hemp. You can effortlessly and inexpensively introduce these into your space with a rug, a wall hanging, or an assortment of baskets. Also hitting the decorating scene are terracotta and concrete. You can easily integrate these materials for on-trend décor by adding accessories, tables, and tile, and even switching out your countertops for a more dramatic effect.
Also trending for 2020 is wall décor in the form of wallpaper and trimmed out walls. Fortunately, wallpaper has come a long way since the '80s (I'm sure you're picturing the living room from your childhood home right about now). Today, use it to incorporate texture/dimension, pattern, and/or color as an accent on one wall, rather than all four, for that wow factor the space craves. Create a design or pattern on a feature wall with trim. Think outside the box of just normal squares and instead, come up with a creative and unique pattern. Paint the trim all one color for a subtle dimensional look, or color block it for a more whimsical and vibrant statement.
Color – some of us can't get enough of it, and others are scared to death of it. 2020 welcomes an array of colors to suit the taste of anyone and everyone. Sherwin Williams' color of the year is SW6244 Naval, a stunning navy blue hue. Other colors of the year range from the terracotta shade of Cavern Clay to the blush-pink color of Gracious Rose. Royal colors aren't left out, though, ranging from the deep green of Ripe Olive to the burgundy-type of Juneberry, with yellow golds thrown in to complement those tones. For you neutral lovers out there, warm grays are still hot, as they mix well with all of these popular pops of color. With this assortment of colors trending, you're sure to find the colors you love and still be in style. The idea is to do you – to discover your comfort and your sanctuary.
With sustainability being all the rage these days, it's no wonder that artisanal crafts would be so popular. This craze is all about both repurposing and the art of crafting. For instance, caning is
back in a big way. Cane chair bottoms with wood frames or up-holstered chairs with caned sides are hitting the furniture scene everywhere we look. Globally-inspired crafted items such as woven baskets and wall hangings and clay pottery are very desirable nowadays. And let us not forget about reclaimed wood. Reclaimed wood – a great example of taking something old and making it new again – is being used for everything from furniture to wall coverings. Antiques fall into the repurposing category as well. Transforming an antique secretary into a stunning conversation-invoking bar breathes life back into something old and outdated. Projects like these may take a little creative thinking and a bit of hard work, but the result will be a one-of-a-kind piece of art (that did not get thrown into the dumpster)!
As I stated earlier, 2020 is about individuality, well-being, comfort, and sustainability. When it comes to decorating your home, it's about creating a space that speaks to you and your family. Adding old with the new and mixing styles and textures is what will make your home a reflection of its owner. Happy New Year and cheers to a home that is as unique as you are
Rhonda Benvie Plummer
The owner of Help Me Rhonda Interiors and Open Door Furniture & Accents, a furniture and accessories store, in Raleigh. Visit www.helpmerhondainteriors.com or www.opendoorfurnitureandaccents.com, or call 919-263-9054.