Nature's Decorating Bounty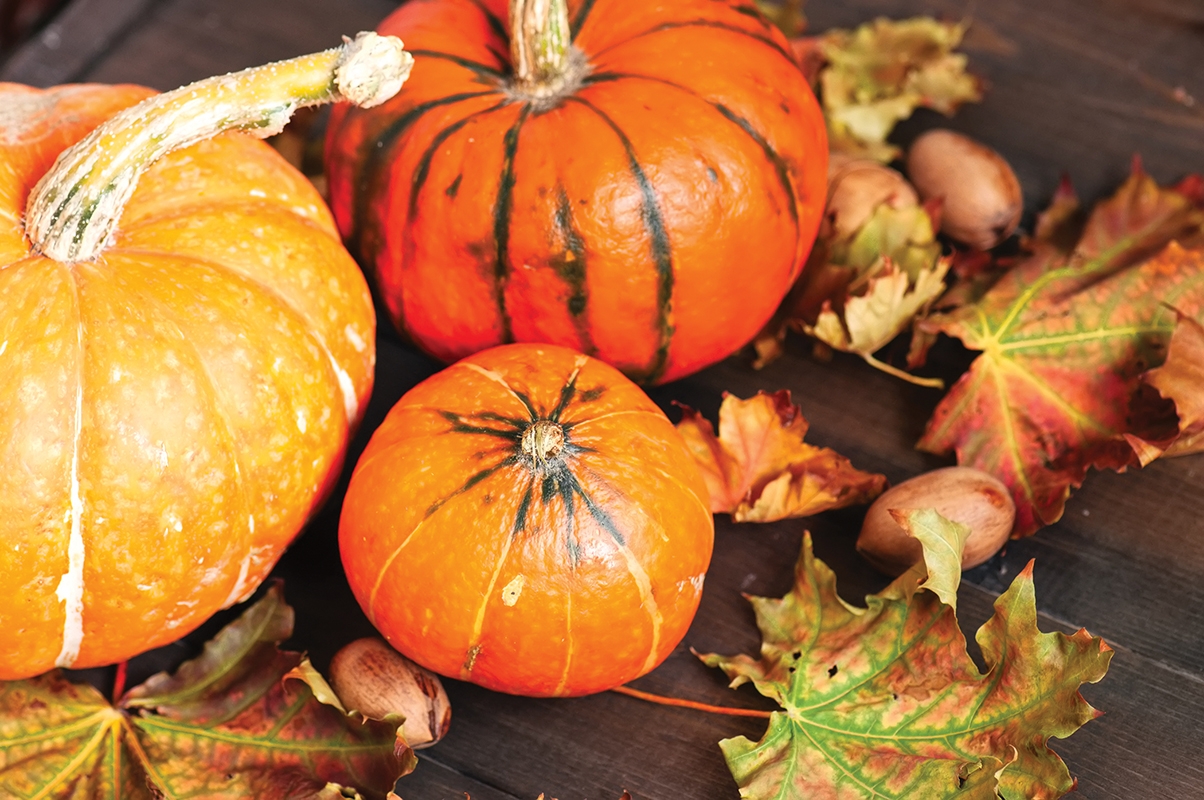 It's that time of year again – the season when we start dreaming of holiday decorating. Thankfully Mother Nature provides us with an abundance of decorating elements this time of year, so with just a little creativity and a bit of craftiness, you can easily transform your living spaces to reflect the spirit of the season.
This season is one of leaves changing from gorgeous greens to vibrant reds and oranges. Evergreens continue to share their leaves in all types of textures. Branches are bare, providing an idyllic embellishment option. Fun and festive autumn decorating elements – pinecones, acorns, nuts, and the like – are falling to the ground, just waiting to be gathered so the beauty of the outdoors can be brought in. Beautiful berries are offering us the magnificent red hues of fall and winter. Gardens are producing pumpkins and gourds, as well as iconic floral splendor. This natural glory that can be found right in your own backyard (or at your local garden center) provides simple, cost-effective, and striking decorating opportunities that will easily carry you from the spookiness of Halloween to the harvest of Thanksgiving to the merriment of Christmas.
A bare branches wreath that can be displayed where you currently have a framed photo or work of art can be embellished with fake spider webbing and artificial spiders for a spooky Halloween effect. Once the calendar switches from October to November, simply remove the spiders and webbing, and replace with an assortment of colorful leaves, evergreen stems, pinecones, and ribbon for a fall wreath to complement your autumn design scheme.
For the mantel, turn unadorned frames of various sizes into stunning accessories for showcasing an assortment of autumn leaves in different colors, sizes, and textures by simply gluing acorns onto them. Fill glass cylinders or jars with acorns to form a somewhat flat surface and place a votive candle atop them. Place the aforementioned bare branches in additional vases, along with fall leaves and flowers, for added height. With just a few items, some natural elements, and a little bit of time and effort, you have created a beautiful decorating focal point that brings the outdoors in (add a few ghoulish accessories for Halloween that can be quickly removed once it's time to turn your decorating focus to Thanksgiving).
For a natural table centerpiece, scatter wood rounds and place miniature pumpkins in similar sizes atop them. For added personality, stencil "FALL" or "BOO!" on these pumpkins, or use vinyl adhesive letters that can be removed if you want to use the same pumpkins for both Halloween and Thanksgiving. Decorate in-between the rounds with evergreen leaves and votive candles. Placing leaves under chargers will give your autumn tablescape a warm seasonal glow, providing it with elegant details that will help make any holiday meal more memorable.
Pumpkins offer endless decorating possibilities. Paint them in any color and pattern of your choosing. Maybe polka dots are your taste, or perhaps you prefer stripes. Whichever way you go, mix and match sizes and colors for a dramatic statement. Need an ice bucket for your Halloween party or Thanksgiving feast? Cut a hole in the top of a large pumpkin, clean it out, and fill with ice and your favorite beverages. Create a pumpkin planter that is perfect for these events by filling a cleaned-out pumpkin with succulents of various colors and shapes (for a spooky Halloween effect, glue artificial spiders to the pumpkin's exterior) – voila, a unique natural centerpiece. (Because pumpkins have a limited time before they start to decay, it's best to make this the day before or the day of your event. Also, spray pumpkins and gourds, including the inside of carved ones, with one tablespoon of bleach per quart of water to preserve them longer).
What autumn decorating scheme would be complete without fall flowers? One of the most popular and easiest ways to decorate your home for the season, mums automatically spread autumn joy into any space. Casually displayed by the fireplace, presented on a sofa end table, or filling a vintage bucket or farmhouse basket placed by the front door, this seasonal staple will instantly add a touch of fall.
After the fall holidays comes winter and Christmas. Many of these same ideas can be incorporated as we start dreaming of a white Christmas, mistletoe, and the aroma of cinnamon and peppermint.
Bold red berries are plentiful this time of year, so take advantage and cover the multi-use branches wreath described previously, capped with a burlap bow for added beauty, texture, and dimension. Utilize them in glass vases lined up on your holiday table. If you do nothing but that, you'll have made quite the decorating statement. For more effect, fill those vases with these berries, as well as pinecones from your backyard, pine needles gathered from your outdoor beds, holly leaves clipped from your favorite holly bush, and cinnamon sticks for an instant decorating addition with a nice scent – these can also be used anywhere in your home where you'd like to add easy and inexpensive holiday accents and aroma. And nothing says Christmas more than the quintessential poinsettia – by featuring these iconic plants on tables, counters, shelves, and mantles, they pretty much do the decorating for you.
There are countless ways to use nature's bounty when decorating for the holidays. So take a walk outside and let your surroundings inspire you – once your creative juices start flowing, let the decorating commence … and before you know it, your home will be warm, festive, welcoming, and ready for the joy of the season.
Rhonda Benvie
The owner of Help Me Rhonda Interiors and Open Door Furniture & Accents, a furniture and accessories store, in Wake Forest. Visit www.helpmerhondainteriors.com or www.opendoorfurnitureandaccents.com, or call 919-263-9054.