Nature Inspired
Adding Natural Summer Flair To Your Home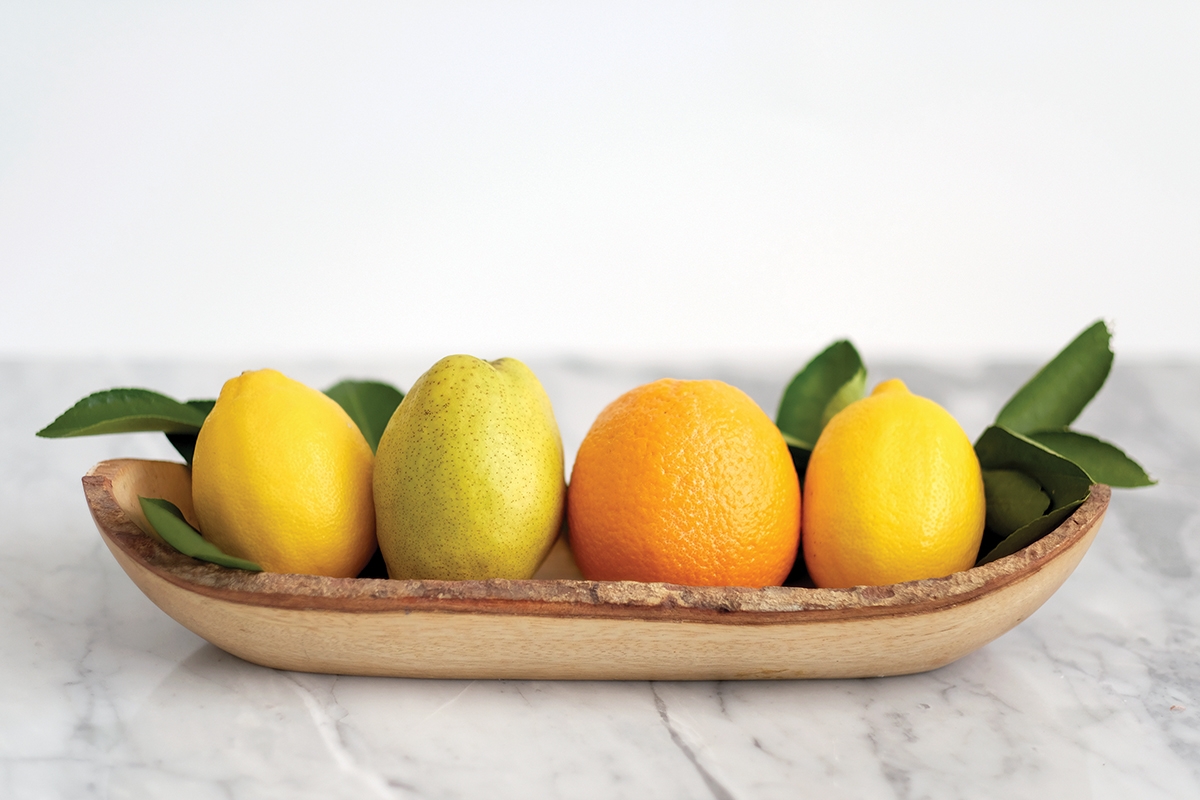 The concept of bringing nature to your home interior is definitely trending in today's decorating world. Not only does nature bring warmth and energy to a space, it also provides calmness and can soothe our souls. Imagine wood, foliage, fruit, vegetables, and water as decorative pieces in your home. It's all about bringing the outdoors inside ... and with an added bonus – nature minus the humidity and mosquitoes!
Wood has been used for centuries for many purposes in our homes: furniture, cabinets, and floors, just to name a few. But think of wood in its raw form. It's earthy and adds texture to any space. Picture thin slabs of raw wood used as chargers for a dining room table setting, or thicker versions as risers for decorations in bookshelves. A large stump could be used as a stool, while a smaller one with a hole drilled in the center can act as a charming candle holder. Other wood forms like bare, beautiful branches can be used as wall décor, either hanging directly on a wall or placed in shadow boxes. If your space is more modern and raw wood is not your style, that trusty spray paint can is all you need to take wood from rustic to modern. Those raw wood chargers or branches I mentioned, but painted gold or silver, can take on a whole new look. Get creative with colors depending on your space and individual style.
Greenery is another form of nature that is a must-have in every space. Incorporating potted plants not only looks fabulous but provides clean oxygen for your home. In addition to plants in pots, you can bring greenery into your home from right in your own backyard. Chop off some green branches from a plant or bush and add to a vase for an instant boost of nature. Or maybe you have a plant boasting large, unique leaves. Cut a few to swirl around in circular, clear vases of varying heights. Pour in some water for instant depth perception and you have an easy and elegant centerpiece.
As I mentioned, greenery breathes life into any space, and is a simple way to freshen up your decor for the summer season. However, another aspect of nature that you may not normally think of can add color and variety to your space: fruits and veggies! Fresh summer produce offers an endless amount of decorating possibilities. Not only can seasonal fruits and veggies provide color, but their different textures add interest to what can be an otherwise boring space. Clear vases by themselves don't have much impact because they lack "presence." But take that same clear vase and fill it with layers of corn, beans, berries, etc., and now you have color and texture to showcase that sweet and spunky summer style. Or maybe grab a plain bowl; fill it with lemons, oranges, peaches, and grapes; and watch your space come to life. A tray with candles can look nice, but take those same candles, and using twine or a fun ribbon, wrap them with green beans, asparagus stems, and artichokes for a summer-inspired centerpiece.
In addition to using fruits and veggies in tabletop decorations like trays, candles, and bowls, produce can make for adorable accents in wreaths. I know what you're probably thinking: "Aren't wreaths for winter decorating?" Yes, but they're great for other seasons as well. While I wouldn't necessarily recommend using real fruits and vegetables for wreaths due to concerns like insects and rotting, faux produce is a great way to integrate seasonal touches to your front door or blank wall. Simply glue leaves, branches, and twigs from your backyard into a circle, and attach some artificial oranges, lemons, peaches, or other summer fruit (or flowers) for an easy and charming homemade wreath.
Mixing all of these items from nature in a decorative piece will reference the great outdoors in its truest form. Envision a beautiful wood tray donned with candles, wrapped in green beans and asparagus; add a few artichokes, a succulent, lemons, and some greenery from outside. Spread some moss throughout to fill empty spots, sprinkle with berries, and you've created a beautiful arrangement for a back patio or dining room table. The best part of decorating with nature is that you probably already have many of these items, making for an inexpensive way to spruce up any space for the summer!
Nature is everywhere and begging to be enjoyed, both outside and inside. It soothes the soul and boosts our creativity. Be unique and have fun with your summer decorating; there is no right or wrong! As quoted by novelist and activist Alice Walker, "In nature, nothing is perfect, and everything is perfect. Trees can be contorted, bent in weird ways, and they're still beautiful." Now go and create your sensational summer masterpiece!
Rhonda Benvie Plummer
The owner of Help Me Rhonda Interiors and Open Door Furniture & Accents, a furniture and accessories store, in Wake Forest. Visit www.helpmerhondainteriors.com or www.opendoorfurnitureandaccents.com, or call 919-263-9054.