Mantel Magic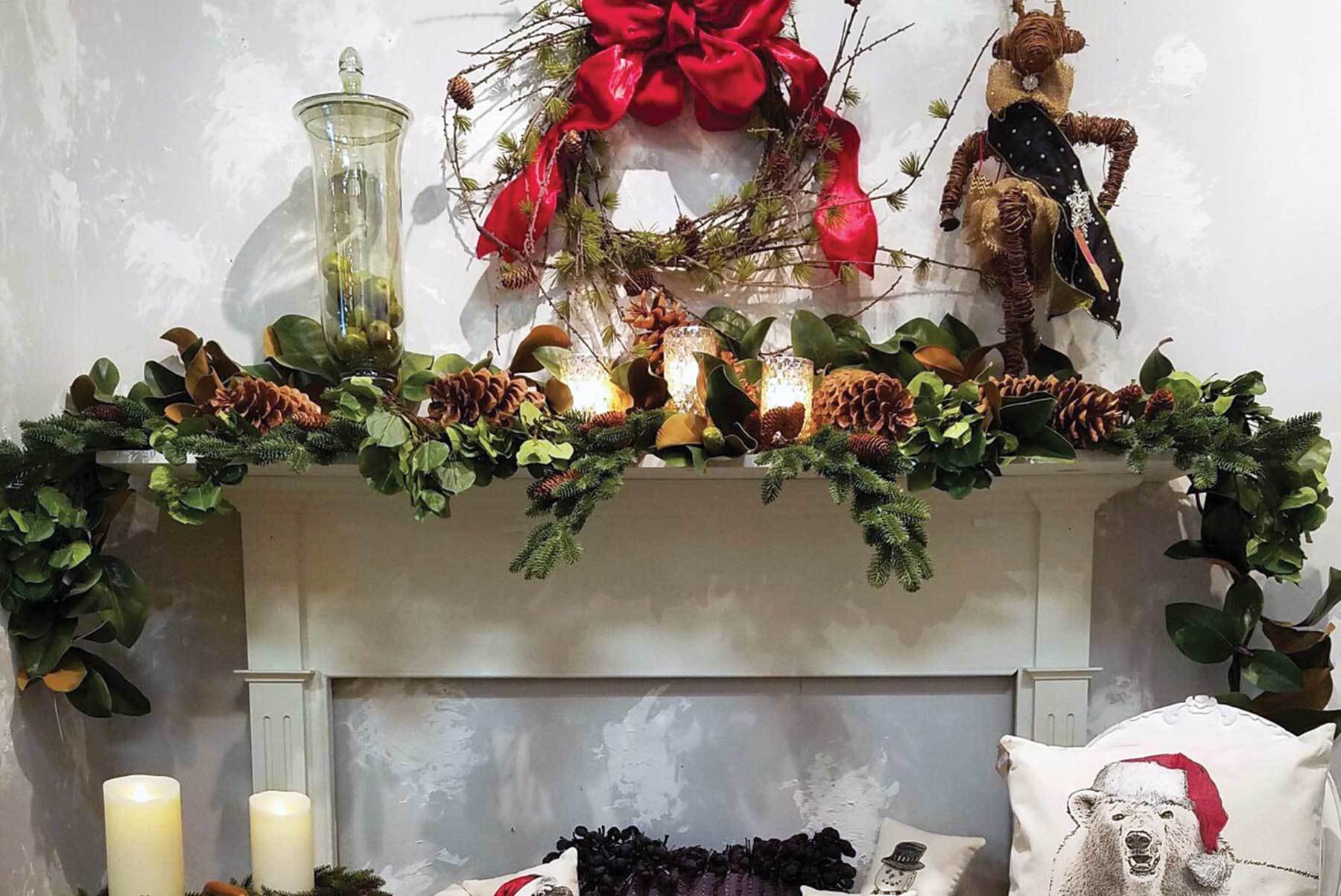 A well-styled and accessorized fireplace mantel adds beauty to any room. With our busy lives, how do we create the look we desire without stressing our last nerve? Here are a few ideas to help you design the perfect mantel – no matter if you are looking to create a mantel showpiece as the focal point of your upcoming holiday décor or you simply want to transform a drab mantel into a dynamite one all year long.
Experts tell us that "layering is key"– but what does that mean? The effective layering strategy is comprised of three steps: focusing on the center, sides, and middle. The #1 step is to center a mirror or art on the mantel. You may lean it or hang it, but either way, be sure the appropriate scale is reached so you balance the weight of the fireplace. This step creates the tallest part of the mantel ensemble.
Step #2 addresses the left and right spaces. The goal is to add visual interest and presence to the space. These objects do not need to be identical, but they should be of similar weight. If you selected a canvas with dramatic color, place neutral colored accessories for the left and right positions to create a sense of calm. If a contemporary look is your style, select objects in one of the bright colors that appear in the art. These accessories can include wall-mounted sconces, ceramic pottery, vases, hurricanes, or a pair of substantial candlesticks with pillar candles.
"Filler" is the final step. This third and last step is not required to establish a great look, but it does offer another level of self expression. If you are up for the challenge, consider the use of seasonal objects, heirlooms, or perhaps holiday greens for a festive occasion. My advice? Accomplish steps #1 and #2, and give it a rest. Wait a few days to process your first two steps and take photographs. Studying pictures before executing step #3 gives insight. Trust me … the photo will you give you additional thoughts and may lead to an improvement.
Media Mantel
An interior designer's heart may express "Oh no, it's another di-minished mantel!" While it is true that flexibility is minimized, you can still put your best foot forward even if a TV is mounted above a mantel. First, play up the hearth and floor to either one side or both sides of the fireplace. A couple of large accessories on both will add great interest. Are you looking for a few creative ideas? Consider an antique trug and a contemporary poof, a vintage elephant ladder leaning against the wall, and a djembe drum or maybe a hurricane candle on a stand and an interesting basket at the base. Be creative, but don't place too many objects. Think outside the box to meaningful items, but limit yourself to a single beer or glass of wine because overcrowding is out and clean lines are desired. If you are mounting your TV, it is best to allow space between it and the TV. Space on the sides and under the TV give flexibility for decorating.
Built-ins or Windows
Do not fall into the "too busy state" as you decorate your mantel that is flanked by built-ins or windows. Just like windows where the eye travels to the outside, flanked bookcases may cause the eye to "dance" and become distracted. Remember, the goal is to enhance the focal point of a mantel, not create competition. Con-
sider the entire fireplace wall as a unified statement. Declutter your bookcases, giving your mantel the opportunity to shine. If you have a large number of items on the built-ins, select one dominant color to unify the mantel with the bookcases and tie that color to the rest of the room's decorating scheme.
Bare Mantel Wall
Boredom may take flight if the mantel is not bordered by built-ins or windows, so consider painting the fireplace wall a different color from the remaining walls in the room. To add to the fireplace focal point, try adding molding painted the same color as the fireplace wall. With molding, place a rectangle shape in "landscape" orientation directly above the mantel. Then flank molding in narrow rectangles in "portrait" orientation traveling to the floor board to both the left and right sides of the mantel. This molding application is inexpensive and adds great interest. For balance, place art above the mantel as a center focal point or a beautiful floral. To one side of the mantel, place a console table or chest of drawers with an interesting mirror above the furniture.
Special Challenges
Hopefully now you can approach adorning your mantel with new enthusiasm. Factors like soaring ceilings, poor lighting, lack of windows, or a mantel with narrow depth may present additional hassle. Soaring heights in a room with a fireplace can stress scale and proportion. Consider a salvaged architectural panel outfitted with a mirror or a painting joined atop a mirror framed as one unit. Another creative solution in a rustic setting is to add grapevine climbing the wall to address height.
Lighting can be a greater challenge for a space with a high ceiling. Typical lighting solutions such as eyeball recessed cans, strategic track lighting in contemporary settings, or electrical/gas lit wall sconces flood light onto the mantel. Light is needed in cavernous spaces to highlight a beautiful mantel. If you wish you had an additional window or two, place a very large mirror for the value of double reflection. Be sure the mirror view is reflecting an equally beautiful aspect of the room.
Having a shallow mantel can also make decorating a little challenging. Time is of the essence if you're looking to do some holiday mantel decorating soon, so take quick action and attach wide strips of Velcro to a nominal 12" deep, premade bookcase shelf from the home improvement store. Firmly adhere the shelf atop your "wimpy narrow" mantel for an instant depth fix. Dress it in holiday greens with statement candlesticks, large sugar pine cones, and a topiary or two for a beautiful holiday decorating focal point.
The holidays present the perfect opportunity to enhance an ordinary space … so chew on these decorating ideas and inspiration, and go ahead and create your mantel "wow" now. And once you've gained some decorating confidence and the holidays have passed, don't be afraid to perform some mantel magic all year long.
Sandy Maccioli
With Awesome Abode, located in The Galleria, a multi-vendor store offering home décor and accessories, furniture, gifts, clothing, and jewelry. Also check out Awesome Abode on Instagram, Pinterest, and Facebook for more holiday decorating inspiration.