Love In A Jar
Food-Filled Containers Full Of Joy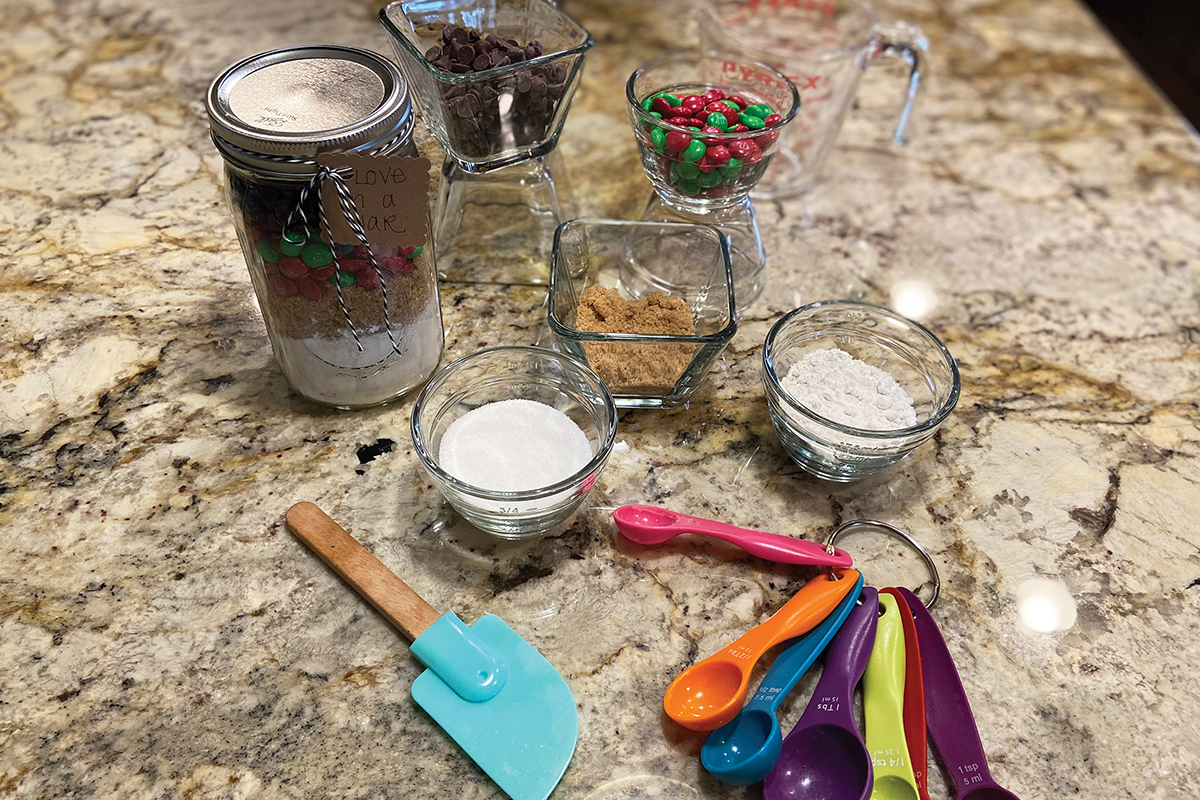 The holidays and their joyfully craft-filled days are now behind us and cold, wintry days lay before us. But for all you crafty DIYers out there, don't despair! There many wonderful projects you can make during this season to enjoy now, or save for later. One such project is "love in a jar"– food-filled containers that let their receivers know how much you care.
For instance, cookie mix in a mason jar is the perfect Valentine's Day gift for that sweet-loving, special someone in your life. Cookies fresh out of the oven, full of warm, chewy goodness … who wouldn't want that gifted to them? Cookie mixes in jars allow their recipients to experience that yumminess when they desire, and with truly little work. That's what makes these so popular ... cookie deliciousness at the drop of a hat.
Perhaps a neighbor is feeling a little under the weather ... leave a jar of homemade soup mix on his or her front stoop – an easy and safely social-distanced way to show you care. These mixes are so easy to make and are sure to warm anyone's heart. While you're whipping some up for those whom you care about, go ahead and prep a few for yourself to have on hand when you don't feel like once again figuring out what's for dinner.
When preparing to tackle this culinary craft, it's best to use attractive glass jars that are at least quart-size. Bonus – find jars with a flat surface on one side for a sticker identifying what type of mix you are gifting. Recipe cards with the directions neatly handwritten or typed are a must ... an easy way to ensure they are always with the mix, simply place some pretty twine through a hole-punched hole in the card, and tie around the jar's lid with a beautiful bow.
M&M Cookies in a Jar
– 1-1/3 cup of white flour
– 1 teaspoon of baking powder
– 1 teaspoon of baking soda
– ½ teaspoon of salt
– ½ cup of granulated sugar
– ½ cup of brown sugar
– ¾ cup of chocolate chips
– ¾ cup of M&Ms (if you prefer to eliminate the M&Ms, just double the chocolate chips to 1½ cups)
Please note, these are just the ingredients for the mix, and is not the entire recipe. The following are items that should also be listed on the recipe card, along with the directions.
Additional ingredients needed:
– ½ cup of butter (room temperature)
– 1 teaspoon of vanilla
– 1 egg
To assemble the cookie mix, combine the flour, baking powder, baking soda, and salt, and mix well. Place this in the bottom of the jar. As you add each layer, be sure to press down each ingredient. Next, add the M&Ms, brown sugar, white sugar, and chocolate chips, in this order. A funnel works great for adding the flour mix and sugar. Finally, secure the lid and tie a cute bow around it with the twine. (Be sure to add the recipe/directions card to the twine.) There you have it ... cookies in a jar!

To bake these delectable cookies, preheat the oven to 350 degrees. In a large bowl, beat the butter, egg, and vanilla, then dump in the jar's ingredients, and stir until mixed well. Using a large cookie scoop or spoon, drop dough on a cookie sheet. Bake 8-10 minutes. Remove from the oven and allow to cool on a cooling rack.
Chicken Soup In a Jar
Layer these ingredients in the following order:
– 3 tablespoons chicken bouillon granules
– ½ teaspoon of pepper
– ½ teaspoon of dried thyme
– ½ teaspoon of celery salt
– ¼ teaspoon of garlic powder
– 3 tablespoons onion flakes
– 1 teaspoon of turmeric
– Tri-color rotini pasta (use the pasta to fill the jar to the top – about 3-4 cups)
Cap the jar and tie with twine, attaching the recipe card identifying the following additional ingredients and cooking instructions for the soup.
Additional ingredients needed:
– 10 cups of water
– 2 carrots, thinly sliced (to save time, use shredded carrots)
– 2 stalks of celery, thinly sliced
– Can of chicken breast
To prepare, empty soup mix into a large stockpot, adding water, carrots, and celery. Bring to a boil, cover, reduce, and simmer for 15 minutes.
Add the undrained chicken and simmer an additional 3-5 minutes for a pot full of yummy, warm, comforting goodness.
There are so many different gifts in a jar that you can make – pancakes, hot chocolate, chili, and more. Go ahead and make several at one time to have on hand when you need a quick gift or perhaps when you're craving something sweet or savory and don't feel like running to the grocery store. I'm not sure which is better on a cold winter's day – crafting this love in a jar, or eating it!
Dolores Riggins
Co-owner of Southern Suds & Gifts, located at 213 S. White St. in Downtown Wake Forest, featuring over 35 craftsmen and artists.