Local Gems
Enchanting Holiday Lights In The Triangle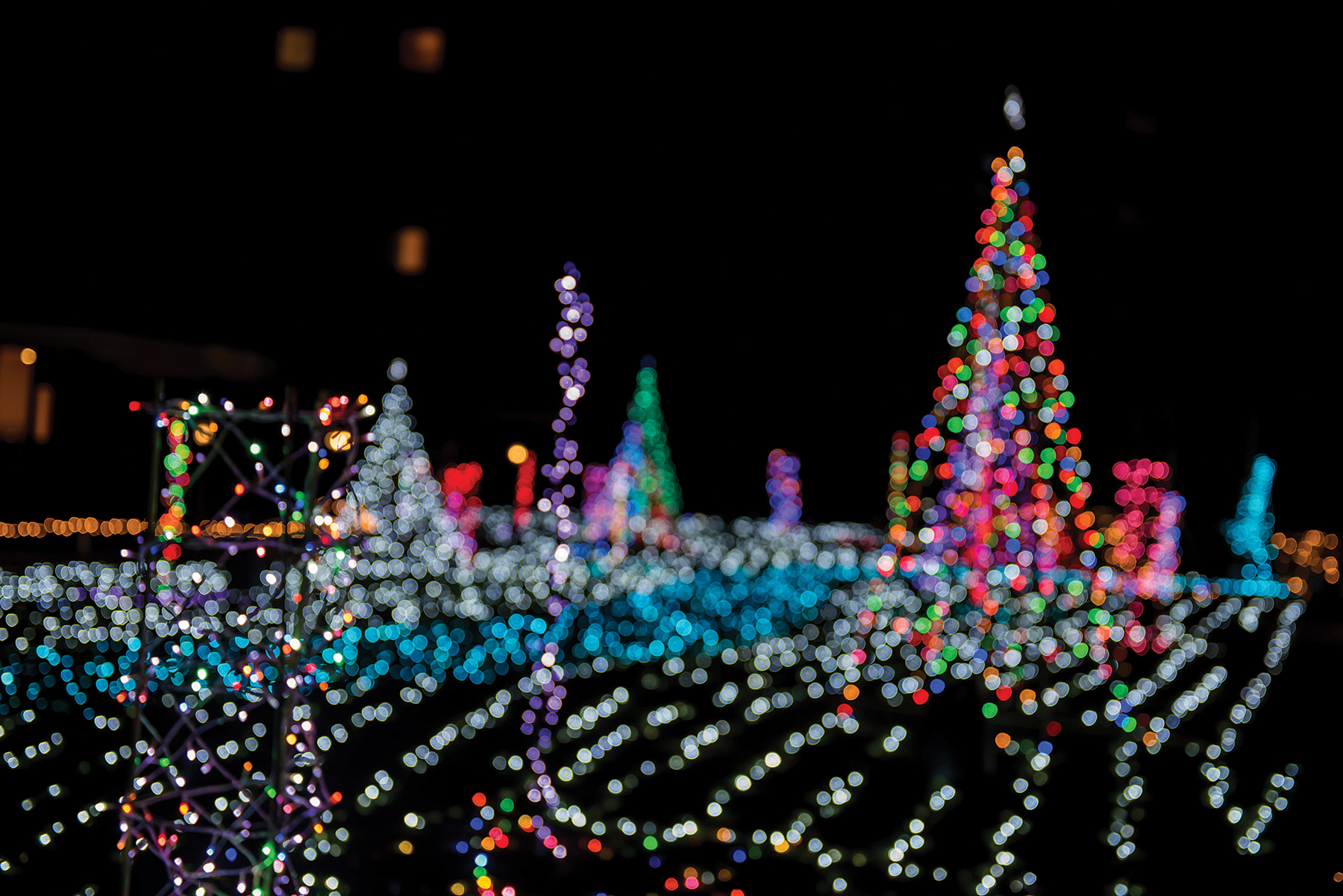 As the holiday season unfolds, our area comes alive with a mesmerizing display of lights that ignite the spirit of joy and wonder. From quaint neighborhoods adorned with twinkling decorations to enchanting events that transform the landscape into a winter wonderland, there are countless opportunities around to immerse yourself in the holiday magic. In this issue's "Local Gems," we'll be your guide to some of the many wonderful places to experience holiday lights in the Triangle. (Please note this is just a sampling of the area's many holiday light displays, not a full list.)
Piper Lights (Wake Forest): The Piper Lights drive-through display is a beloved holiday tradition that captivates visitors with its enchanting setup. Spanning more than seven acres, the Piper family property transforms into a breathtaking masterpiece of thousands of lights. As described on their Facebook page, Piper Lights is a "magical Christmas lights display put together by our family to share the joy of the season with our community." Piper Lights, which even won ABC's "Great Christmas Light Fight" is free, but donations are welcomed and appreciated.
Festival of Lights at Hill Ridge Farms (Youngsville): For a festive outing that appeals to folks of all ages, head over to Hill Ridge Farms, where you can drive through a magical winter wonderland. Boasting over one million lights and holiday-themed displays, this attraction guarantees a memorable evening for the whole family.
Lake Myra Christmas Lights (Wendell): A local favorite that draws visitors from near and far, Lake Myra Christmas Lights presents a stunning array of lights synchronized to music, creating a magical spectacle that captures the essence of the holiday season.
Koka Booth Amphitheatre's Chinese Lantern Festival (Cary): While not exclusively a holiday lights display, the Chinese Lantern Festival coincides with the holiday season. This cultural extravaganza showcases intricate, larger-than-life lanterns that, as described on the Koka Booth website, "will captivate visitors at every turn with amazing craftsmanship and artistic beauty." The Festival is a fun way to embrace the festive spirit in a global context.
Lights On The Neuse (Clayton): Set on Boyette Family Farms, Lights on The Neuse offers a down-home, old-fashioned magical lights hayride experience. Visitors can enjoy Santa's sleigh for photo opportunities, concessions, a cookie decorating station, and a heartwarming holiday atmosphere.
Meadow Lights (Benson): Meadow Lights is a family-owned holiday lights destination that has been enchanting visitors for more than 40 years (described on their website meadowlights.com as the "largest and oldest Christmas light show in Eastern North Carolina"). In addition to featuring an array of display lights spanning over 30 acres, an enclosed carousel, and a train ride through more than 10 acres, Meadow Lights is also home to "The Old Country Store," one of the largest candy stores in North Carolina, boasting over 300 varieties of Christmas and old-fashioned candy.
It's always a good idea to check the specific dates, times, and any admission details for each of these locations before planning your visit. Some attractions may require advanced reservations, weather may impact when they are open, and details can vary from year to year.
Whether you choose to take a short drive to nearby attractions or explore festive neighborhood displays close to home, you'll find that there's no shortage of opportunities here in the Triangle to experience the illuminated magic of Christmas.