Light It Up This Holiday Season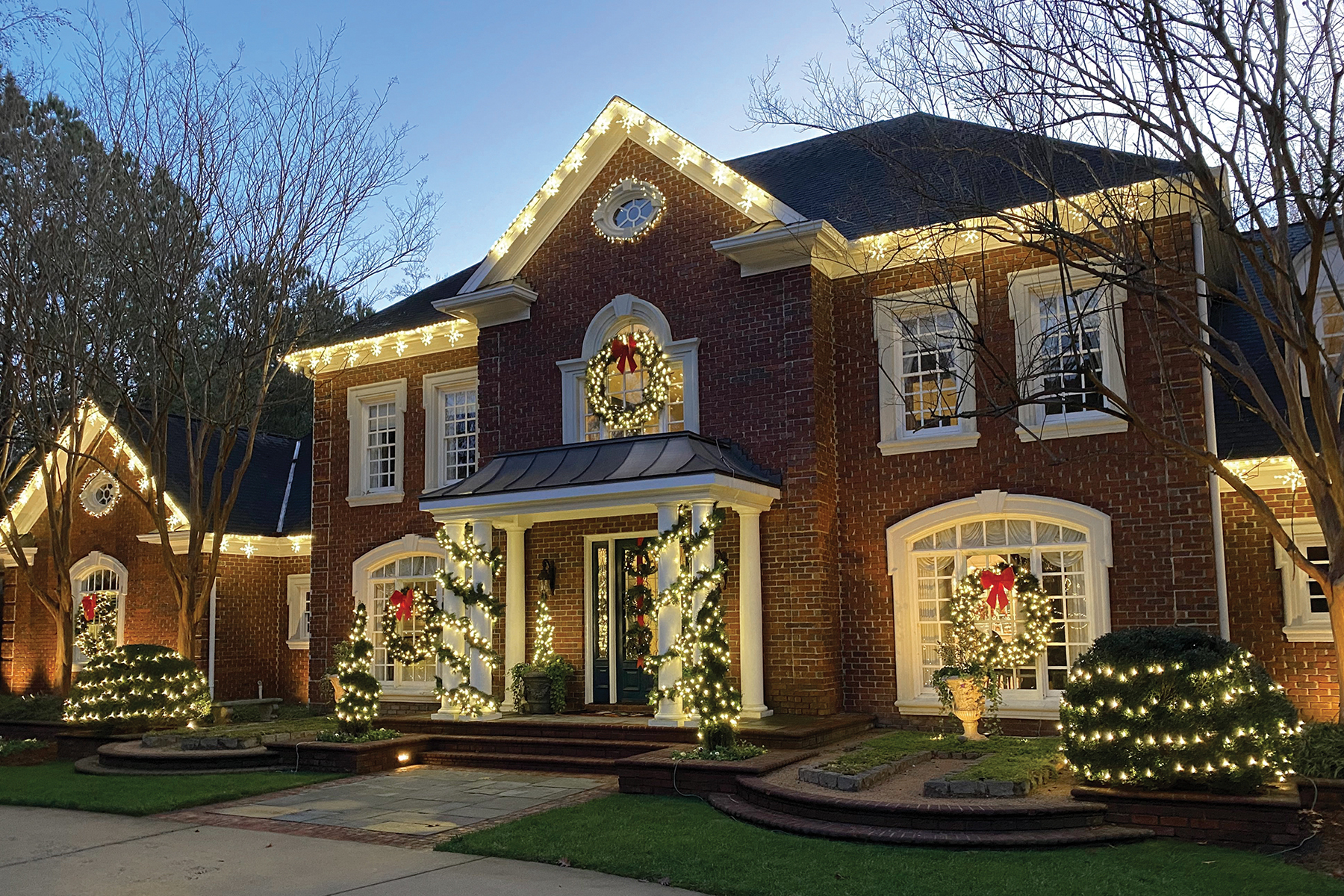 Decorating for Christmas – a time-honored tradition full of joy and cheer … and if you're the "lucky" one in your house who gets to tackle the tradition of setting up the outdoor holiday lights, it's probably also full of frustration. This time-consuming, often exasperating task ultimately adds magical charm to your home's exterior. But before you climb the ladder, I suggest you heed the following helpful light-hanging hints, understand the dangers of taking them down, and weigh the pros and cons of hiring a pro to do it for you. Doing so just might make this year's Christmas lighting installation a bit easier than ever before.
Hints for Hanging Lights
Before you bust out the boxed-up lights you dragged down from the attic or visit the store to buy new, plan out your display. As you decide where to place lights, choose a few focal points to help anchor your design. Doors, columns, and eaves offer architectural interest that can be highlighted with lights. Next, measure out the area that will be covered with lights to ensure you have enough, or if you do need to purchase, you buy the correct amount. Don't forget to take into account the amount of length it will take to reach your power source.
If buying new, make sure the lights are rated for outdoor use. Incandescent lights offer a warmer glow, while LEDs tend to come in more styles and are more energy-efficient. Also, pay attention to the connection strand limits to make sure that you won't be connecting too many, creating a potential fire hazard. Finally, double-check your measurements and make sure that you have enough lights so you don't have to make multiple trips to the store. If you have lights from previous years that you will be using, take a moment to test each strand before you start hanging. This will save you time and frustration. Then plug in the first strand to your power source to ensure everything will reach correctly.
When it's time to finally hang the lights, make sure that you have a sturdy ladder that will allow you to safely reach eaves and other high places. For roof lights, plastic clips and hooks provide an easy way to hang and remove lights at the end of the season, while also creating a cleaner and more professional look with straight lines. You can also use a staple gun to secure strands. Just be careful not to staple the wire, and be prepared to pull out the staples when it's time for the lights to come down after the holiday season is over. Another option is outdoor mounting tape, which comes in both permanent and temporary versions. Outdoor mounting tape provides an effective way to hang lights, but isn't always easy to remove. You may have to use rubbing alcohol to get rid of all the adhesive. If removing from a painted surface, you may have to touch up some spots where the paint is damaged.
Taking Down Dangers
By the end of the hectic holiday season, the last thing you probably feel like doing is spending hours taking down holiday lights, organizing them, carefully packing them up, and putting them in storage.
However, it's important to remember that this task is more than just an annoying chore – it can actually be dangerous. Following are safety concerns to keep top of mind when taking down holiday lights.
– Handling heights: All too often, homeowners don't have the right equipment to install and take down lights. Instead of investing in ladders that are tall enough to reach all parts of their roofs, they put themselves at risk. Against all advice, people often hang off roofs, using the very top step of the ladder, and stretch to reach high corners.
– Working with electricity: Any time you are working with electrical components, you run the chance of receiving a shock. This is especially true if you don't take the necessary precautions to cut off the power to the lights.
– Lifting heavy boxes: It might seem like a good idea to pack as many holiday lights and decorations into storage boxes as possible. But remember that you will need to lift and transport these boxes. Lifting too much weight or improperly lifting heavy weights can result in strained muscles and joints, which isn't a good way to start the new year.
Pro Pros and Cons
Some pros of outsourcing your holiday lighting project include:
– Safety: You can leave scaling ladders and traversing roofs up to professionals who have the tools, training, and skills to handle heights.
– Convenience: Everyone is pressed for time during the holidays. Hiring a professional lighting service means that you will have more time to spend with friends and family.
– Quality: Professionals will be able to design a stunning display, use the latest products, and offer tidy installation.
– Maintenance: If a bulb goes out, no worries. Holiday lighting services include maintenance so that all it takes is a phone call to restore your display.
– Removal: If there is anything worse than putting up lights, it's taking them down. Professional removal services will prevent any damage and neatly store your lights, so you don't have to deal with a tangled mess of wires next holiday season.
There are a couple of cons, too, though:
– Cost: Unlike the DIY holiday lighting approach, outsourcing this task to a professional does cost money. However, you may find that the safety and timesaving aspects offer great value.
– Tradition: For some people, hanging the holiday lights is a sacred tradition and part of what brings them holiday cheer.
It's easy to see why holiday lighting services have become increasingly popular. While hanging lights is an age-old tradition, it isn't always fun and games. For those who want to enjoy their beauty without the hassle, this may be the way to go. Regardless if you go DIY or the pro route, decking the halls – and your home's exteriors – with twinkling, magical lights is one of the best ways to spread holiday cheer.
Haley Adams
Brite Creations