Light It Up
For Dazzling Holidays ... From Halloween Through The New Year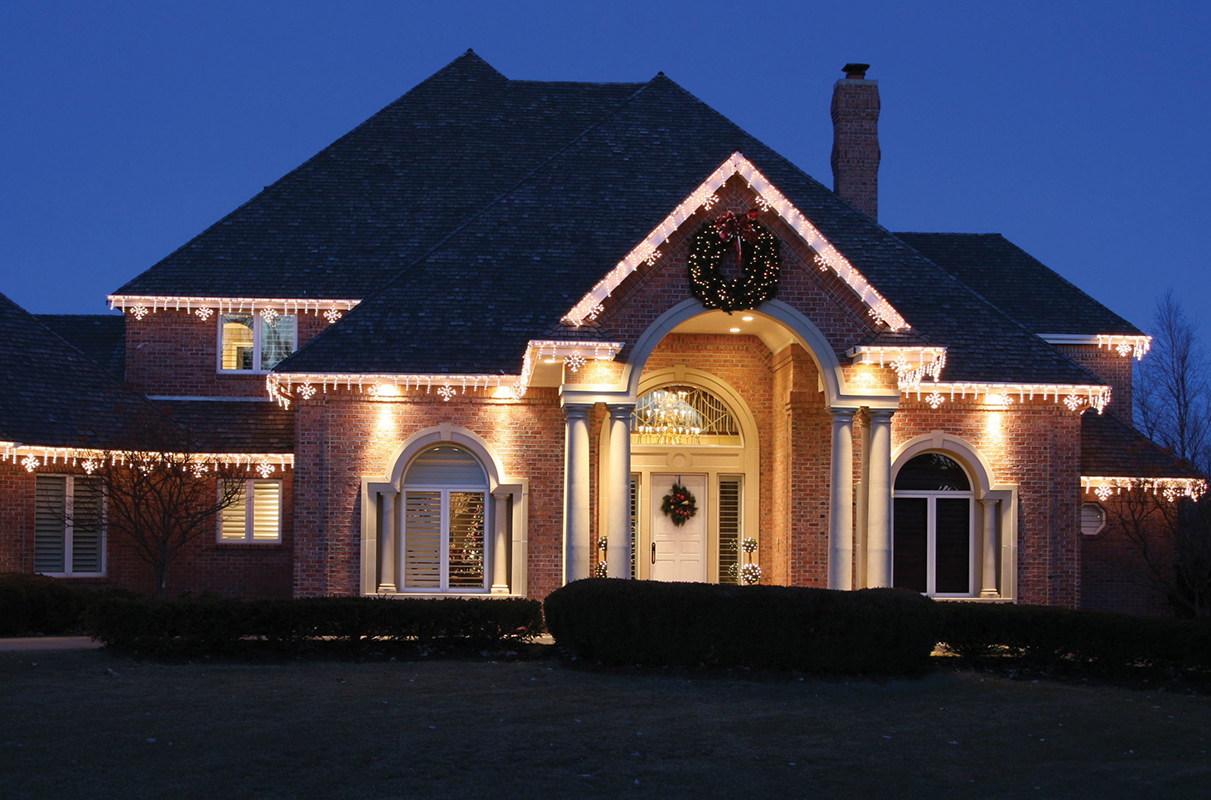 Holiday lighting has been a tradition in our culture for centuries, and has come a long way since the 17th century when people first decorated Christmas trees with candles. Incorporating lighting into holiday décor is no longer just a matter of stringing strands of lights on the tree during the Christmas season. Each year, more and more customers are lighting up their homes – both indoors and out – for various holidays throughout the year, while also adding accent lighting décor to their patios or landscaping for outdoor enjoyment, no matter the season. For instance, homeowners are now integrating lighting into their home's Halloween scheme to achieve dramatically spooky and scary effects. And as soon as the ghosts and ghouls get packed up until next year, it's time to set up the winter season's decorations and lighting displays. One holiday transitions to the next, and there is potential to illuminate your home 12 months out of the year.
Incandescent or LED?
Looking to highlight scary skeletons and ghastly goblins in your yard or want to frame your front door with a strand of large vibrant orange bulbs for a spooky Halloween effect? Or maybe you hope to wrap your front porch columns with warm, inviting twinkling lights to beckon friends and family inside. Perhaps you envision outlining the perimeter of your roofline with bright lights so that Santa can't miss your house Christmas Eve. Whatever holiday design dream you have, there are several options available to satisfy your lighting needs. When you drive through a neighborhood during the coming months, you will likely see many homes with the standard C9 bulbs outlining their roofs, with a spacing of about 12" between each bulb. Those C9 bulbs come in traditional incandescent or LED versions. The market, and thus homeowners, are moving away from the incandescent bulb that contains the mono-filament wire (like the Edison light bulb) and instead are opting for the higher-efficient LED bulb. LED bulbs have diodes that emit much more light and are 10 times more energy efficient than the standard incandescent bulbs. They are also longer lasting, safer (as they generate little heat), and are more durable than their predecessors. You will see the LED technology being used in pre-lit Christmas trees, wreaths, garland, mini lights, and lawn décor.
The Future of Holiday Lighting
Over the past couple of years, RGB technology has become the trend in holiday lighting. The RGB product uses LED in a technology that combines the red, blue, and green colors to produce over 16 million hues of light (as noted by Phillips Lighting Corporation). RGB, combined with Bluetooth technology, will enable you to not only change the color of the bulbs, but also turn the lights on and off in your home. Again, a big improvement over the hanging candles on the Christmas trees of generations past.
LET THE PROS HANDLE IT
If you're not interested in tackling the tedious and incredibly frustrating task of hanging holiday lights, consider hiring a professional company to install, remove, and store the lights for you (you may even be able to purchase lighting from them directly). This can be a big convenience for holiday home decorators, especially those who don't want to climb up on ladders – much less their roofs. The cost of paying someone to decorate your home with holiday lighting is much less than an insurance claim if an accident of someone falling off a ladder were to occur. Plus, it will save you precious time during the already hectic holiday season – time that's better spent enjoying the holidays with family and friends. It is best to hire an experienced professional decorator who understands the electrical power needs of installing various holiday lights on or around your home.
Starting with Halloween and continuing on through Thanksgiving and Christmas or Hanukkah, of course display your traditional holiday decorations – from Jack ,o Lanterns to scarecrows and hay to sleds and snowmen – but this year, make more of an outdoor decorating statement with exterior home lighting and let your holidays be the brightest ones yet.
Jimmy Tompkins
Owner of JT's Landscaping and Lawn Care.