Let's Play Pickleball!
The Fastest Growing Sport In America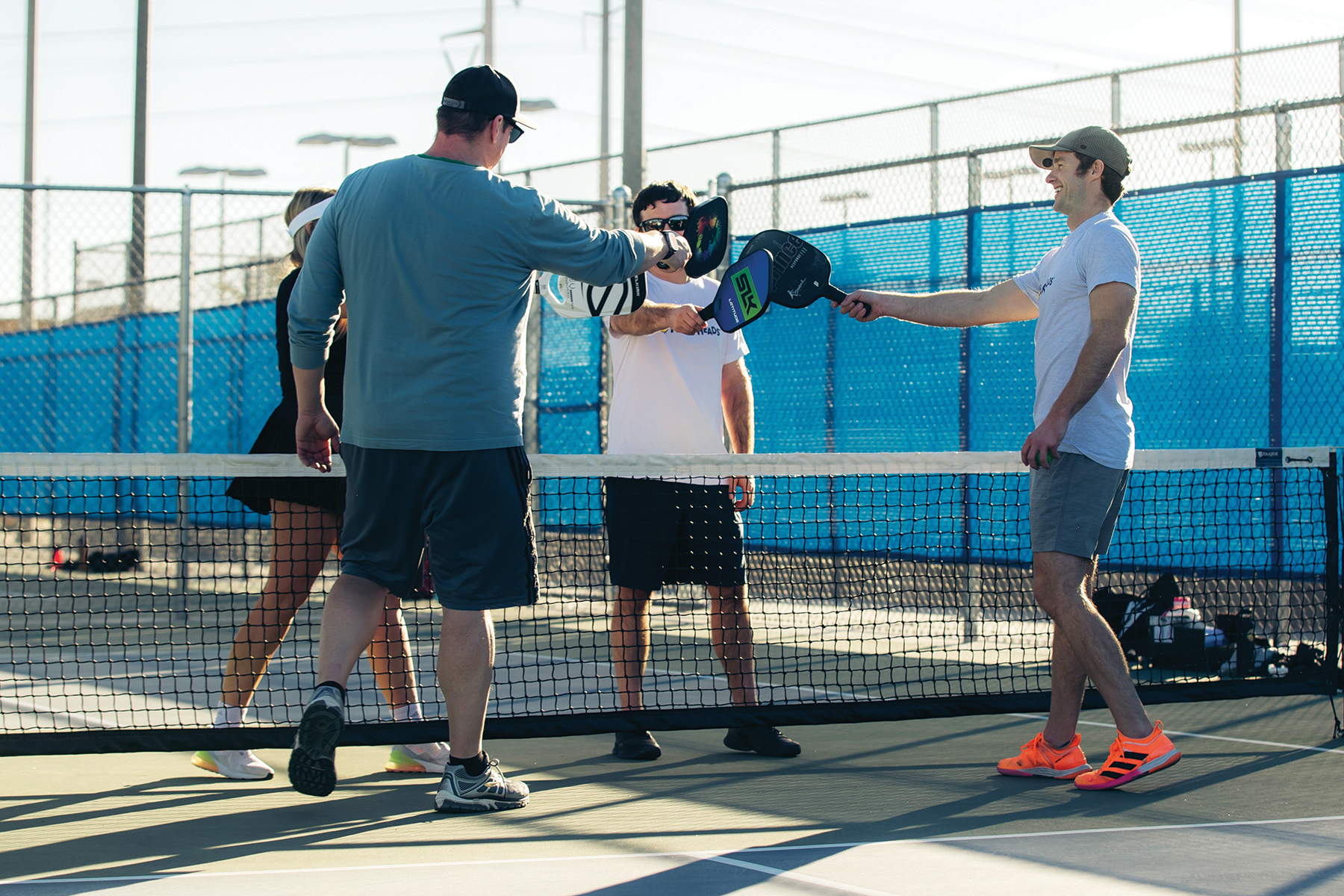 Are you ready to join the hottest trend in the U.S. sports scene? It's time to grab your paddle and get in the game because pickleball is calling your name! Discover some of the best pickleball courts in the area and get ready to step up your game today.
What Is Pickleball?
Picture this: tennis, ping pong, racquetball, and badminton, all rolled into one exciting sport. That's exactly what pickleball is all about. The sport is typically played in doubles on a smaller court than tennis, and involves using a paddle to hit a perforated plastic ball over a net. What sets it apart from other sports is its simplicity and social aspect, making it a game that can be enjoyed by people of all ages and skill levels. Whether you're looking for a new way to stay active or just want to have fun with friends, pickleball is a great choice.
Despite its quirky name, pickleball is no joke. This sport is seriously taking off in the U.S. and is even going global. In fact, there are around 36.5 million people playing pickleball in the country alone, and fans are already petitioning to see it in the Olympics. That's how big this sport is getting.
Rachel Simon, a Wake County local and the author of Pickleball for All: Everything But the Kitchen Sink, reminisces about playing pickleball as a child aend reconnecting with the sport in 2020. She was amazed to discover that not only were many people interested in the game, but they were also passionate about it. She emphasized that pickleball's popularity is "just getting bigger and bigger."
Where To Play Pickleball Nearby
The popularity of pickleball shows no signs of slowing down, as evidenced by the steady increase in new courts being built nationwide. There are currently over 11,000 places to play this exciting sport. If you're interested in joining the bandwagon, you're in luck! There are plenty of options in our area, so don't hesitate to explore some of the available pickleball courts nearby, including the following.
Flaherty Park Community Center: An excellent spot for recreation, offering 15 public hard courts, 12 of which are located outdoors, and three indoors. Aside from pickleball, visitors can take advantage of other amenities provided, including a 100-acre park, playground, picnic shelter, and two ponds for bank fishing. The park has nearby restroom facilities, ensuring visitors' convenience and comfort.
The Village at Rolesville: A single-family community that offers residents exclusive access to a private outdoor pickleball court. Residents can also enjoy a range of other fantastic on-site amenities, including a junior Olympic-size swimming pool, clubhouse, tennis court, and children's playground.
Millbrook Exchange Park Community Center: The one-stop-shop for all your recreational needs, featuring 23 free-to-use outdoor pickleball courts, three indoor courts, and a variety of other amenities to keep you entertained. Take your pick from a range of adult classes and courses, including fitness, dance, art, and technology. When you need a break, dive into the pool for a refreshing swim, enjoy a picnic with friends and family, or let your furry friend run free in the park.
Optimist Park Community Center: An accessible park with three indoor hard courts, complete with permanent lines and portable nets that you can enjoy for a onetime fee. The park also boasts a stunning nature amphitheater, perfect for events and gatherings. And don't worry about the little ones, because it features playgrounds where they can run, climb, and play to their heart's content while you focus on your game.
Youngsville Parks & Rec: A top-notch destination for pickleball enthusiasts, featuring six wood courts, including three indoor and three outdoor courts with permanent lines. While the courts are free to use, bring your own nets as they are not provided. Additionally, the facility offers sports programs for kids aged three to 18, making it an ideal destination for families looking to enjoy the sport together.
Ready to hit the courts and show off your skills? Don't wait any longer! Get out and play pickleball today!
Brandon Mackie
Co-founder of Pickleheads. For more information about pickleball, tips and strategies for learning and improving your game, help finding pickleball courts nearby – whether at home or on the road, and more – visit pickleheads.com, follow them on Facebook and Instagram @pickleheadsofficial, and on TikTok and Twitter @pickleheads_.