Lake Gaston
OUR WATER RUNS DEEP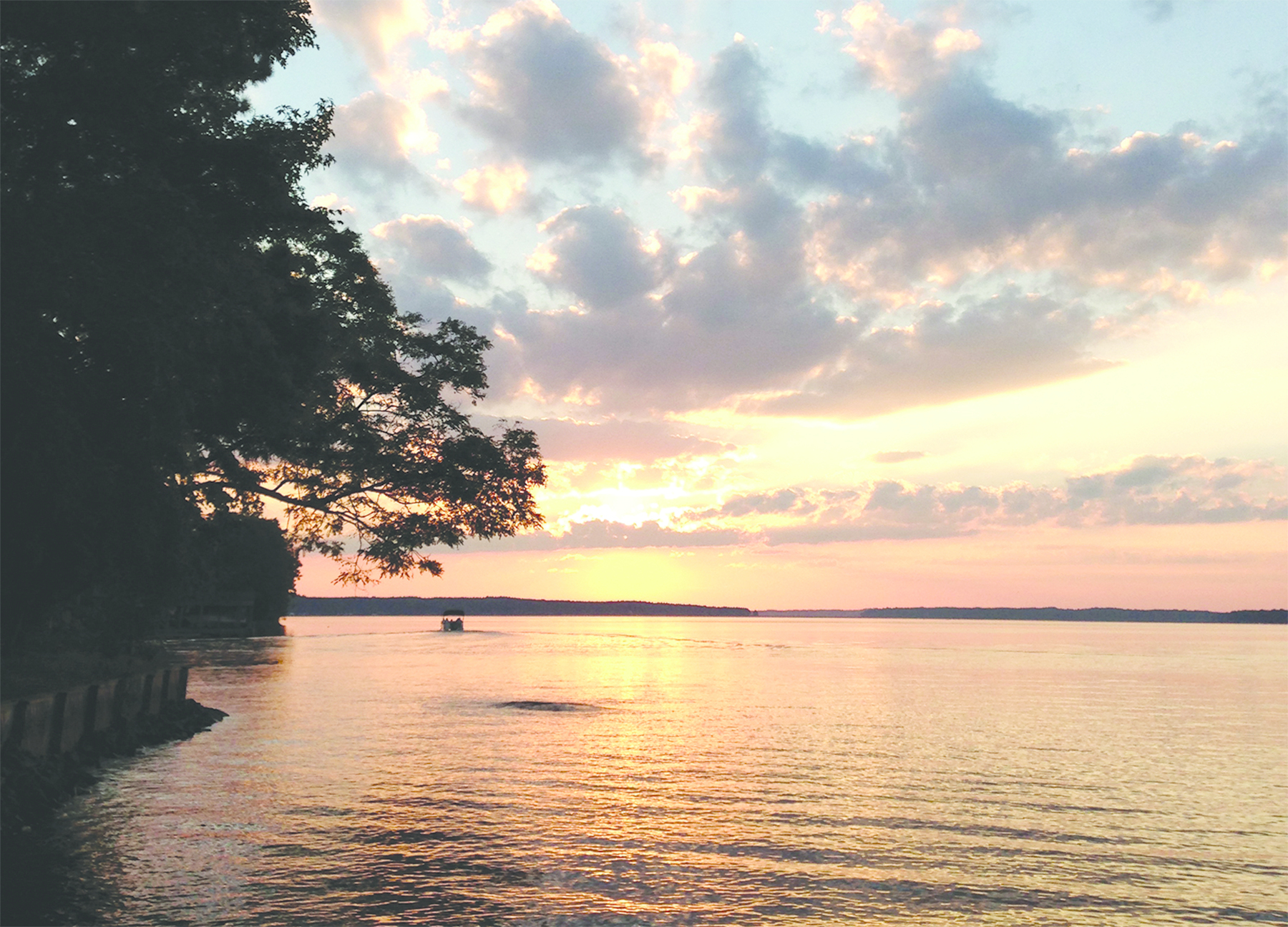 "A lake is the landscape's most beautiful and expressive feature," wrote Henry David Thoreau in the pages of Walden. "Earth's eye; looking into which the beholder measures the depth of his own nature."
For many who visit Lake Gaston, the truth in these lines is self-evident; despite being man-made, the lake is a wonder to behold. A simple photograph or even a detailed description can hardly capture, neither wholly accurately nor quite vividly, what the lake truly offers. It's a culmination of the senses, not merely an image on Instagram or a clip on YouTube. The experience cannot properly be conveyed in the limited space of a Tweet. No, to know Lake Gaston requires time spent on its shores or bobbing across its surface as the gentle waves lap against the sides of a boat.
The fresh scent of pine and a cool spray of freshwater find themselves dancing around the cries of gulls and the hypnotic dance of softly swaying trees on the far bank. Lake Gaston is not an image in a book or some letters on a page. It's a living and ever-changing insight into a world where nature is found outside, not in a documentary on television. Perhaps it is that tactility which makes Lake Gaston such an interesting and welcome destination for so many people – by experiencing the depth of the lake's beauty and splendor, they can begin to realize the breadth, complexity, and wonder from which their own lives are composed. And once one views Lake Gaston in this regard, no picture can ever again do it justice.
For those who know the area, the Lake Gaston experience simply would not be the same without a stop at one of the lake's dockside marinas or a visit to any one of the area's great restaurants. The laid-back lifestyle shows up in all aspects of the Lake Gaston life, whether it's picking up an extra inner tube for a day on the water, or stopping by a nursery to find the perfect complement for your garden. Perhaps wakeboarding is more your style, or fishing for tonight's supper. Whatever you're looking for, the lake life offers something for everyone.
On a map, Lake Gaston is depicted as a sprawling blue blob at the North Carolina/Virginia border, reaching into hundreds of coves and inlets across more than 30 square miles. But, as a famous philosopher once pointed out, "the map is not the territory." And he was right. Lake Gaston is anything but an insignificant dot on a map, what with many people calling this water home and just as many, if not more, vacationing annually on its shores. Lake Gaston is more than just a body of water.
While there is no mistaking the lake's stunning natural beauty, perhaps it is the people along its banks who make Lake Gaston a destination, a place where people dream to live and others yearn to visit. The lake community has been growing ever since the dam was built over the Roanoke River and the water levels began to rise – forming what we know today as Lake Gaston.
At its heart, Lake Gaston is the people on its shores and surrounding areas. It is the folks from more urban surroundings who seek respite in Lake Gaston's serenity. It is the retirees from the country's northeast coast who seek a more moderate climate. It is the people who were born and raised in the Lake Gaston area who know the true treasure they regard as home. It is without this strong community that Lake Gaston would simply be a body of water, a spot of blue on a map – but instead, it is so much more. As those who have enjoyed the lake's warm summers and calm nights would agree, the water here runs quite deep.