Know Your Roots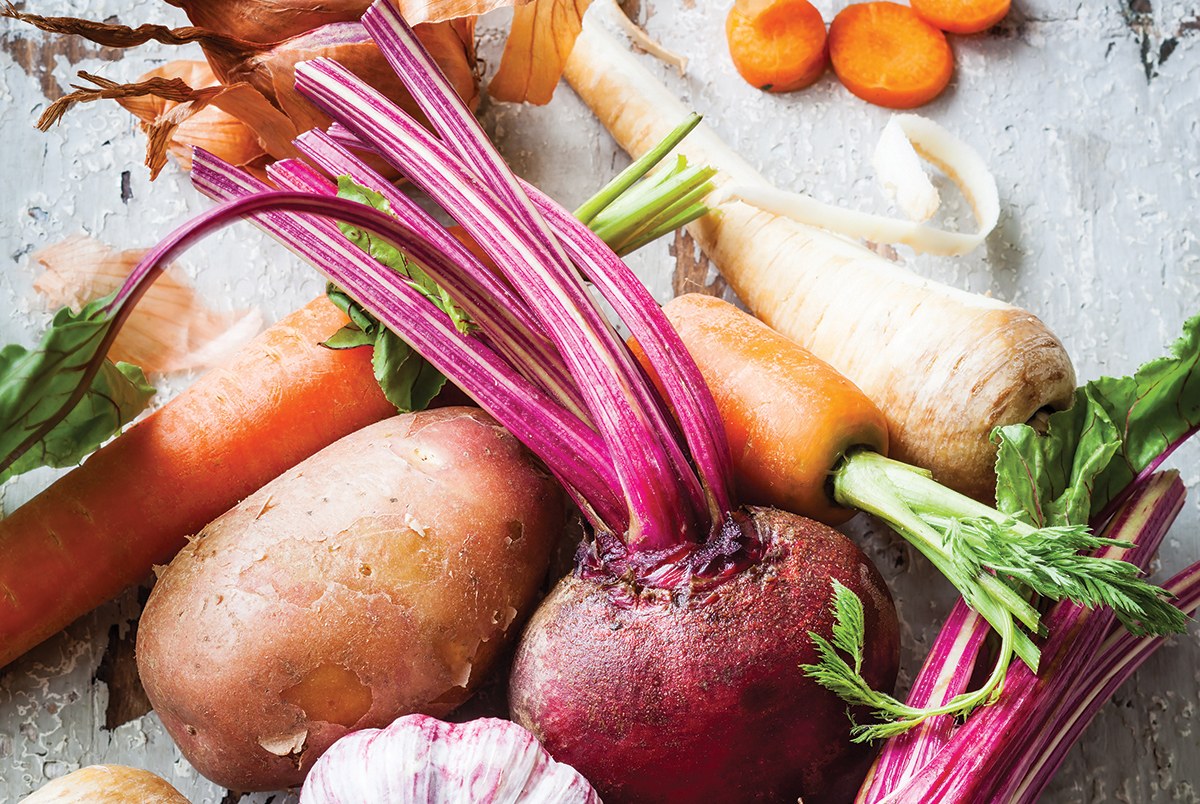 As we settle into winter, we strive to find warmth, comfort, and sustenance in all aspects of our lives.
Frankly, there is no better way to enjoy all of these than being surrounded by friends, family, and good food.
Winter brings out the desire to simmer and stew and it's a great time to get in the kitchen and whip up something amazing to share with those you love. It's also a wonderful opportunity to try something new and immerse yourself in the wonderful world of root vegetables. Basically, if it's grown in the ground, it's considered a root vegetable – so think potatoes, parsnips, turnips, carrots, and the like. Add some onions, squash, garlic, and fresh herbs like thyme and rosemary, and you've got the backbone for some deliciously comforting winter fare. With winter well under way, you may have tired of chili, baked pastas, and your traditional go-to winter dinner dishes, so why not try something new to adorn the dinner table this season? The beauty of cooking with root veggies is that you can incorporate them in to any of your old standbys, elevating them to a whole new level while adding some great nutrition and new flavors.
Root vegetables offer color, texture, and a hearty "meatiness" that lend themselves so well to winter cooking. My favorite way to take advantage of their attributes is by roasting them, which draws out
their natural sugars, allowing them to caramelize and bring a tremendous amount of flavor to any dish. Fold them into your favorite soups, stews, and pastas, or simply roast them in the oven as a delightful side dish.
The key to successful roasting is to peel the veggies and cut them into small to medium pieces to allow for maximum caramelization, really pulling out their flavor and providing a tremendous amount of depth to your dish, no matter how simple it may be. One of my most popular dishes includes only roasted veggies, broth, fresh herbs, and white beans (see recipe) … behold, a comforting, delicious soup that can be the backdrop for a spectacular winter meal. Add any meat of your choice and it becomes a hearty stew or a pot pie. Fold it into a pasta and add a touch of cream and a few shavings of parmesan and asiago cheese for an amazing entrée that will satisfy even the most discriminating palate.
Incorporating roasted veggies is a great way to transform ordinary fare like chicken, pot roast, and pork loin into the extraordinary. To create a truly outstanding dish, there are two steps you simply should not skip – searing your meat and roasting your veggies. Taking these extra few minutes of prep and cooking time will help develop flavor as the dish braises, making the most of your cooking time. Save even more time by using your slow cooker for the majority of the cooking – you will be rewarded at dinnertime, I promise.
Root vegetables lend themselves beautifully to a host of side dishes and are a great way to make your plate more colorful in the process. Everyone's favorite tuber, the humble potato, is the perfect example of versatility, color, and flavor potential. They are widely available in shades of white, red, orange, and purple, and mixing and matching is encouraged when it comes to roasting them. Cutting your potatoes in chunks and tossing with a little olive oil, coarse salt, and freshly ground pepper are all you really need to transform them into the perfect stand-alone side or as a final ingredient to complete your one-dish meal. Leave the skin on for a rustic dish or peel before roasting to accentuate their inherent creaminess. The delicious potato has no limits and is inexpensive with a long shelf life, making it a must-have staple in your pantry this winter, and all year round.
The carrot is another tasty and well-rounded vegetable that can now be found in a myriad of sizes and colors, lending itself to creating a nutritious and beautiful plate. Carrots are also a great foil when you are trying to introduce new veggies like parsnips or turnips, which will be caught up in the amazing sweetness that roasting carrots can contribute to a dish. Simply roasting your favorite variety in a little olive oil and tossing at the end of cooking with a good quality balsamic vinegar and a touch of raw honey and fresh thyme is the perfect accent to any comforting winter meal.
Finally, if you have a vegetarian or vegan in your household, you will have a newfound appreciation for how root vegetables can transform meals that can oftentimes be challenging when trying to provide hearty and tasty options that satisfy everyone's needs. What becomes an ingredient or side dish for the family can be a hearty mainstay for the herbivore, making everyone at your dinner table happy. No matter how you choose to enjoy root veggies, I encourage you to embrace their humble nature and have fun creating a wintery culinary treat that soothes your soul and hugs the tummies that come to your dinner table each night.
Roasted Root Vegetable and White Bean Soup
Ingredients:

– 3 cups peeled diced potatoes
– 3 cups peeled diced butternut squash
– 1 large onion, peeled and diced
– 4 large parsnips, peeled and diced
– 4 large carrots, peeled and diced
– ¼ cup olive oil
– 4 cloves garlic, peeled and minced
– 2 15-ounce cans white cannelini or great northern beans, rinsed and drained
– 4 sprigs fresh thyme
– 6 cups vegetable broth
– Salt and pepper to taste
– 1 bunch shredded kale or baby spinach (optional)
Preheat oven to 400 degrees. In large ovenproof baking dish, toss potatoes, squash, onion, parsnips, and carrots with olive oil and sprinkle with salt and pepper and minced garlic. Roast in the oven for about 12-15 minutes until starting to brown and caramelize. Remove from oven.
In large stockpot, add vegetables, broth, white beans, and thyme and bring to a boil. Reduce to simmer and cook until vegetables are tender and the soup has thickened slightly, about 30 minutes. Stir in kale or spinach if desired and cook 5 minutes more.
Stacey Moritz
Owner of The Lemon Tree Cafe, located at 113 S. White St. in Downtown Wake Forest, offering freshly prepared salads, pastas, soups, and take-away fare.