Knife Skills
Cutlery Tips For The Home Chef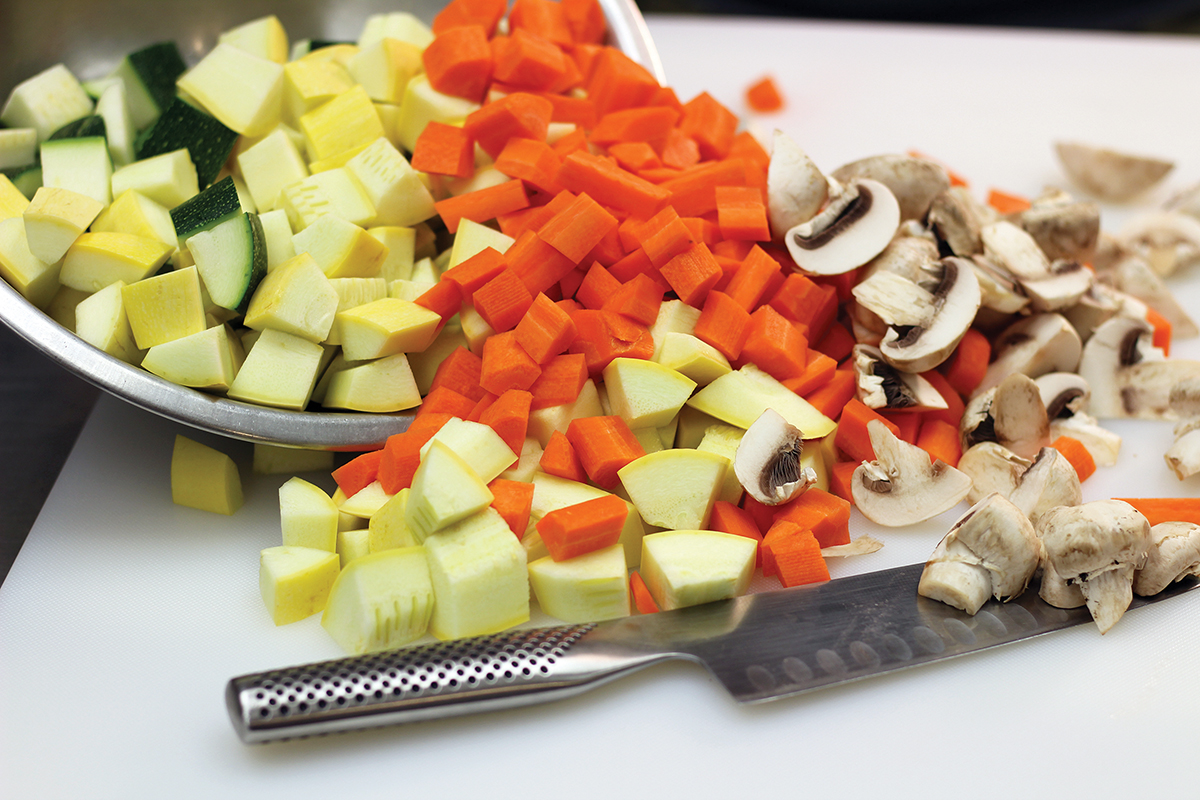 Do you have a nice collection of shiny knives in the knife block on your counter or tucked in your utensil drawer? Most people do, but don't really know how to use them. Are they sharp enough to get the job done in your kitchen? Do you know how to hold one properly to give you the best grip and angle to make cutting safer, easier, and faster? Would you love to have readily available cut vegetables to use in your cooking? You may have seen a great demo on a cooking show or even watched some tutorials online, but it never hurts to hear it again.
Chef Mario is very passionate about knife skills and has taught many a "kitchen warrior" during his time. He even plans to start an open kitchen "Knife Skills Sunday" class to pass on his wisdom and give people the space and equipment with which to practice. With a few tips from a pro, good tools, and a little practice, you too can master that knife and turn those veggies into healthy snacks, a delicious accompaniment to your meal, colorful and crisp additions to a pasta salad, or nice bites in a homemade soup – all prepped with your own, skillful hands.
Of course, if you want to have good knife skills and be comfortable cutting like a "kitchen warrior," a good knife is your first necessity. It is an essential tool for every chef and should be a staple in your kitchen. There are two styles of knives that work best for basic slicing and dicing in your kitchen: the classic chef's knife and the Santoku – both serve the same purpose, so whichever you choose is a matter of personal preference. Chef Mario is personally a fan of the Santoku, as the blade size and shape work great for most kitchen cutting tasks. You may also want to invest in a knife steel to keep the edge honed on your knife for easy slicing and dicing.
Speaking of sharp knives, if you haven't used those knives in a while, you may want to take them somewhere to get them professionally sharpened. A good test: if you can't easily cut through the skin of a tomato, your knife is too dull. A sharp knife will allow you to slice through veggies with little pressure, making it easier on you and reducing the chances of slicing yourself in the process. Pick a knife that fits well in your hand – it shouldn't be too heavy or too light.
Another essential tool is your actual cutting surface. Use a cutting board that is big enough to work on comfortably with enough space for the food item you are in the process of cutting, as well as some of the partially prepped items that are awaiting their final chop. To make your task a little easier, place a rubber mat (a piece of rubber drawer liner works good) or even a folded, wet paper towel under your cutting board – this will keep it from sliding around, giving you a stable surface for your slicing and dicing fun.
Now, the most important tip: hold the knife properly. Master the correct grip by following these simple steps: hold the knife in an upright position, grasping it between your index finger and thumb on the metal, right at the point where the blade meets the handle. Then, wrap the rest of your fingers around the handle. This will give you the best grip and the most control over your movement. Do not lay your index finger across the top of the blade; doing so will actually cause you to lose some of the stability you have when holding the knife in a proper grasp.
Once you have your knife under control, you need to protect your non-knife hand by employing "the claw." Curl your fingers inward, almost like you are gently holding a small ball, and keep your thumb tucked in. In this form, your "claw' hand will gently hold and guide your food items while you cut. With your fingers curved inward, if you slip with the knife, there shouldn't be any fingertips in harm's ways. But, as always, remember that you are using a sharp knife, so take it slowly and easily until you get comfortable with the utensil.
A few simple tricks and tips can make you feel like a master chef in your own kitchen. So spend a relaxing weekend morning this spring with some great music, a cup of coffee, and get chopping. You can turn your handiwork into roasted veggies and tuck them into small packages in your freezer for many uses. Keep some cut and ready to munch on when you need a snack and that chocolate croissant is calling your name. Or prep the following yummy Zero Guilt Veggie Soup for dinner. But as always – don't be afraid and practice, practice, practice!
Zero Guilt Veggie Soup
Makes approximately 12 servings. (We call it "bottomless" as you can eat as much as you want and remain guilt-free!)
– 2 medium garlic cloves, minced
– 1 medium onion, diced
– 2 medium carrots, diced
– 1 medium sweet red pepper, diced
– 1 medium celery stalk, diced
– 2 small zucchini, diced
– 2 cups shredded green cabbage
– 2 cups small florets, cauliflower
– 2 cups small florets, broccoli
– 6 cups water, enough to cover veggies
– 1 tablespoon hot sauce
– 2 tablespoons soy sauce
– 1/2 teaspoon salt or to taste
– 1/4 teaspoon black pepper or to taste
– 2 tablespoons fresh lemon juice, optional
Put garlic, vegetables, and water into a large soup pot. Cover and bring to a boil over high heat; reduce heat to low and simmer 10 minutes. Season to taste with hot sauce, soy sauce, salt, pepper, and lemon juice. Use any number of vegetables in this soup to make it full of all the things you love. 
Holly Hopkins
Holly has spent many years working with food, starting off at her Grandma's elbow, making wedding cakes and cookies galore. Since then, she has been a manager and business owner and is thrilled to be combining her passions for high quality food and superior customer service at Chef Mario's.