Kitchens
The Heart of the Holidays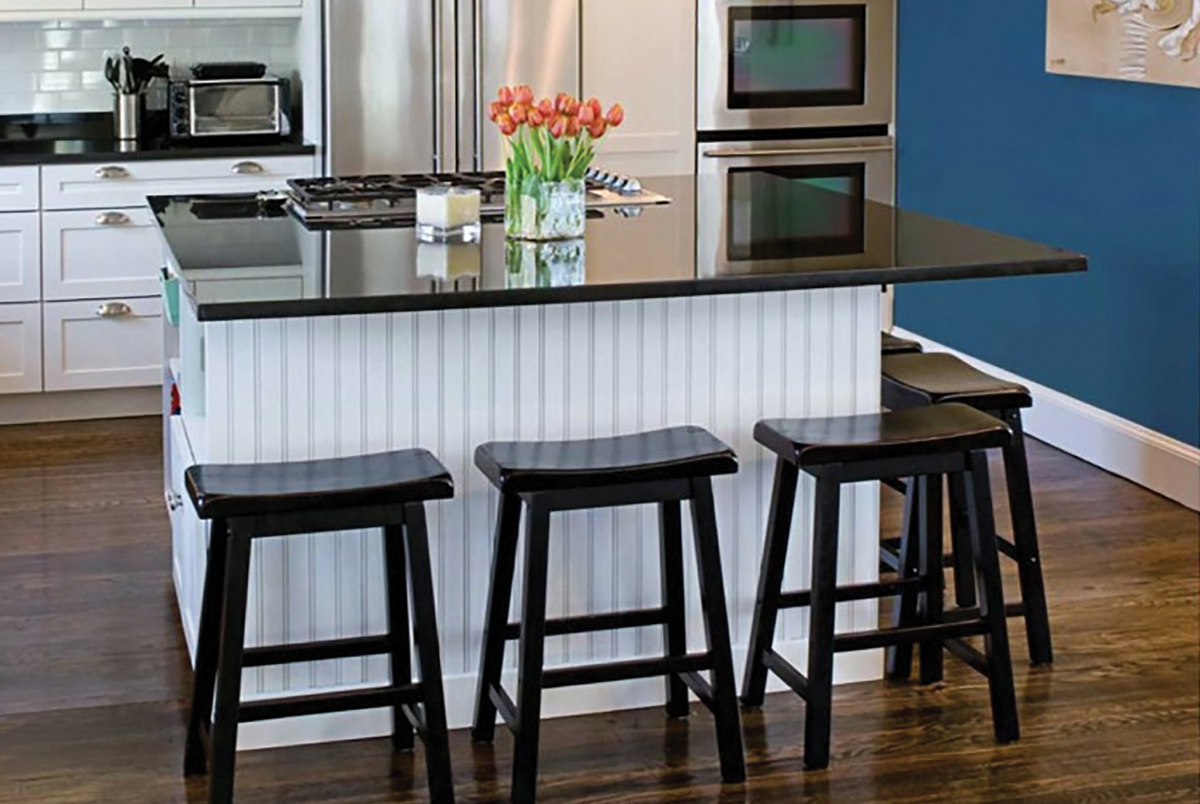 If you're anything like me, memories of past holidays probably include family and friends gathering around the kitchen. They may be memories of the immediate family gathering for Christmas morning breakfast. Maybe they were of your extended family who assembled for the traditional Thanksgiving feast. Or maybe they were of the annual holiday party with friends and neighbors celebrating the season together. No matter the occasion, the kitchen tends to be the heart of the home – during the holiday season, and all year long.
Do you find yourself wanting to create more memories by hosting the Halloween party that will be the talk of the neighborhood or having friends and family over for that traditional holiday dinner, but are hesitating to do so because you don't like your kitchen? Does it feel outdated and unwelcoming? Are you worried that you won't be able to afford the improvements needed to give it the transformation you desire, or tackle the project in time to throw that big holiday soiree? If you answered yes to any of these questions, have no fear … there are ways to improve the heart of the home that will meet all budgets and all timeframes so you can have money and time leftover to continue the holiday traditions with those you love.
For an instant and easy kitchen update with a big impact, simply change out the hardware on your cabinets and drawers to ones of a different finish. This quick and cost-effective project can make even the most ordinary cabinet come to life. For a more dramatic impact, paint your cabinets. Brighten them up by painting them a soothing white or cream color, or perhaps paint them a glossy black or chocolate brown. If this is the route you take and you currently have knobs on your cabinets and drawers, this is the perfect time to switch from knobs to pulls for an additional facelift (simply fill in the holes before painting). These two endeavors can take your kitchen from boring to fabulous in almost no time flat.
For more wow factor, add a tile backsplash. If you don't have tile in your kitchen, incorporating this one element can add so much to the space. Maybe you have a tile backsplash already, but the style is dated – as is the countertop. Replacing the current countertop with one of granite or quartz and updating the tile to a more current and trendy version can be a huge improvement that goes a long way in modernizing your house, while also increasing its value (who doesn't want that?). While undertaking these enhancements, go ahead and update your faucet and sink, making sure to tie all of kitchen's elements together for a cohesive look.
Another impactful way to improve your kitchen is with lighting. A well-lit space is not only more inviting, but user-friendly as well. Do you still have the big fluorescent square box of years past in your kitchen? Think about replacing it with a beautiful, modern light fixture that not only looks beautiful, but also gives a more pleasing light that you cannot get from fluorescent lighting. Investing in recessed lighting is another way to get better light in the kitchen as well. A licensed electrician can add these rather easily in most spaces. Undercabinet lighting is also a great addition to any kitchen. It can serve as extra lighting for preparing meals and as subdued lighting at night – perfect for a cozy evening of dinner and drinks with friends to celebrate the holidays. Updating pendant lighting over the counter and lighting over the kitchen table are easy and cost-effective ways to quickly bring about dramatic results.
Perhaps you have moved into a new home, or recently have undergone a complete kitchen remodel. While your kitchen may be brand new, it may be lacking personality. Adding window treatments, artwork, and the right accessories will take your space to the next level. Rugs under the table or in front of the sink can add much needed softness to the area. Fresh flowers and plants bring the outdoors in and add an inviting tone to the space. They are also a great way to decorate for the various upcoming holidays (freshly cut sunflowers just scream that fall has arrived, while a stunning red poinsettia on the kitchen table is sure to be an eye-catcher during the Christmas season). If your kitchen furniture has been hanging around longer than it should have, then consider something new. This doesn't mean you have to go out and spend a fortune on a new dining set. Sometimes just replacing the chairs is all the update you need – maybe you want to go with a traditional style, or perhaps seating that's a little more vintage will add personality and character.
And let's not forget paint – whether it's painting walls, furniture, or cabinets like I mentioned earlier – if you are handy at all, paint is probably the most budget-friendly way to transform a space and is an easy project you can tackle yourself if you are transforming on a budget. Keep in mind, though, that painting cabinets is a labor of love. There is a lot of prep work involved to ensure it is done correctly and can stand up to daily use – but it is well worth it for the best results. Not interested in tackling the cabinet-painting project but still want added drama in your kitchen? How about just painting the island a fun or bold color (making sure it still matches the countertops as well as the cabinets)? Painting the walls depends on the space and the layout of your home. With an open floor plan, consider painting an accent wall a dramatic color instead of all the walls, to avoid creating a feeling of separation from the rest of the space. If your house does not have an open floor plan, then painting all the walls may be the only update needed to breathe new life into your kitchen. Color is very important and should flow with the rest of the common spaces in your house.
If you think your kitchen is in need of a complete overhaul, know that a remodel of this space is a big undertaking. Hiring the right professionals will not only make the job go more smoothly, but will save you money in the long run. An interior designer can pull the entire plan together, helping you to avoid costly mistakes.

No matter what situation your kitchen is in, even small updates can bring inviting results. You may find that once you get started, the inspiration will keep flowing, and your once-tired kitchen can be brought back to life – just in time for all those wonderful holiday celebrations with friends and family.
Rhonda Benvie Plummer
The owner of Help Me Rhonda Interiors and Open Door Furniture & Accents, a furniture and accessories store, in Wake Forest. Visit www.helpmerhondainteriors.com or www.opendoorfurnitureandaccents.com, or call 919-263-9054.