Keep It Clean
A New Year's Resolution For Your Home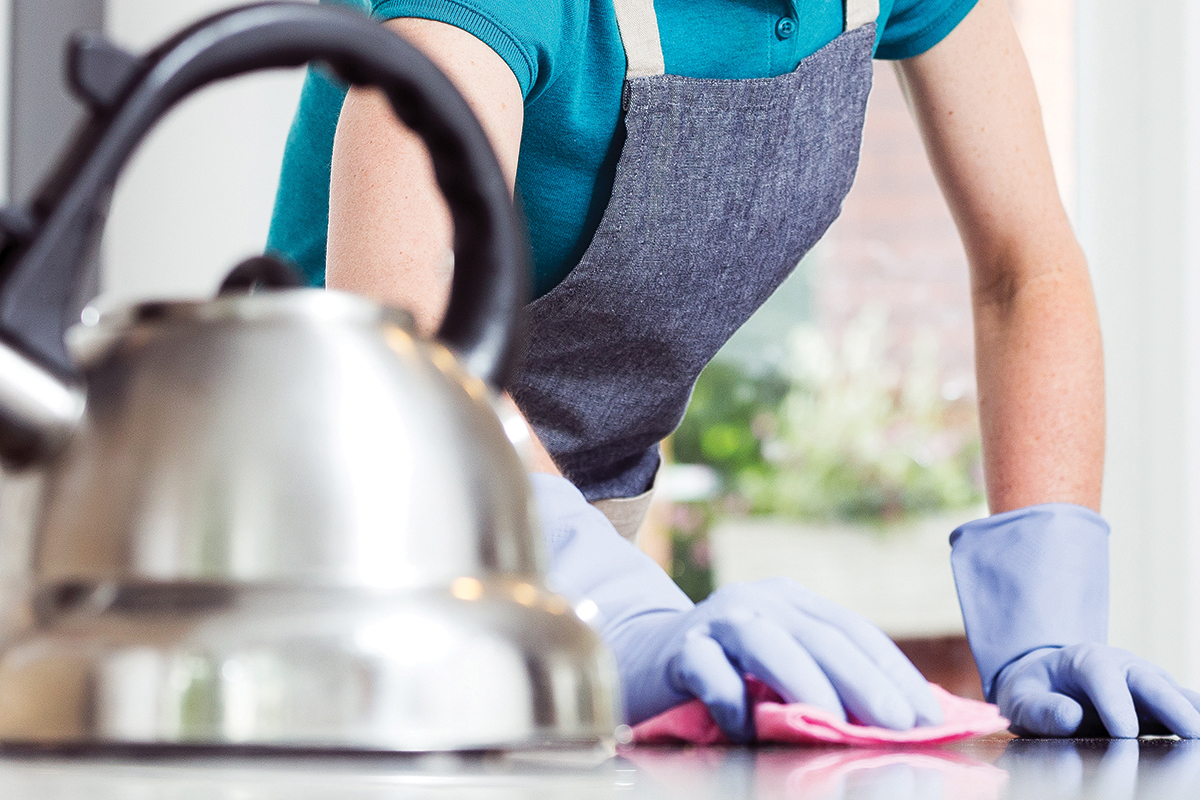 Instead of a "New Year, New You" resolution for 2018, how about a "New Year, New Home Cleaning Routine" resolution instead? A clean home is healthy and contributes to a deep sense of peace and wellbeing every day. If you want your home to look, feel, smell, and stay clean consistently, follow this guide for what to clean, and when.
DAILY. Especially if you cook, clean your kitchen every day, paying special attention to removing food residues that breed germs and cause unpleasant odors. Tidy and wipe countertops in both the kitchen and bathroom, and disinfect high-touch areas, such as bathroom doorknobs and toilet/sink handles (especially during cold and flu season). Sweep or dust wood and tile floors (at least in high-traffic zones) to prevent surface grit from being ground in and embedded.
WEEKLY (AT MOST, BIWEEKLY). Change and launder bed linens. Wash floors. Vacuum carpets. Disinfect things people touch frequently such as doorknobs, light-switch plates, TV remotes, phones, and keyboards. Scrub and disinfect toilets, tubs, showers, sinks, kitchen counters, and backsplashes. Clean mirrors.

Dust ceiling fans, shelves, lamps, window sills and sashes, base-boards, picture frames, window blinds, books, knick knacks – anything that accumulates dust. (Tip: Dust first, then vacuum to capture and remove fallen dust.)

MONTHLY. Vacuum furniture upholstery, pillows, cushions (plus under and behind), mattresses (flip and/or rotate), and under and behind any large movable furniture. Inspect for signs of mold and mildew growth and treat accordingly (Tip: If you do encounter mold or mildew, you need to step up your weekly cleaning game!) Sanitize washing machine. Wash waste baskets/recycling bins and either wash or replace shower curtain liners.
SEMI-ANNUALLY TO ANNUALLY. Deep clean both large appliances – oven, refrigerator, dishwasher – and small, including coffee maker (decalcify), toaster, blenders, standing mixers, and so forth. Purge cabinets of expired foods/medicines. Wipe or wash insides of cabinets and drawers. Wash walls, windows, screens, permanent light fixtures, and bathroom fans. Clean out dryer lint vents. Clean or replace all HVAC filters. Shampoo, steam, or professionally clean rugs/carpets, and furniture upholstery. Launder or send out for professional cleaning all heavy bed linens and window treatments.
If you're not that into cleaning or simply don't have time to get it all done, you can stick to your New Year's resolution by calling in a professional to tackle the cleaning tasks for you.
Todd Nelson
Owner of MaidPro of Raleigh and Wake Forest.