It's Beginning To Look A Lot Like Cocktails!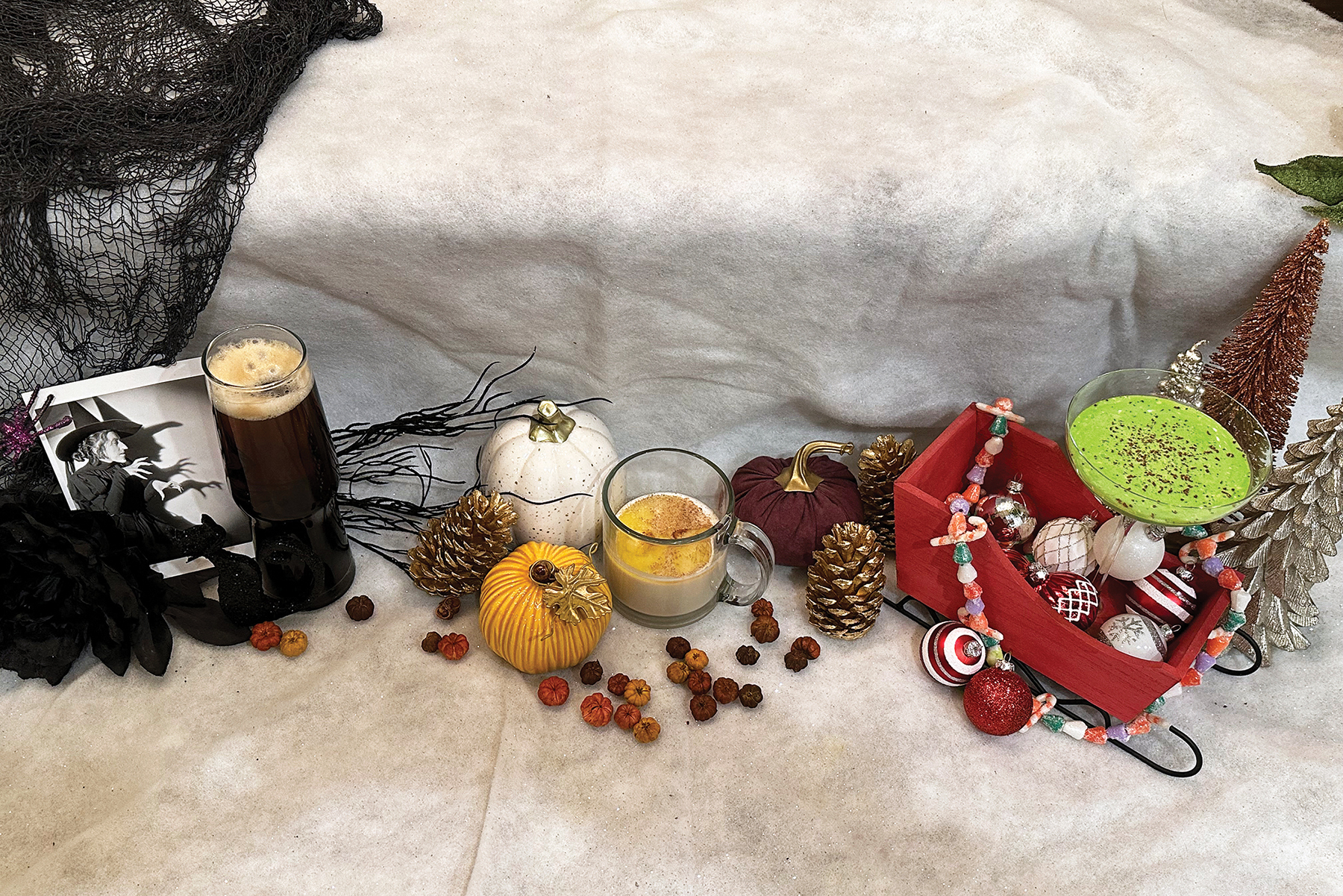 Can you feel it? That morning crispness in the air that whispers 'tis the season for holiday cheer. This time of year brings fun, colorful stories, décor, and cocktails! The fall and pumpkins seem to go hand-in-hand, but why be boring and have the typical pumpkin spice ______ (fill in the blank) when you can have some high class and a history lesson combined into one?
Did you know that the imagery we associate with witches today stems from the original "brewsters" of beer? Ale wives, or brewsters, were the women who brewed beer in the 1600s. As you can imagine, a cauldron was used for brewing large batches of beer. The cats, often black, were kept to scare the vermin away from the grains used for brewing. The tall black pointed hats were worn by the brewsters in the marketplace to help customers find them, since they were typically of smaller stature than their male counterparts in the market. Once the beer was finished brewing and ready to drink, the brewster would hang a broom above her door to let everyone know the beer was ready. I don't know about you, but I intend to trick-or-treat at the home of the witch this holiday season! In honor of our witchy brethren, the Halloween drink we are brewing is the Black Velvet. The name itself speaks of richness in color and texture. To make this a top-shelf cocktail, start by using one of our area brewing companies' choice of seasonal stout and top off with an equal part of champagne or your favorite sparkling wine. Witchly delicious, it will have you cackling through the night!
As the air begins to chill and we all gather together to give thanks, time with friends and family warms the heart – so why not warm your taste buds as well? For something warm, spicy, and comforting, yet still boozy, try a "Dirty" Hot Buttered Rum. This classic cocktail with a modern twist will have you giving thanks.
As we all know, the moment Thanksgiving ends, the holiday craziness begins. While not a creature is stirring, not even a mouse, you should be stirring up a Christmas cocktail! The Christmas Cricket is crafted with blanco tequila, vanilla liqueur, minty amaro, coconut pandan, cream, mole bitters, and dark chocolate. Leave this out for Santa to sip with his cookies and it will be his best Christmas yet.
Black Velvet
– Equal parts stout or dark beer and champagne or sparkling wine
"Dirty" Hot Buttered Rum
– 1 teaspoon brown sugar
– 4 ounces hot milk
– 1½ ounces spiced rum (try Hazel 63 to support a North Carolina distillery)
– ½ ounce coffee liquor (Mr. Black is the absolute best in my opinion)
– 1 tablespoon butter
– Ground nutmeg
Prep your mug by pouring piping hot water into it and covering with a small plate. Once warmed, pour out the water, add brown sugar and hot milk (or fresh, hot water for a lighter texture). Stir until the sugar dissolves and then add rum. Gently float the butter atop the drink, sprinkle some freshly ground nutmeg, and enjoy.
Christmas Cricket
*Made famous by the Miracle Christmas Cocktail Pop-up Bar
– 1½ ounce blanco tequila
– ½ ounce vanilla liquor (I recommend Licor 43)
– ¼ ounce mint amaro
– ¾ ounce coconut pandan syrup
– ¾ ounce cream
– 2 dashes mole bitters
– Dark chocolate shavings
Mix all ingredients in a shaker tin with ice and strain into a Nick and Nora glass. Garnish with grated dark chocolate.
*Broadsides& Brews will be hosting the Miracle Christmas Cocktail Pop-up Bar this holiday season. To learn about Miracle, visit miraclepopup.com.

Joni Falvey
Owner of Broadsides & Brews, located at 223 S. White Street in Downtown Wake Forest. Follow on social media @broadsidesandbrews.