Interior Design Trends For 2019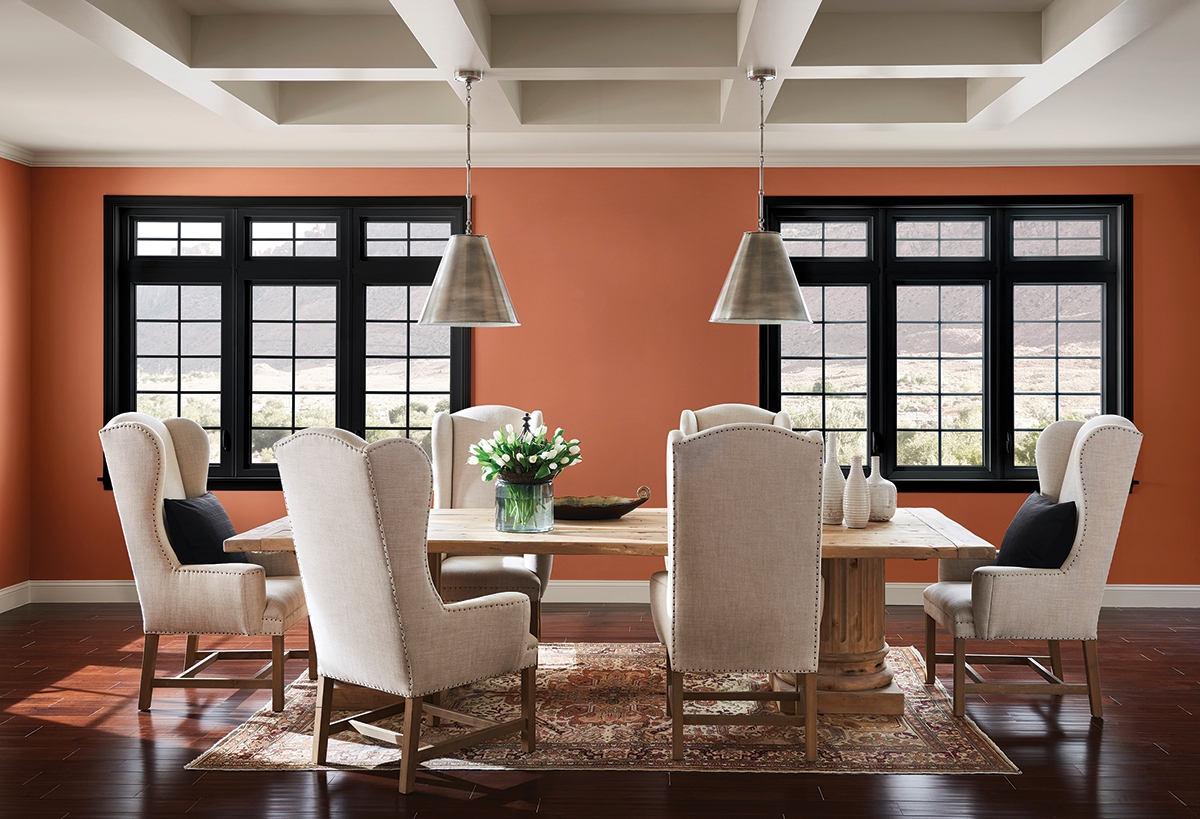 It's that time of year again – a brand new year full of opportunities for personal growth, relationships, and goals. It's a chance to "reboot" many aspects of our lives. When you're figuring out what you'd like to overhaul now that the new year is upon us, don't forget to give your home a little reboot too. In the design world, professionals are busy implementing the new design trends into our lives. You will see these trends for 2019 splashed in magazine articles, online interior design sites, social media posts, and of course in local stores. So if renewing, refreshing, and revitalizing your living spaces has made it onto your list of resolutions, here are some trends you might see and may want to tap into to breathe new life into your home this new year.
Kitchens and Bathrooms
For 2019, dark cabinets in black, navy blue, and hunter green with a matte or chalky finish are in fashion. Simple, shaker style cabinetry is still the go-to, while contrasting countertops in light colors are the current rage. But beware of solid white quartz countertops – some pattern and texture is more on par. To set off the neutral palette, use vibrant and overstated hardware in the up-and-coming tones of brass and golds. And don't be afraid to mix the metals in the space – if the lines of the hardware and lighting complement each other, you will have a more interesting space by mixing them. If you're thinking of changing out your backsplash tile, go bold. This year, daring patterned tiles for kitchen backsplashes and bathroom floors or walls are stocking the shelves of tile retailers.
Ceilings
Statement ceilings are making a splash in home design in 2019, with something out there for every style. If you envision a farmhouse style, then think wood beams, shiplap, or wood planks on the ceiling – in addition to being visually pleasing, these will provide a feeling of warmth. Maybe you prefer a more traditional look. If so, then coffered ceilings in many types of designs may be the way to go. For instance, if industrial "city loft" is your decorating style, then metal on the ceiling can add a dramatic wow factor to any room. Or consider wallpaper – yes, wallpaper on the ceiling is a huge player in the design world right now. With the array of patterns, textures, and designs available today, wallpaper on ceilings can fit any design style and provide an instant transformation to a space.
Mix it Up
The mixing of decorating styles is very popular for 2019. Gone are the days of one sole style in your home. For example, mid-century modern is hot this year, but having a home that reflects everything in that same style is simply too much. Instead, incorporate a little art deco glamour along with unique antique pieces to add whimsy and interest. Or if your room is more of that previously-described farmhouse style, pair and complement your favorite rustic touches with a few clean, straight-lined modern ones.
Paint Colors
We all look forward to the color forecast every year. 2019 is dominated by warm, deep earthy tones. "Coral is a great accent color and is often used to bring pops of color into more neutral spaces. If you want to go bold, but not overcommit, try using Sherwin-Williams' Coral Reef (SW 6606, pictured below) to paint the kitchen island, as an accent wall, or within artwork in the room," suggests Sue Wadden, director of color marketing at Sherwin-Williams. Their color of the year is Cavern Clay (pictured above), best described as a warm terra cotta. Behr's color of the year is Blueprint – a hue that is warmer than denim, but softer than navy. Night Watch is the color of the year for PPG. This is a true forest green color. These colors, all of which mix well together, are true indicators of the shades that are being seen everywhere – warm and earthy, and mixed with jewel tones ... think rubies, sapphires, emeralds, topaz, and amethyst. Neutrals that are currently trending include warm grays and blush, nude hues.
Fabrics and Wallpaper
This year, bold and floral are on point when it comes to fabrics and wallpaper. Geometric is still the rage, but ikat patterns are out. Texture in fabrics is a must for the monochromatic color schemes that are so popular. Velvet is making a comeback, so don't be afraid to mix it with wools, cottons, linens, and silk-like fabrics for added personality to a space. Also making a return is fringe! While I'm sure visions of the '80s are popping into your mind, fortunately the use of fringe in interior design has come a long way. This design trend has certainly been a thing of the past for a while, but it's working its way back in, just perhaps on a more understated level – now it actually provides a beautiful accent for a little modern flair. You'll find fringe nowadays on a range of items, including furniture, lamps, window treatments, chandeliers, and even artwork.
Going Green
Also hot for 2019 is "going green." I'm not referring to the energy-efficient, environmentally-friendly version of going green (although that is always something to aim for when decorating any space). This time I'm referring to the addition of real plants to your home for added softness and warmth. No matter whether it's the very popular and trendy succulent, the classically beautiful peace lily, or the vibrant and stunning African Violet, houseplants provide function and form, add color to complement any décor, and can instantly change the feel of any room. Plus, they make for a healthier indoor climate. If you weren't blessed with a green thumb, high-quality artificial plants look very realistic these days and can still provide the feeling of an indoor green oasis. This little touch can make a house feel like a home almost immediately.
These design trends are relatively easy and cost-effective and can provide the decorating "reboot" you crave. This transformation may be as easy as painting an accent wall, adding a few new accessories, or simply rearranging some of the items you already have in your home. However, if you find yourself needing a little help or further inspiration, consult with a design professional for some ideas. Regardless, don't let that resolution of giving your home a facelift go by the wayside … make this the year to freshen up your space.
Rhonda Benvie Plummer
The owner of Help Me Rhonda Interiors and Open Door Furniture & Accents, a furniture and accessories store, in Raleigh. Visit www.helpmerhondainteriors.com or www.opendoorfurnitureandaccents.com, or call 919-263-9054.