Ho Ho Hold Off Holiday Cavities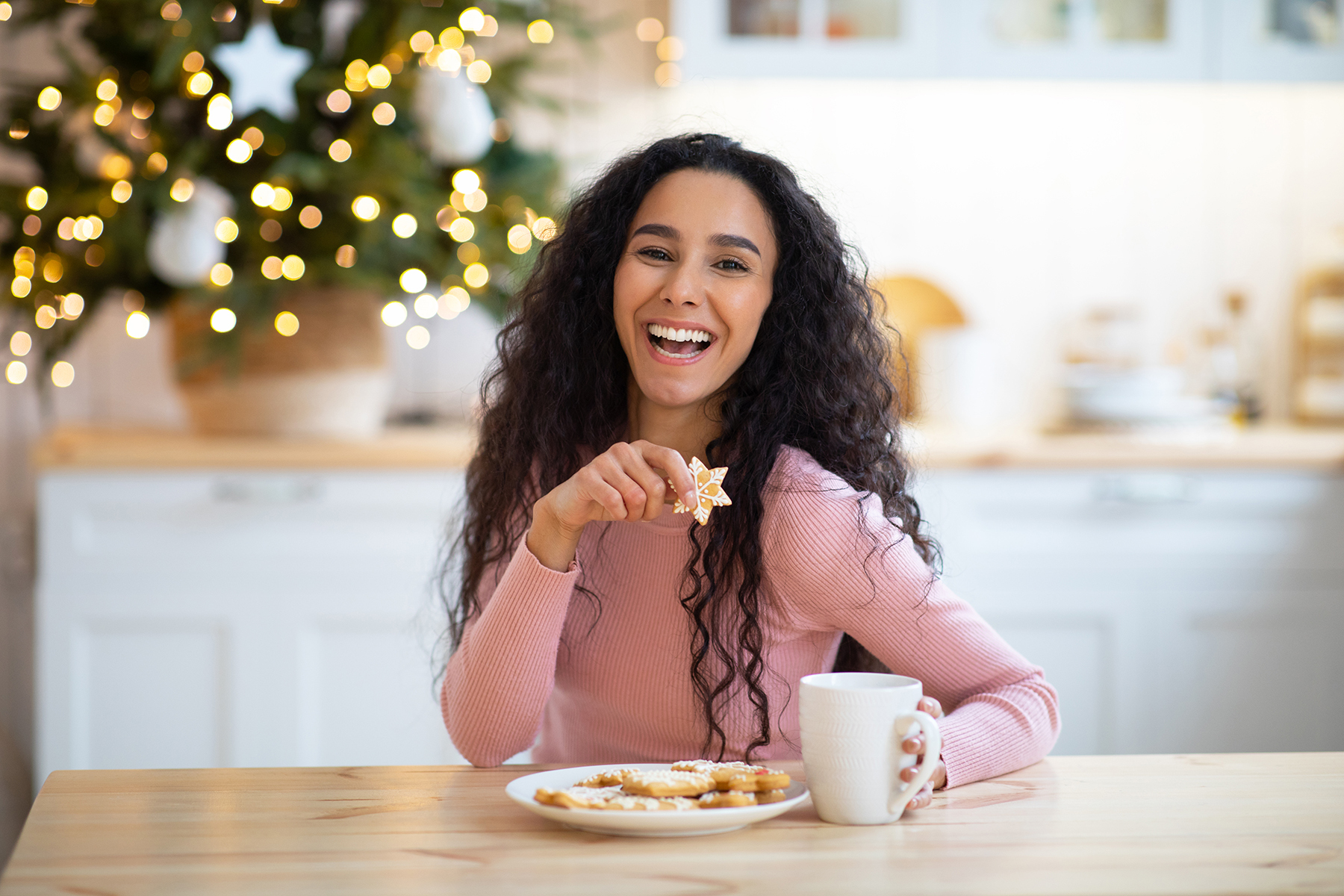 The fall season is chock full of festive holiday fun and celebrations. It's also chock full of Halloween candy, s'mores, pumpkin pies, gingerbread cookies, eggnog, candy canes, and more. While indulging in delicious treats this time of year is certainly understandable, doing so can wreak havoc on your oral health. It's important to take good care of your teeth during this sweets-filled season. Following are a few tips to help ensure your smile stays healthy over the next few months (and all year long).
MAINTAIN YOUR DENTAL CARE ROUTINE: The busier you are, the easier it is to let your regular habits slide. And the extra busyness this time of year certainly doesn't help. Don't get put on Santa's naughty list by skipping your oral health care routine after you've arrived home late from trick or treating or that festive Christmas party. By starting and finishing your day with your usual brushing and flossing routine, you'll ensure that cavity-causing culprits such as that slice of apple pie or that glass of red wine aren't hanging around to contribute to plaque build up or stains.
LIMIT STICKY SWEETS: Sticky sweets such as caramels, gummy bears, and taffy – while convenient to pass out for Halloween and easily fit in stockings – can do more harm than good. Additionally, consumption of dried fruits such as cranberries, which are a common holiday staple, should also be limited. Not only does chewing these items make your jaw and teeth work harder, these foods also tend to linger on teeth longer than other types of food, increasing cavity risk. If you do eat sticky sweets and dried fruits, be sure to rinse with water and brush carefully afterwards.
BEWARE OF HARD CANDY: Just as sticky sweets can cause dental dangers, so can hard candies. Not only are they packed full of sugar, they can also cause teeth to break or chip.
WATCH THE STARCHY FOODS: We all love chips and dip, cake and cookies, especially this time of year. But these foods can get trapped in your teeth, so if you do indulge in them, take extra care when you floss to remove any of their leftover food particles.
STAY HYDRATED AND LIMIT YOUR ALCOHOL INTAKE: 'Tis certainly the season for eggnog! However, consuming too much alcohol can dry out your mouth, making it more susceptible to cavity-causing bacteria. If you choose to imbibe in alcoholic beverages, try to drink plenty of water too to help keep your mouth hydrated.
TREAT YOURSELF TO A NEW TOOTHBRUSH: It's generally recommended to get a new toothbrush every three months. Take advantage of holiday sales and treat yourself to a new electric one. Likewise, if you've got little ones in the house, a timer toothbrush is a great stocking stuffer.
ENJOY THE SEASON: So, what can you eat this time of year? Lots of stuff! The holiday season only comes around once a year, so give yourself permission to indulge in some decadent delights. Craving that pumpkin spice latte? Have a hankering for warm pecan pie? Can't resist that extra candy cane? Go ahead and enjoy those tasty treats! But if at all possible, consume those sweet and other sugary foods or beverages with meals or shortly after mealtime. Saliva production increases during these times, helping to cancel out acids produced by bacteria in your mouth and rinse away food particles. And try to balance those sweet and sugary treats with foods that are good for the health of your teeth (and your overall health). Incorporate protein choices such as lean beef, fish, and skinless poultry into your diet. Include whole grains, and low-fat or fat-free dairy foods. If you find yourself reaching for a holiday snack, try to opt for nutritious choices such as cheese, fruits, veggies, or yogurt instead.
SCHEDULE YOUR DENTAL CHECKUP: Even if you've refrained from eating too much sweet stuff during the holiday season, jumpstart those New Year's resolutions of getting and staying healthy by scheduling your dental checkup, ensuring your teeth, gums, and mouth remain in tip top shape.
Dr. Edmond Suh
Owner of Supremia Dentistry, located at 1711 S. Main St. in Wake Forest.