Hidden Gems
Must-Ride Triangle Trails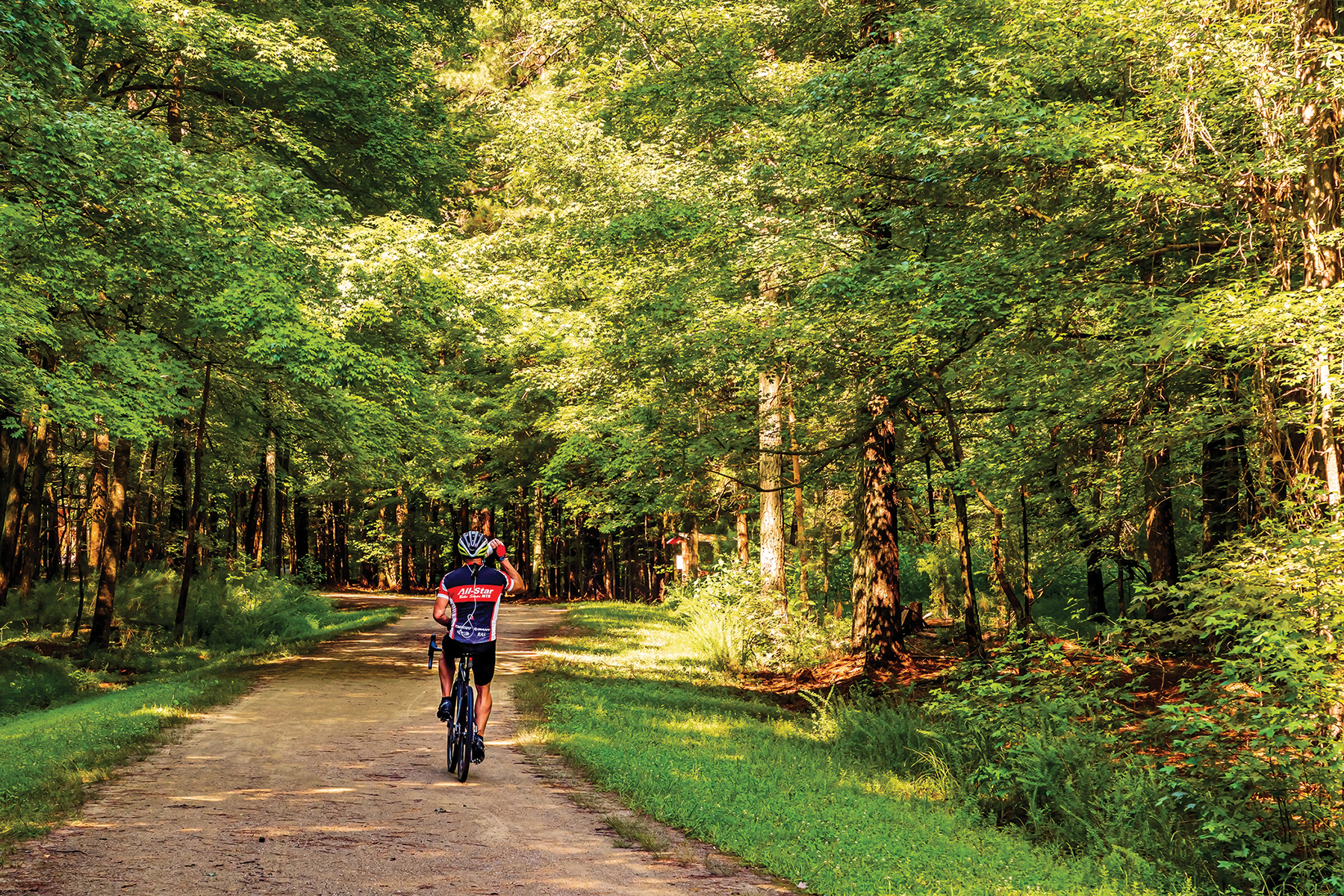 Let's cover some ground, literally. Summer is abundant in myriad ways: daylight, fresh produce, vacation days. And of course, heat! For those of you who have braved it year after year, you are surely intimately acquainted with the early season cravings for sun and warmth only to immediately retreat on the first blistering, 100% humidity afternoon. When bath-like pool water barely qualifies as a respite, I cast my vote for biking to keep the outdoor fun rolling (pun absolutely intended). Wind in the hair, a destination on the map, and perhaps a drop or two less sweat than a broad-daylight jog, bike riding affords a kind of playful freedom reminiscent of the gleeful, carefree, popsicle-laden summers of childhood. Whether you're an off-roader or a leisurely pedaler, the Triangle has routes for days.
Paved
Neuse River Greenway Trail
12101 Old Falls of Neuse Road, Wake Forest
Part of the 100-mile Capital Area Greenway system and Mountains-to-Sea Trail, the Neuse River Greenway is a wide, paved pathway extending 27.5 miles from the Falls Lake Dam to the Johnston County Line. What's truly lovely about it is the diversity in scenery along the way. It winds by waters' edge through forests, marshes, and historic sites. Completely independent from road traffic, it is the premier, safe passage to exploration along the Neuse River.
As an out-and-back path, you have the option to park multiple cars, one at each end of a trail segment, or go all in for the double distance. While just one of many spots along the trail to begin, the Falls Lake Dam may be the most grandiose – especially when the flood gates are open.
Art to Heart Corridor
2110 Blue Ridge Road, Raleigh
While the Neuse River Greenway is bursting at the seams with scenic nature, Art to Heart covers the culture department while still not skimping on plenty of shady foliage. Shorter, but ripe with endpoint and midway attractions, it's a zippy ride through some of Raleigh's most desirable pockets. This is a six-mile ride beginning at the NC Museum of Art and heading straight into Downtown (hence "Art to Heart").
The trail takes you through Meredith College, NC State, Pullen Park (a fun place to stop for littles), and Boylan Heights neighborhood, with plenty of bridges to cross and tunnels through which to zoom. Perks of this corridor are the many refreshment options along the way. Also an out-and-back trail, you can pedal home with the help of a little roadside sustenance or else park a car at either end.
Off-Road
Umstead
2139 Old Reedy Creek Road, Cary
Umstead is a veritable slice of heaven in between I-40 and US 70. Expansive and friendly to all types of creative movers (including horses!), the trails are wide, well-maintained, and completely shady, a blessing on days when the summer sun feels no less than punishing. Umstead is well-known and loved as an off-road haven for bikers seeking a nature-fueled ride, but nearly never feels crowded thanks to generous passageways and vast acreage. Since the gravel trails are well-packed, Umstead is a gentler foray into off-roading compared with more technical mountain biking. In terms of ruggedness, a hybrid tire would be the most optimal for a smooth, yet navigable ride.
A loop encircles the eastern half of the park and is accessible via Raleigh and Cary. Coming from Raleigh, use the Graylyn Drive entrance and head south on the Graylyn multi-use trail to complete the loop counterclockwise. The Cedar Ridge multi-use trail (at left if heading south) cuts the loop in half and also offers a fun and curvy downhill ride, including a creek crossing at the bottom. If coming from Cary, use the Old Reedy Creek Road entrance and take the Reedy Creek multi-use trail until it links up with the aforementioned loop. While the trails are labeled boldly, I recommend bringing along a map or phone since the park is large and speedy downhill riding can carry you far from an intended route (relaying the experience of a friend of course…).
New Light Trails
1221 Old Weaver Trail, Wake Forest
Full-on mountain biking, this is more than a casual jaunt through the woods. Ideal for intermediate and advanced riders, these trails offer fantastic opportunities to hone technical skills, head far away from pavement of any kind, and maybe even catch some air. A bit off the beaten path (can't stay away from the puns!), I advise heading to trailforks.com to find detailed instructions for how to get there and where and when to ride. Since the land is managed by the North Carolina Wildlife Resources Commission, the trails are only open on selected days in the off season. This is bike riding in its most rugged form with a quintessentially Raleigh twist as some of the trails flank the shores of Falls Lake and offer stunning views of the water.
These are a few friendly favorites for the keen adventurers this summer, but they by no means cover the extent of the Triangle's fabulous cycling opportunities. Many other hidden biking gems are waiting to be discovered and experienced. As mentioned earlier, the Neuse River Greenway is part of the Capital Area Greenway system and connects to other lengthy and scenic routes, all of which are worth exploring. For example, try out the Walnut Creek Greenway for access to Dorothea Dix Park and Lake Johnson, both of which offer community engagement via classes, events, and festivals. Crabtree Creek Greenway is a winner for stops at North Hills and the NC Museum of Art. Another idea: Cap off an afternoon of summer riding with a wildly scenic hilltop picnic at Green Hills County Park, accessible via Abbotts Creek Greenway. The possibilities are endless!
Blustery and rewarding, biking around town gets you from point A to B (even if A and B are the same spot) with none of the frustrations of traffic and all of the endorphin-fueled joy of self-propelled movement. As our neck of the woods expands, my hope is to see bike lane mileage growing alongside it. There are many arguments to be made for why cycling can elevate our quality of life and community, but I think the most obvious is that it's simply fun. So this summer, if you're craving some amusement and adventure, look no further than these local cycling gems.
Alli Hurley
A local screen actor, content creator, and writer. Several ideas here appear in her book, 100 Things To Do In Raleigh Before You Die, available at Quail Ridge Books, Bayleaf Market, Nofo @ The Pig, Barnes & Noble, Amazon, and her website, allihurley.com.