Hidden Gems
Stop And Smell The Roses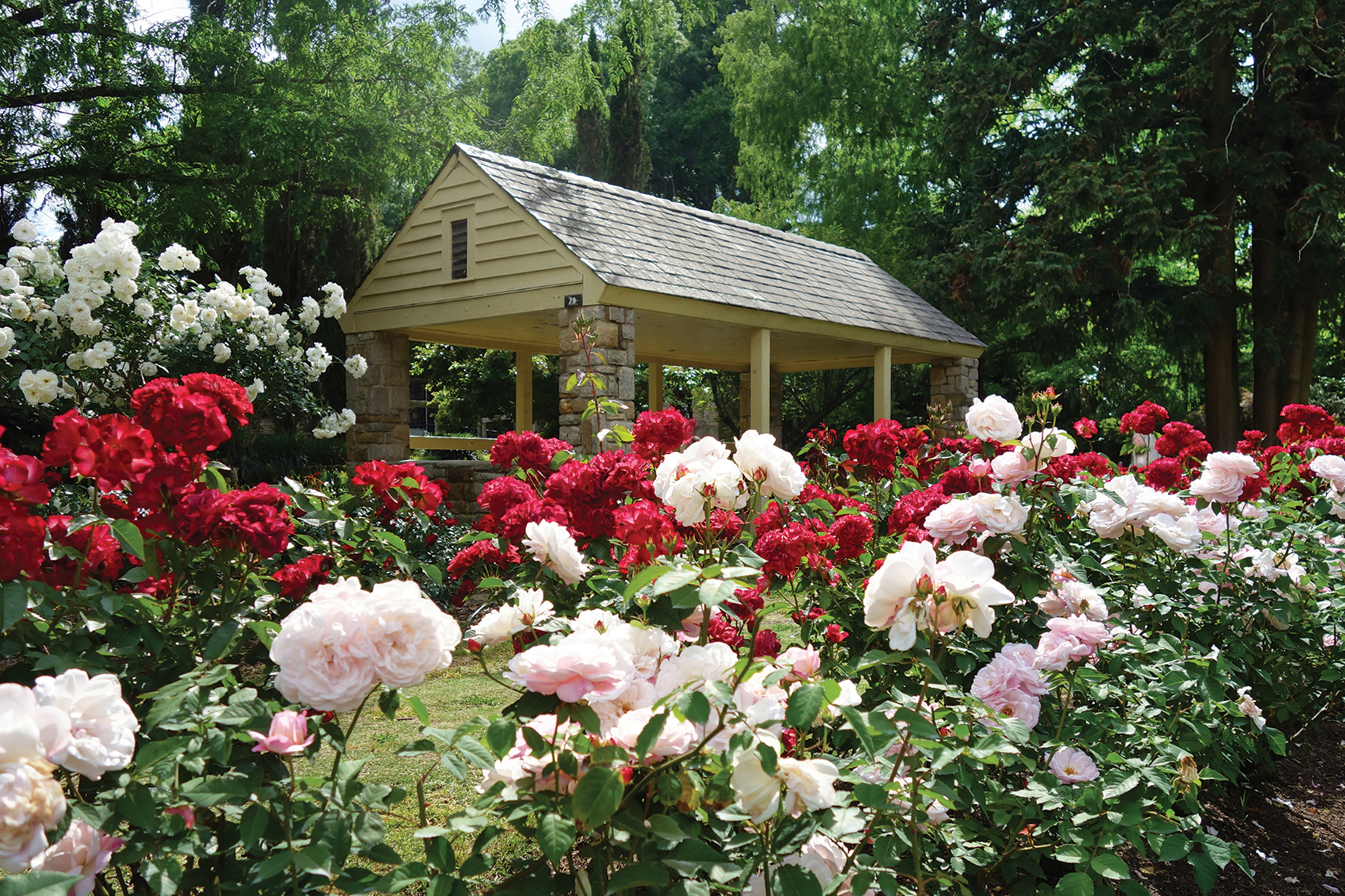 Spring is a time for celebration. The blooming colors, sounds of nature awakening, and the warmth of the sun all lend themselves to a feeling of joy and contentment. It is the time of the year during which we can literally stop and smell the roses and other blossoming plants around the Triangle. To make the most of this season and be intentional in your desire to enjoy the foliage of spring, here are a few hidden gems to give you the chance to do just that.
A Southern Landscaper's Dream
JC Raulston Arboretum
4415 Beryl Road, Raleigh
The JC Raulston Arboretum is a 10-acre garden that is part of NC State University. It has one of the largest and most diverse world-renowned collections of landscaped plants adapted for use in the Southeast.
It was first started by J.C. Raulston upon his arrival at NCSU in 1976, originally developed as a trial garden to determine which plants could be evaluated in a garden setting in North Carolina because he recognized that any plants that were able to grow and adapt could be distributed to nurseries across the state to be sold. This in turn made North Carolina one of the largest nursery producers in the country.
The arboretum consistently has 5-star reviews and is repeatedly described as "well-maintained." This is no surprise as its staff is composed of nationally recognized gardeners. The arboretum offers programs throughout the year to enthusiasts of all ages. Admission is free. Hours and programs can be found at jcra.ncsu.edu.
For The Romantic In All of Us
The Raleigh Rose Garden
301 Pogue Street, Raleigh
Peaking around Mother's Day, The Raleigh Rose Garden provides a place of tranquil beauty until fall's first frost. You can often find solitude on the grounds of the garden allowing for peaceful reflection. It has also served as the location for many a couple's engagement, paintings by local artists, and frolicking.
The Rose Garden shares a space with The Raleigh Little Theater. Originally established to add beauty to the natural amphitheater, the Rose Garden – "one of three accredited rose gardens in North Carolina" and whose grounds "include 60 rose beds with varieties of hybrid teas, floribundas, grandifloras, miniatures, and antique roses, surrounded by an arboretum of evergreen and deciduous trees," as described on its website – has grown to serve as the backdrop for family gatherings, weddings, concerts, and other events.
The garden, which was officially handed over to the city of Raleigh in 1951, has served as a source of pride and collaboration for the community. It is maintained by the staff of the City of Raleigh's Parks, Recreation and Cultural Resources department with the help of an army of volunteers known as the "Dead-Headers." Admission is free. Learn more at raleighlittletheatre.org/visit-us/rose-garden/.
Worth The Drive
NC Botanical Garden
100 Old Mason Farm Road, Chapel Hill
The North Carolina Botanical Garden, operated by the University of North Carolina at Chapel Hill, is a conservation garden made up of over 1,100 acres of different display gardens and conservation areas. The guiding mission is to "inspire understanding, appreciation, and conservation of plants and to advance a sustainable relationship between people and nature."
The popular display gardens take you on a beautiful and educational journey – from the NC mountain habitat to the coastal plains, you will enjoy a botanically-inspired walk through the different regions of the state. You will also have the opportunity to view other displays including the Children's Wonder Garden and, for the adventurous at heart, the Poisonous Plant Garden. Printed versions of a display garden map can be found at an outdoor station under the breezeway next to the Allen Education Center.
The NCBG plays many roles within the community. In addition to the outreach and research, they also offer a wide variety of learning programs and events for all ages. Additional information on these programs can be found at ncbg.unc.edu. Admission is free.
Discovering Uniqueness in Botany
Juniper Level Botanic Garden
9241 Sauls Road, Raleigh
Juniper Level Botanic Garden (JLBG) is unique in its approach to botanic gardens. According to its website, the mission of JLBG includes both a desire to preserve and protect botanic diversity and to create a "serene venue for noticing the impersonal nature of presence using the pointers offered within the perennial wisdom teachings."
The garden consists of a large and diverse collection of ornamental plants. By using the specific beauty and design of each plant for placement, the garden is able to highlight the best attributes of the plant. While emphasis is placed on aesthetics, the garden also serves a practical and important role through ex-situ conservation by spreading rare plants around the world to increase their chances of survival during ongoing climate change. This 28-acre garden is free of charge to visit. There is also a nursery on-site as well. Check jlbg.org for times the garden is open to the public, maps, and additional programming information.
This is just a sampling of the many wonderful gardens in our area. A number of others await your visit this spring. For instance, the 55-acre Sarah P. Duke Gardens in Durham (right in the heart of Duke University) is another favorite destination for many – more than 300,000 visitors come from all around the world each year. Distinguished as one of the premier public gardens in America, it is celebrated for its landscape design and high-quality horticulture. Learn more at gardens.duke.edu. Additionally, the Louisburg College's De Hart Botanical Gardens include, according to
Louisburg.edu, "preserved forestation and an open area with a lake that protect a wide range of botanical species." The WRAL-TV Gardens, located behind the WRAL television studio in Raleigh and between the main and Centennial campuses of NC State University, showcase beautiful azaleas of all shapes and colors. As you stroll among the gardens, you'll enjoy "wonderful fragrances [that] fill the air, providing another dimension of delight for your senses," as described on their website (wral-gardens.com).
As the surrounding area becomes more urban, these gardens are a wonderful way to stay connected to nature. They can also serve as a way to expand your understanding of how to incorporate the beauty of a garden into your own immediate surroundings. So this spring, I hope you take the time to visit one – or all – of these lovely local gems … and stop to smell the roses.
If you know of a "Hidden Gem" you think our readers should learn about in a future issue, please let us know at info@circamagazine.com!
Robyn Goss Bennai
Robyn is a local artist and writer.