Hidden Gems
Perfect Picture Locales Locked Down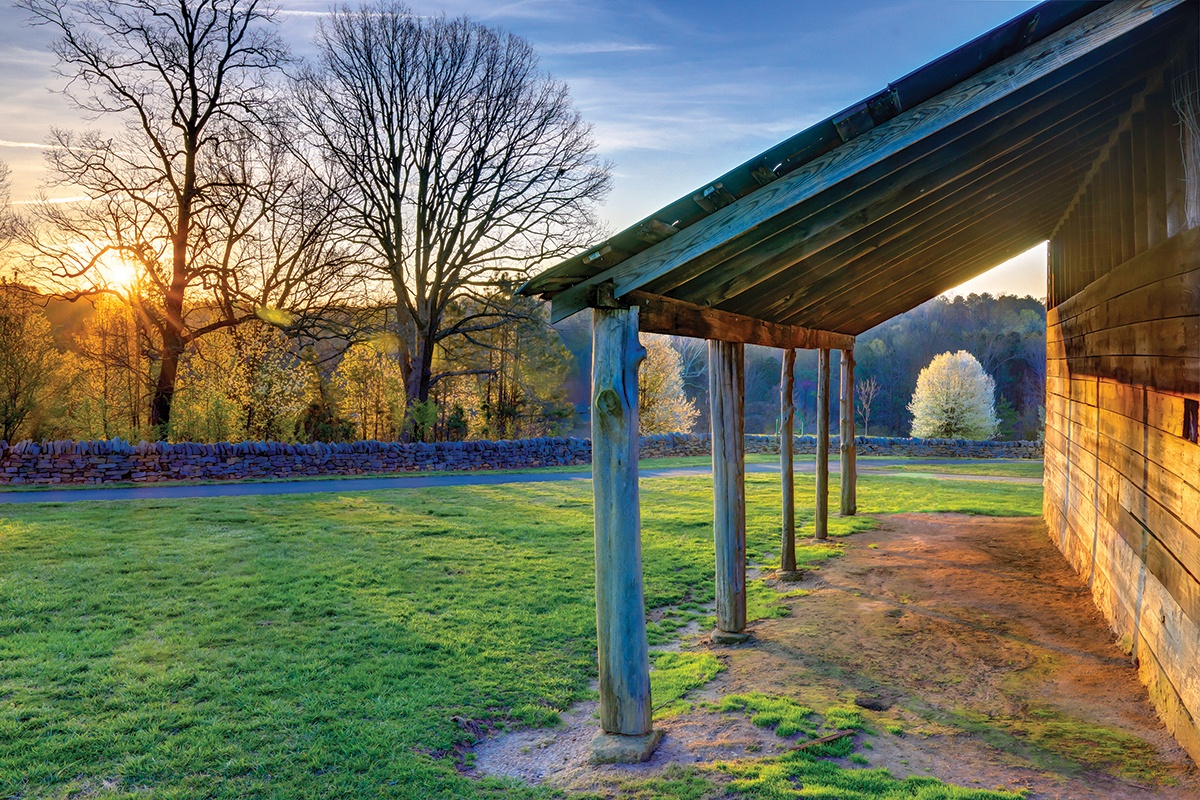 Once reserved for the wealthy and special occasions, portrait photography is over 170 years old, and many different types of photographs have been produced throughout the 19th and 20th centuries. In 2002, the landscape had completely changed and digital photographs were able to be snapped on a whim by anyone carrying a mobile device.
Even with the ability to carry thousands of photographs in your pocket, there is still one photo that holds a special place in many hearts and requires a bit of planning to capture – the annual holiday card family picture. This year, the picture on these cards will hold extra special meaning for the friends and family members whom we have been unable to see due to current circumstances.
The following hidden gems offer location ideas for taking the annual family photo while still allowing for social distancing. While these gems aren't necessarily "hidden," they may be as-of-yet undiscovered for those new to the area. And perhaps if you have been here awhile, maybe you will uncover some hidden gems within these locations that you haven't found before! And as a bonus, listed under "Tips of the Trade" are hidden (digital) gems that can be found within your mobile phone to help improve your photography.
Exploration into Natural Scenery
E. Carroll Joyner Park, 701 Harris Road, Wake Forest: Pictured. This previously working farm is now a public park with walking trails. The historical farm structures, stone ribbon wall by local stonemason Brooks Burleson, and the pecan grove all make for excellent locations for a family picture.
Mill Bridge Nature Park, 425 Nature Park Drive, Rolesville: Tucked away off of Rogers Road, Mill Bridge has paved walking paths as well as some dirt trails to take you off the beaten path. Sanford Creek flows through and provides places to pose on the large boulders in the creek or at one of the bridges along the paved route.
Main Street Park, 200 S. Main Street, Rolesville: The large gazebo near the entrance makes for a gorgeous stage for a photo. There is also a short, paved walking trail onsite if younger kids need to get their wiggles out before photo time!
Please note that the foliage in our area usually begins to change colors in mid to late October, but because of the long stretches of warm weather we have had, the peak times for leaves to change may be delayed by a week or two.
Canvased Artistic Backdrops
Flora and Fauna Mural by Taylor White, 405 S. Brooks Street, Wake Forest: This large mural, commissioned by the Town of Wake Forest and the United Arts Council, depicts human hands interwoven with southern magnolias. You will find it on the side of the building housing the Wake Forest Renaissance Center.
Forest of Wake by Oak Hill Iron, 301 S. Brooks Street, Wake Forest: Tucked away near the upper parking lot of Town Hall, this sculptural bench is the perfect seat for your outdoor artist studio.
History of Wake Forest, by Franklin Academy High School, 306 S. White Street, Wake Forest: Led by their art teacher Jamie Moore and mural artist Kelly Sari, students from Franklin Academy High School created this mural on the side of the building housing The Cotton Company. If you are new to the area and want to show a bit of your new hometown in your photo, this would be a great backdrop to make that happen.
North Carolina Museum of Art 2110 Blue Ridge Road, Raleigh: Behind the museum, you can find multiple walking trails that will lead you through a sculptural paradise. The variety of sculptures in all shapes and sizes sets the stage for a creative explosion. The challenge with this location would be ending up with too many pictures from which to choose.
Scouted Townscapes
Downtown Wake Forest, Youngsville, and Franklinton: You will find murals (new and old) painted on the side of buildings in each of these areas. The older brick buildings, railings and roofs boasting their aged patina, and a relaxed feel that makes you want to slow down and enjoy the day make any of these an excellent place to enjoy a photoshoot. There's even a chance you could hear the sound of a passing train rumbling by as you smile into the camera.
Warehouse District of Downtown Raleigh, Area bordered by Morgan Street and Western Boulevard: If you are looking for more of a cityscape, you may be interested in scoping out the Warehouse District in downtown Raleigh. Lined with train tracks, the six-block area of red-brick former industrial buildings has a young heart and an artistic vibe. It won't take long to find places to strike a pose.
Historical Spots
Wake Forest Historical Museum, 414 N. Main Street, Wake Forest: The historic two-story Greek Revival Calvin Jones House that today hosts the Museum and features the history of Wake Forest provides a lovely backdrop. In addition, you will find the restored Old Well and gardens and grounds that are as pretty as a picture.
Southeastern Baptist Theological Seminary, 100 N. Wingate Street, Wake Forest: The buildings rendered in Classical, Georgian, and Colonial Revival styles; perfectly manicured lawns; old large trees; brick pathways; and a winding wall made of old stone pavers create the perfect photo opportunity at every turn.
North Carolina State Capitol, 1 East Edenton Street, Raleigh: The Greek Revival architecture of the Capitol Building in downtown Raleigh may be the ideal location for your pictures during this election year – and that's not up for debate!
Tips of the Trade
When it comes to great locations, capturing the beauty of your setting is vital. Now that most people have mobile devices that can take amazing photos, here are some tips to make them even better.
– Photograph during the "golden hour" for best lighting. The golden hour actually consists of two hours during the day. For ideal lighting, take pictures immediately after sunrise or within the hour before sunset when the sun is low and the daylight is redder and softer than other times of the day. In addition to the ideal color, the low angle of the sun casts long shadows and can show details that may otherwise be lost during another part of the day.
– While the golden hour is the best time to take pictures, you can also manually set your exposure as well. You can access this on an iPhone by tapping on the screen to make the lens refocus, then you will see a small sun icon and a vertical scale. You can use this scale to adjust the light. You can find manual mode in most Android settings or you can download an app such as Adobe Lightroom that will allow you to do this.
– The "rule of thirds" will help determine the points of interest in the composition. It uses three imaginary lines placed evenly in both horizontal and vertical directions across the picture. You can find this grid pattern tool on your phone in your settings listed as "grid" or "grid lines." Putting the horizon line in the center of the picture will not give you as pleasing of an image as putting it on the lower grid line or the upper grid line. This can be useful vertically as well for a composition that includes the edge of a building, for example. Instead of placing that strong vertical image in the center, place it along one of the outer grid lines.
– Don't zoom! Instead of zooming in on those amazing pearly whites, physically move the camera forward. This will keep you from compromising quality.
– Be sure to cleanse your lens if your photos appear blurry.
Photo of E. Carroll Joyner Park courtesy of George Randy Bass (georgerandybass.com).

Robyn Goss-Bennai
Local artist and instructor at Pint + Paint at Norse Brewing Co. in Downtown Wake Forest.