Hidden Gems
Raleigh Road Outdoor Theatre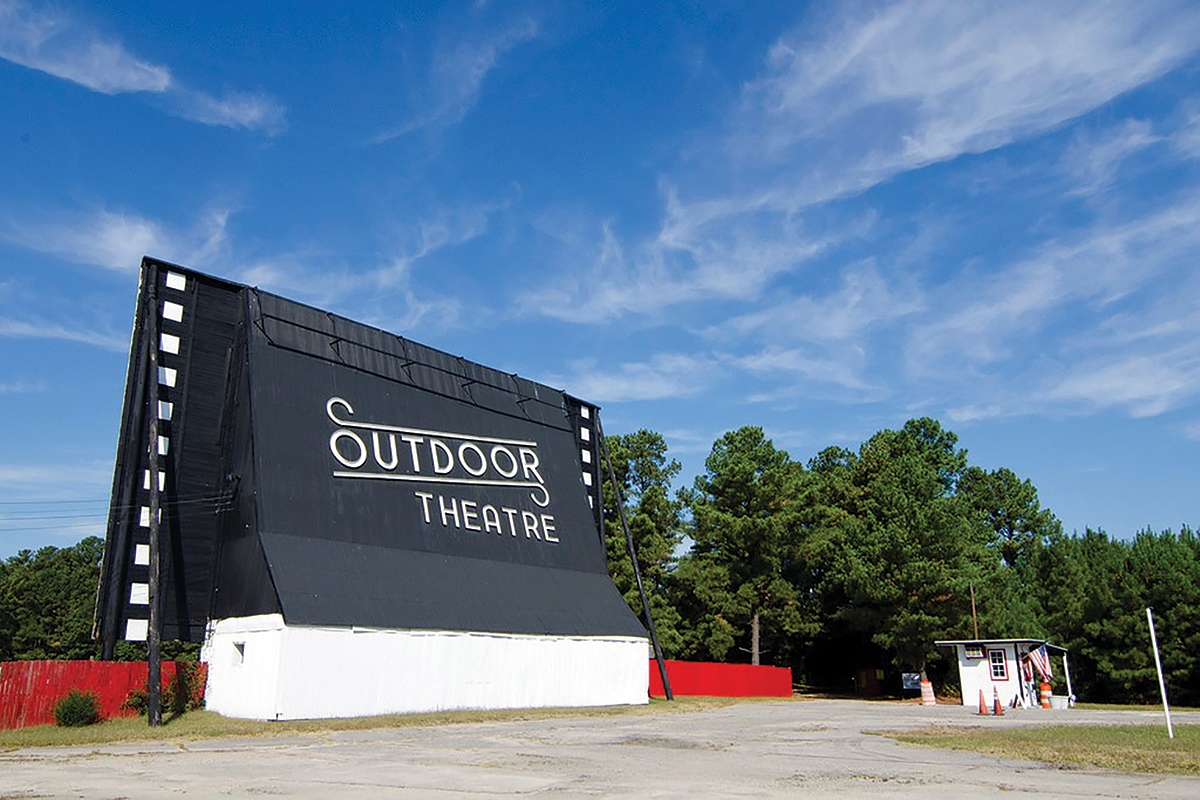 Fall is the perfect time to enjoy crisp cool evenings with family and friends, and the upcoming holiday season is the perfect time to make memories with loved ones. If you're looking for something new and fun to do this season that will let you do just that, then be sure to check out this issue's "Hidden Gem" – Raleigh Road Outdoor Theatre.
The Raleigh Road Outdoor Theatre – an open-air drive-in movie theatre located about 30 minutes north of Wake Forest in Henderson – will treat you to an old-fashioned evening of movie magic under the stars. It provides the ideal opportunity to enjoy a beautiful autumn evening, snuggle up with that special someone or cuddle with the kiddos, and make memories to cherish for years to come.
A LITTLE HISTORY
Originally called the Moon Glo Drive-In and owned by the Stevenson family, this local treasure that is now 69 years young, is only one of six drive-in theatres – and the oldest – left in operation in North Carolina. Showing its first movie Ali Baba and the Forty Thieves on July 15, 1949, Moon Glo's tradition of bringing families together to enjoy movies in a nostalgic way while presenting new release movies (now available in a 4k digital format) every weekend year-round began, and continues today.
The Stevensons ran the drive-in until the late 1970s, when it was then purchased by the Lyles family, who changed the name to the current one of Raleigh Road Outdoor Theatre (after the road on which the theatre is located – also known as Business Route 1).
Ownership then transitioned to Jim and Megan Kopp, and ultimately to the current owners, Mark and Jennifer Frank, who purchased the theatre in December of 2011.
The Franks, who are dedicated to providing quality entertainment for a great value, have implemented a few changes since they took ownership, including the upgrade to the previously-mentioned 4k digital projection and the expansion of its dinner menu. In addition, they envision embracing new technology as it becomes available and incorporating online food ordering, all while maintaining the vibe and aura of a retro 1940s drive-in atmosphere and nostalgia feel.
Raleigh Road Outdoor Theatre plays double features every night it is open (so you can enjoy two movies for the price of one!) and features first-run flicks and classic cinema (every Wednesday). So if you're looking for a unique date night or wallet- and family-
friendly fun (including the pups – yes, they allow dogs!), settle in under a star-filled moonlit sky, snuggle up in the back of your truck or a comfy folding chair with a cozy blanket, tune your FM radio to 90.3 for the movie's sound, and fill your belly with fabulous fare while enjoying the magic of the big screen.
WHAT TO EXPECT
If you've never experienced the drive-in concept, and aren't quite sure what to expect, no worries … we've got you covered.
The theatre opens at 7:00 PM Friday through Sunday (except for Saturdays, when they open at 6:00 PM). The first movie begins after sunset when it's dark enough to see the screen clearly. Movies run all year round, rain or shine. Entry to the drive-in includes two back-to-back movies and costs $8 per person (kids 3-11 are only $5), regardless if you choose to stay for only one feature. Be sure to come hungry – the concession stand is full of classic movie theatre snacks (think popcorn, candies, nachos, pretzels, mozzarella sticks, etc.), as well as heartier dinner dishes (such as burgers and hot dogs, corn dogs, grilled chicken, and steak and cheese) and specialty treats (like funnel cake fries and Oreo churros) – none of which is more than $5. (Please note that the theatre does not allow outside food or beverages, including alcoholic beverages, which are strictly prohibited. They will make food exceptions for those with allergies or special dietary needs – just notify theatre staff before entering.)
If you have a truck or a hatchback vehicle, definitely bring it for a movie-watching experience like no other. There is always an intermission between movies, so you can walk around and stretch your legs a bit if you get a little cramped in the car. Or bring blankets, pillows, lawn chairs, and anything else you need to cozy up for movie-watching under the stars. (And for the ultimate cozy autumn evening, why not wear your PJs? Don't worry … you won't be the only one enjoying the flick while in flannel!)
HOLIDAY EVENTS
Raleigh Road Outdoor Theatre offers the perfect opportunity to enjoy some good ol' fashioned holiday entertainment – whether it be for Halloween, Christmas, or New Year's, there will be plenty of fun and festivities to further enhance your already amazing drive-in experience.
During the Halloween season, enjoy Halloween-themed movies, as well as their "Halloween Spook-Fest," where you and your little ghosts and goblins can participate in a "trunk-or-treat," costume contest, and car contest.
"Christmas At The Drive-In" will feature a meet and greet with Santa Claus, holiday-themed games, and more.
And don't miss the opportunity to ring in the New Year drive-in theatre style. In addition to the evening's scheduled movies, sparkling cider, party favors, and family-friendly holiday-themed games will be offered to help welcome in 2019, and Dick Clark's Rockin' New Year's Eve will be showcased on the big screen.
MAKE SOME MEMORIES
This "labor of love," as Mark and Jennifer refer to Raleigh Road Outdoor Theatre, lets people experience the way movies have been seen for generations – and in today's digital world where movies can been seen on a small smartphone screen, we can all use a night to escape and enjoy a little bit of "how it used to be."
"It's all about the memories," one set of grandparents said to Mark during a busy night. Another older couple brought their entire family recently and proceeded to show their kids and grandkids where they parked for Rocky back when they visited this very drive-in back in 1977. So this holiday season – and all year-round – be sure to take time to visit this hidden gem and make your own memories with your loved ones … one visit, and you'll understand why Raleigh Road Outdoor Theatre has stood the test of time.
Raleigh Road Outdoor Theatre is located at 3336 Raleigh Road (US Business Rt. 1) in Henderson. For movies; show times; to order tickets in advance; menu items and online ordering; and details on the upcoming holiday events; as well as more information about what to bring, what not to bring, theatre rules, and more; visit raleighroaddrivein.com.