Hidden Gems
Carolina Tiger Rescue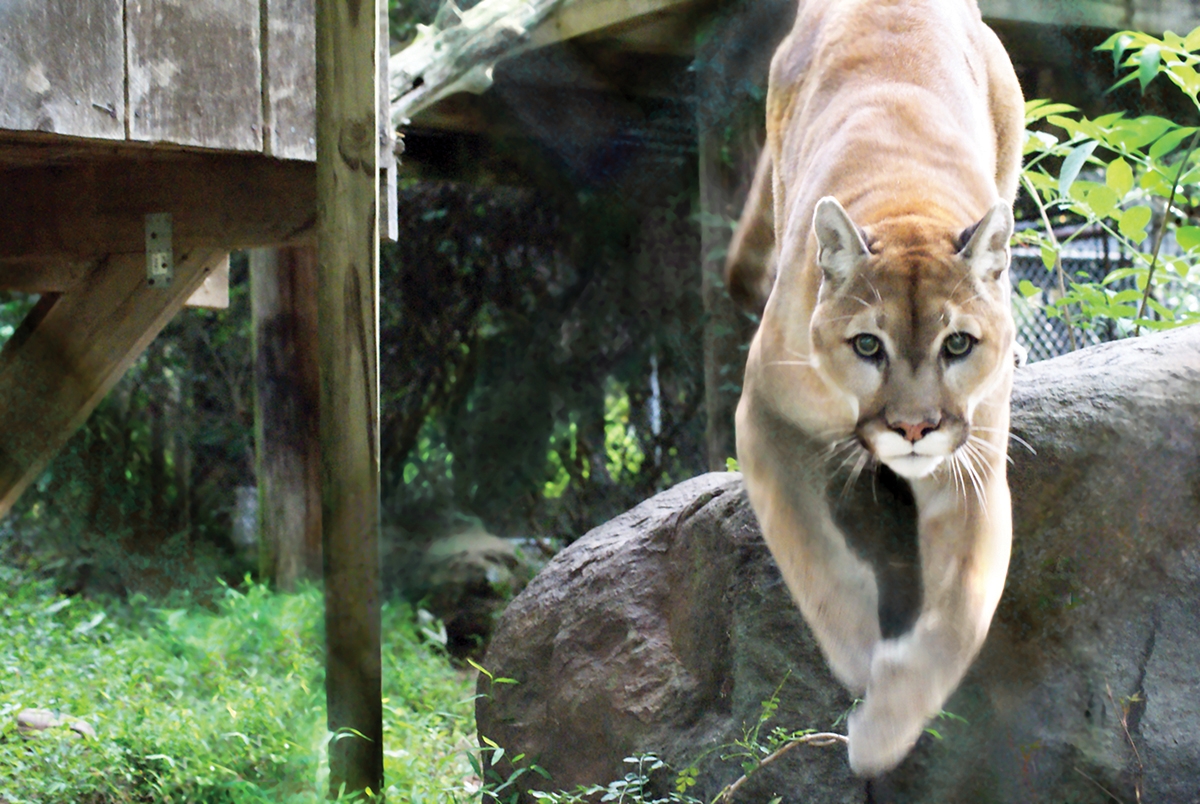 Just a few pages prior, you were introduced to the "Driveable Destination" jewel that is Pittsboro. If you are now finding yourself longing to escape to this nearby town and enjoy all that it has to offer, be sure to allow a little extra time to discover this issue's "Hidden Gem" – Carolina Tiger Rescue. Located at 1940 Hanks Chapel Road in Pittsboro, Carolina Tiger Rescue is the only federally-defined wild cat sanctuary in North Carolina, and the perfect place for you and your family to visit on a summer day. With 49 animals of 10 different species currently – tigers (22, to be exact), lions, leopards, cougars, caracals, servals, ocelots, bobcats, coatimundi, and kinkajous (one of which is the most recent rescue, Baxter, who was previously owned as a pet) – this hidden gem will provide not only a unique way to spend time with loved ones, but also a fun and educational break from summer's monotony for the kids in your life. It's so much fun, in fact, that they may not even realize they are learning!
Carolina Tiger Rescue is a non-profit organization that was founded by UNC geneticist Dr. Michael Bleyman more than 40 years ago as the Carnivore Evolutionary Research Institute to ensure the survival of specific keystone species from threatened/endangered ecosystems. He started a breeding program for caracals, servals, ocelots, and binturongs, and eventually began rescuing large cats when the need for a sanctuary became apparent. Carolina Preservation, Inc. was incorporated in 1981, around the time they began rescuing wild cats as well. In the 1990s, they transitioned to a sanctuary, and the breeding program ended in 2002, with the focus turning to rescue and conservation education. In 2009, the name changed to what it is today, Carolina Tiger Rescue, re-
flecting their current mission and focus of saving and protecting wild cats in captivity and in the wild.
Carolina Tiger Rescue is a refuge for these animals, providing them with a safe, comfortable home for the remainder of their lives. While traditional zoos generally don't acquire their inhabitants from the public, the Rescue accepts wildcats who need a home. Meeting the highest standards, they don't commercially trade wildlife or their parts, and they prohibit breeding and public contact with the animals. They go a step further as a no-touch facility, only putting hands on the animals if they are sedated for a veterinary procedure. The animals are benefited with a staff vet, a quarantine facility for new rescues, and the daily enrichments they require. Some of the animals are housed on the tour path, while others prefer a quiet life away from the day-to-day action. The animal care team members perform operant conditioning with some of the animals to curb behavior such as anxiety.
If you'd like to visit these beautiful creatures – like Rajah the tiger, found 13 years ago when he was only six months old in the middle of a rural road near Charlotte with his sister Kaela (who unfortunately passed away in September of last year) – be sure to schedule a public, private, or twilight tour.
Public tours, which last about an hour and a half, run year-round on a regular schedule of Fridays, Saturdays, and Sundays. Tickets must be purchased in advance, with a limited number per tour available. With this tour option, a trained volunteer guide will walk you through the sanctuary where you can learn about the different resident species, as well as the problems they face in the wild. You will also hear about the challenges they encounter while in captivity. You will have the opportunity to ask questions about and take photos of the animals, but you will not have any physical contact.
Private tours, which are based on availability, require at least two weeks' notice. Very much like the public tour in duration, content, and the animals you will visit, the difference with the private tour is that it is exclusive to your group, offering a more personal experience (again, no physical contact with the animals is allowed).
Running from April through October on Fridays, Saturdays, and Sundays, the very popular twilight tours are for adults only (guests 18 years of age and older). Tour tickets are limited and must be purchased in advance. While the twilight tours offer similar content as the public and private versions, they provide a more intimate experience, as the work day is done, and the guests have the sanctuary to themselves. Enjoy a quiet evening with the cats, and you just might be lucky enough to be serenaded by the lions!
There are many other exciting and educational opportunities available at Carolina Tiger Rescue, including the "A Feeding With a Keeper" tour, where visitors will learn what the animals are fed, and how the keepers maintain the animals' health; and the "Tiger Tales Tour," the once-a-month experience where children will join a trained team member for a fun and engaging story before creating an animal-themed take-home craft. With "Kids Camp" (limited to 12 campers per week), campers will experience the incredible world of the sanctuary, visiting the animals daily, learning about the essential role carnivores play in their natural habitats, finding out what it takes to be a wildcat veterinarian, practicing biology skills, and helping some of the tigers express their creativity through painting. Got a high-schooler in the house?
"High School Summer Camp" is a three-day project-based camp that incorporates education, hands-on activities, and fun projects for the animals, and provides the chance for campers to take care of the Rescue's residents while working on group enrichment projects for them. Want to go to camp yourself? "Kid For A Day" Adult Camp is a one-day opportunity for you to feel like a kid again – feed with the keepers, paint with the tigers, and learn more about these magnificent carnivores. Internship, field trip, volunteer (this is a very volunteer-driven organization, with more than 150 active volunteers, from animal care, tour guides, construction, gift shop assistance, and gardening), and membership and donation opportunities are also available.
With so much to offer, the next time your kiddos say they are bored during this long, summer break, plan a fun-filled excursion to this hidden gem … they will surely be bored no more.
For more information about Carolina Tiger Rescue, how you can become involved with their mission, research tour options and details such as times and pricing, purchase tour tickets, and even adopt a cat, please visit www.carolinatigerrescue.org.