Hidden Gems
The Beauty Of Fall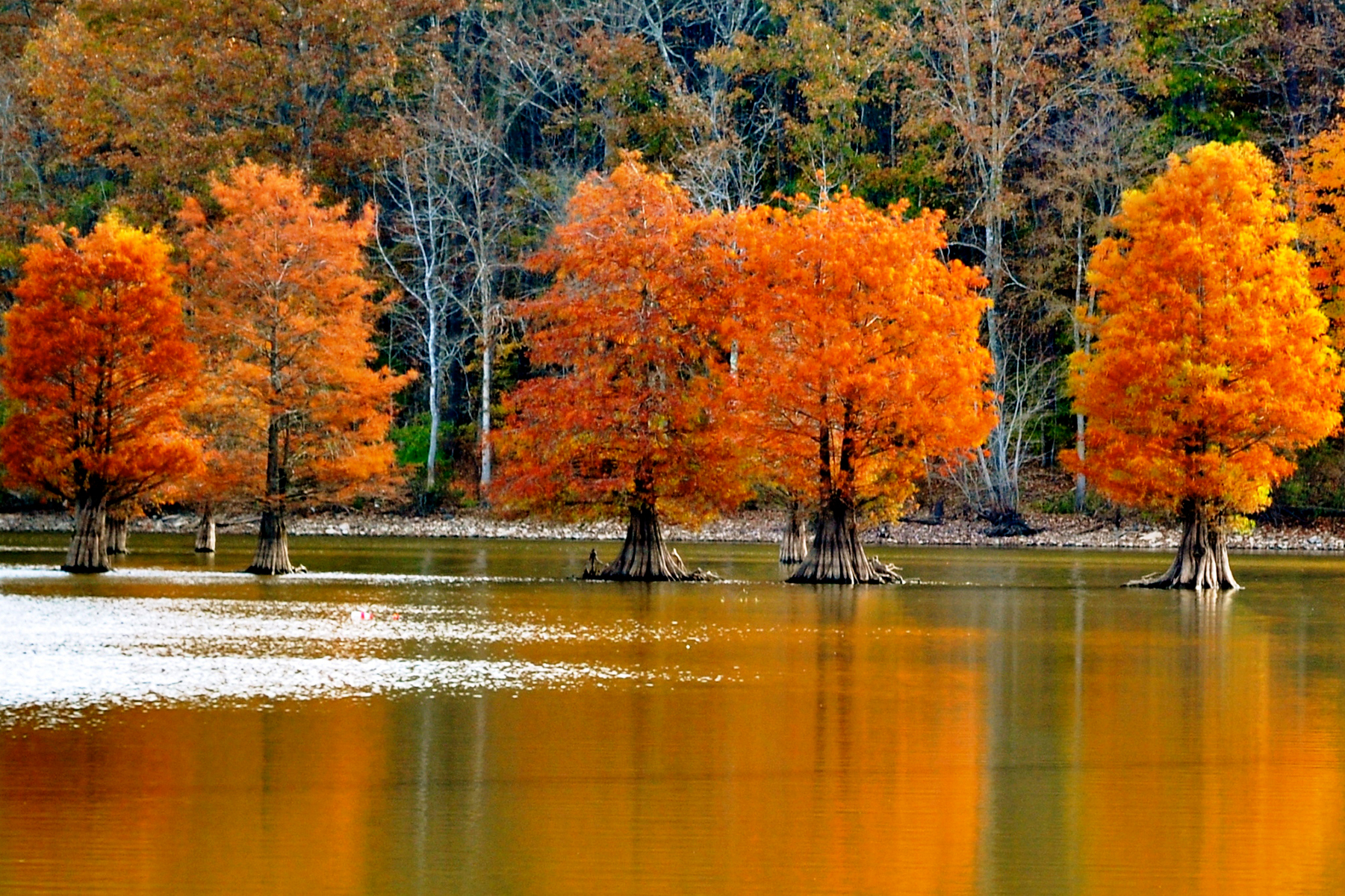 The anticipation of a new season approaching is always exciting. Mother Nature has a way of bringing in new temperatures at just the right time. If heading to higher ground for the brilliant display of foliage on the Blue Ridge Parkway doesn't fit your schedule, here is a sampling of local lakes that will allow you to view picturesque fall colors, enjoy nature, and take advantage of the amenities offered. These gems may not be quite so hidden, but perhaps you have never had the chance to visit; and if you're not familiar with them, they will provide exciting new places for exploration. From the 12,000+ acres of Falls Lake State Park to the smaller Lake Crabtree and Lake Johnson, each offers a unique experience.
Falls Lake (pictured)
Various Access Points
Situated in Wake, Durham, and Granville counties, Falls Lake is the largest lake on this list. Falls Lake State Recreation Area provides seven access areas to the reservoir that are perfect for taking in the season's beauty surrounding us. These can be found at ncparks.gov/state-parks/falls-lake-state-recreation-area. As part of the 1,200 miles Mountains-to-Sea Trail (running approximately 60 miles along the lake's southern edge), Falls Lake offers a multitude of hiking and mountain bike trails that can be explored, providing up-close observation of the changing leaves, as well as local wildlife. Autumn also welcomes migrating monarch butterflies to our area, so be on the lookout while taking in the vivid foliage colors on display. This park offers campsites for overnight stays if you're looking to make a weekend out it, water activities, picnic areas, and many other amenities. Additional information can be found on the park's website.
Lake Crabtree
1400 Aviation Parkway, Morrisville
Lake Crabtree boasts 16 miles of trails of varying difficulty, offering various foliage sighting opportunities. If you're not feeling too adventurous, however, there are also walkways for meandering and casually taking in the area's beauty. It also boasts an open-play area, playgrounds, picnicking options, gardens, and a historical homesite. This county park welcomes everyone as stated in its Accessibility Statement: "Lake Crabtree County Park welcomes all visitors and affirms its commitment to offering recreational services that are accessible to everyone." For more information, visit wakegov.com/departments-government/parks-recreation-open-space/all-parks-trails/lake-crabtree-county-park.
Lake Johnson
4601 Avent Ferry Road, Raleigh
Lake Johnson, managed by City of Raleigh, boasts a paved greenway (part of the Walnut Creek Greenway Trail) and natural surface trails that get you closer to nature and allow for leisurely fall leaf-looking. Additionally, while visiting Lake Johnson, you can partake in fishing, seasonal water activities, and even hook up your hammock at one of the many designated hammock posts installed along the greenway. What better way to take in the wonder of the season than relaxing by the lake, surrounded by magnificent trees full of vibrantly hued leaves? Lake Johnson Park has a dual designation of metro park and nature preserve to boot. To learn more about Lake Johnson, visit raleighnc.gov/parks/lake-johnson-park.com.
The Best Time to View Fall Foliage
The peak time for viewing varies from year to year, but typically in our area it happens in late October to early November, with higher altitudes changing earlier. There are a variety of local trees in North Carolina that make for a brilliant display of color: red maple (scarlet); black gum (shades of red, orange, yellow, and purple); redbud (yellow); American beech (coppery-bronze hues); river birch (pale shades of yellow); yellow poplar (golden yellow); dogwood (purplish red); and oak (red, brown, or russet).
When fall arrives and football season is in full swing, take the time to marvel at nature's colorful transition to cooler weather that signals the return of sweaters, cozy blankets, and hot chocolate. This spectacular display will come and go quickly, so don't wait to schedule a time to enjoy it.
Photo courtesy of Ranger Rebecca Thomson with the US Army Corps of Engineers.
Robyn Goss-Bennai
Local writer.