Hidden Gem
The Pull Of Pullen Park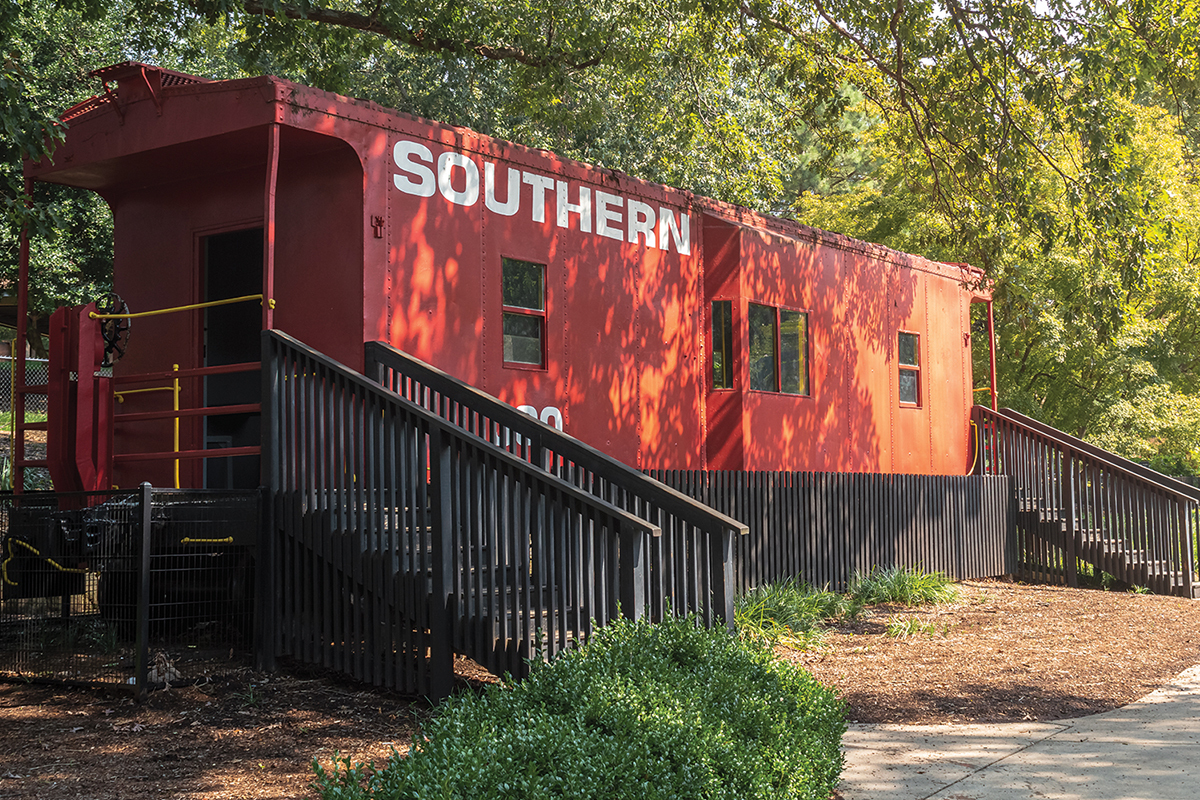 If you have lived in the area for a while, you may have already experienced this not-so-hidden gem. And if you haven't yet discovered it, it's a gem like no other around and one you're surely going to want to check out. Located on 66.4 acres, Pullen Park is situated in the heart of Raleigh. On the outskirts of the NC State University campus and minutes from downtown, Pullen Park draws individuals and families from all over. With countless attractions for kids and many benches for tired parents, Pullen Park has something for everyone.
Pullen Park was founded in 1887 and became the first, and now oldest, public park in all of North Carolina; the 5th oldest operating amusement park in the U.S.; and 16th oldest in the world. The park is named after Richard Stanhope Pullen who donated farmland to the City of Raleigh to be used as an area for recreational fun for North Carolinians and visitors from all over the nation. Here's a wild fact: There was a time during the early 1900s in which the park had a small zoo on-site with racoons, bears, alligators, and monkeys!
The entrance into Pullen Park is as special as the park itself. You must go through an active railroad crossing to enter, and if the railroad crossing gate is closed, you will have to wait for the train to pass. Once you enter the park, you will find a Welcome Center to your left where you can get information, buy tickets, or browse the souvenirs. Once you leave the Welcome Center, you can choose your own adventure.
Here are some of the places to explore.
– Play Areas: Near the entrance, there is a large public playground area with swings, slides, play structures, sand play, and a preschool playground. This play area is unique in its accessibility for kids of all ages. Adjacent to the playground is a real delight for future conductors – a Norfolk Southern Railway red caboose with a Southern Railway paint scheme for visitors to enter and explore.
– Train Ride*: On the other side of the playground is a C.P. Huntington miniature train. Coming in at about one-third of the size, this near-replica of the famous locomotive of the same name will take you on a ride around the park with the purchase of a ticket.
– Boats*: When you get tired of being on land, worry not. Pullen Park offers both kiddie boats for riders between 30" and 54" and pedal boats with room for up to four people per boat. Access to the pedal boats is at the docks on Lake Howell.
– Carousel*: The large indoor carousel is largely considered Pullen Park's most popular attraction. With both animal figures to ride and seated options, the carousel is a great area to cool down on a hot summer day and take a break from the outdoor activities at Pullen. The carousel has a rich history dating back to 1912 when it was made by Salvatore Cernigliaro of the Dentzel Carousel Company. Originally, the carousel was located in Bloomsbury Park until it was bought and relocated by the Raleigh City Council in 1921 to replace Pullen's former steam-powered merry-go-round (yes, this landmark just celebrated its 100th anniversary!). The Pullen Park Carousel was added to the National Register of Historic Places in 1976. It's also a designated Raleigh Historic Landmark!
– Walking Trails: Pullen Park is home to multiple walking trails. One trail has bridges to and from the Island Gazebo. The park is well maintained and you won't be hard-pressed to find beautiful flora and local suburban wildlife along the trails. The walking trails hold some of the best picture spots in all of Pullen!
Pullen Park also offers six shelters which may be rented through the website (raleighnc.gov/places/pullen-park); Pullen Cafe, which provides sandwiches, pizza, snacks, drinks, and more for purchase; a premier competitive aquatic center; six tennis courts; a softball field as well as a youth baseball field; and public restrooms. Additionally, in the northern end of the scenic park awaits The Theatre In The Park (originally known as The Children's Theatre of Raleigh, Inc.), nationally acclaimed for its outstanding theatrical achievements.
This local and national gem is a treat year-round for parents and kids alike. With so many things to do, visit the treasure that is Pullen Park today to enjoy some of the best family fun Raleigh has to offer.
*Tickets for these rides are currently $1.50 per ticket. Tickets may be purchased on-site or online at raleighnc.gov/places/pullen-park.

Robyn Goss-Bennai
Local artist and instructor at Pint + Paint at Norse Brewing Co. in Downtown Wake Forest.