Hidden Gem
Preserving Nature And Fun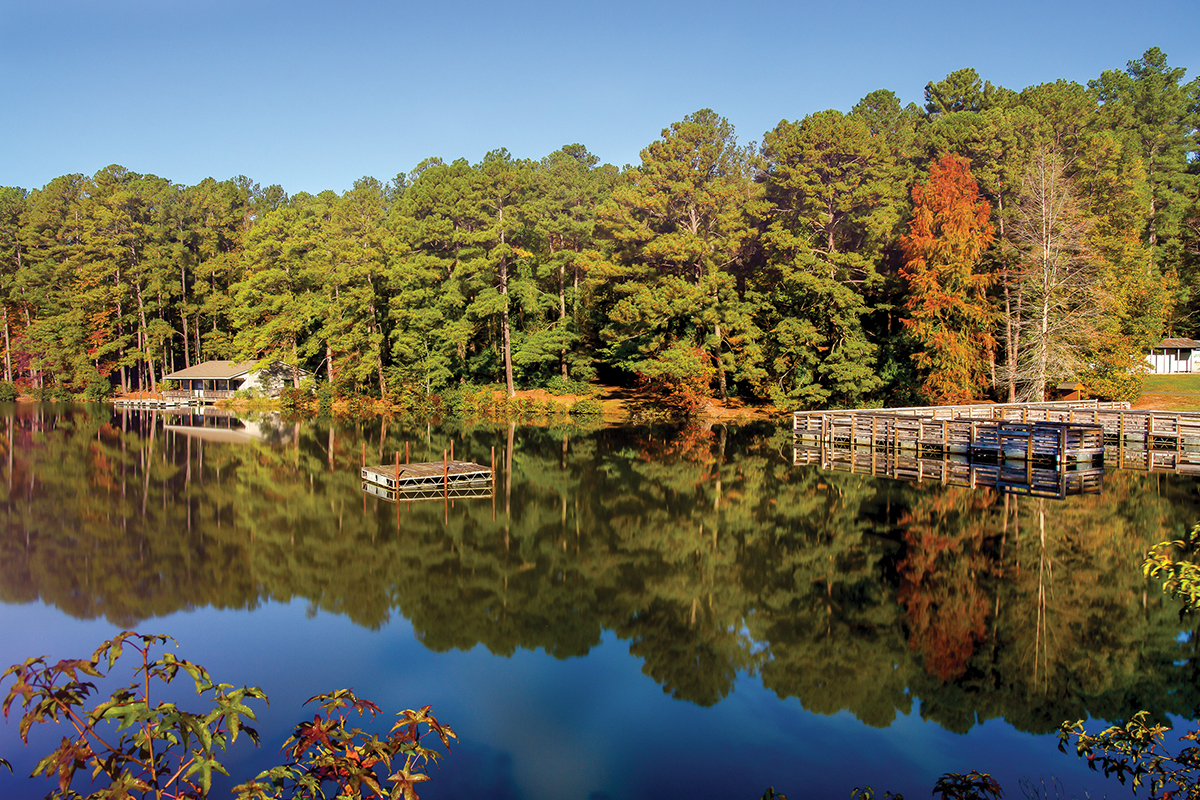 Tucked away on 237 acres of land just south of Wake Forest is the Durant Nature Preserve. It's easy to miss this nearby natural gem because both entrances are hidden from plain sight. This former Boy Scout Camp, purchased by the city of Raleigh in 1979, was designated as a Nature Preserve in 2010 and has since served as a natural wonderland.
The Preserve is home to several species of animals native to our forest habitats and pond life, as well as various bird species, including red-tailed hawks, great horned owls, and barred owls. If you're lucky, you will hear them calling as the sun goes down. Two great blue herons have made the Preserve their permanent residence as well.
Once you arrive at Durant Nature Preserve there are many areas to explore. Be sure to pick up a map to orient yourself. Here are some of the highlights of the Preserve:
– Trails to explore: There are eight trails ranging from .15 to 1.88 miles, all of which except one are unpaved. The staff at the Preserve works hard to keep the trails accessible by clearing debris, cutting back limbs that block the pathway, filling holes, and keeping roots cut back. Bikes are allowed on the trails unless the weather has created very wet conditions – then staff asks that bikes not be ridden on the trails to prevent damage. You can contact the office to inquire about trail condition. All are stroller accessible, but be advised that the Secret Creek Trail isn't ideal for them, so it would be better to choose a different path to take with a stroller. Dogs are allowed on a leash.
– Fishing: There are piers from which you can fish (but fishing off the bank is not permitted as a way to prevent soil erosion). So bring along a rod and reel, some bait, a bit of patience, and cast away. NC fishing regulations apply.
– Playground: There is a playground for children with a wood chip surface, featuring a large climbing structure along with other play equipment.
– Picnic Area: There are picnic tables situated through the Preserve, so you can enjoy a leisurely lunch near water or close to the woods. In addition, there are three picnic shelters for rent.
– Bird, Butterfly, and Sensory Gardens: Explore the Bird Garden and Butterfly Garden areas to catch glimpses of the beautiful flying and fluttering creatures that live in this habitat. There is also a Sensory Garden where kids can have fun digging and playing in the dirt. There are plastic shovels available, but it is recommended that you bring your own.
– Creeks: If you love to explore under rocks and in water, you may find yourself weaving back and forth along the creek. The creeks cross the Border, Beaver Pond, and Lakeside Trails.
– Discovery Backpacks: Grab one of these to learn more about ponds, insects, birds, animal tracking, and nature art. The park office loans these free of charge during office hours, Monday through Thursday, 8:00 AM - 1:00 PM.
Besides its goal of protecting the land, the Durant Nature Preserve was created to provide nature-based recreation and environmental education experiences. With year-round nature programs and summer camps, the Preserve provides plenty of opportunities to fulfill its goal. Programs offered include "Campfire Stories" which focus on a different animal theme each time and often include a folk story to go along with it. There are also "Night Hikes" that take you on a guided trail during which you may be lucky enough to hear the calls of the owls. You can sign up for these programs through the City of Raleigh RecLink (reclink.raleighnc.gov).
Campbell Lodge is an on-site building with a capacity of 200 that is available for rent (current gathering limits must be followed, however). For information, call the offices at 919-878-9116.
To access the Preserve, you can enter from Durant Road – look for the small signs indicating where to turn, or use the 8305 Camp Durant Road entrance. There is also an entrance located at 3237 Spottswood Street, and the best way to access this parking lot is to enter Campbell Lodge in your GPS.
Once you enter the park, you will find plenty of areas of exploration for the day. This little hidden gem will allow your imagination to lead the way because while you may not be far from home, you will feel as though you have been transported a million miles away.


Please follow Governor-mandated COVID precautions as you visit Durant Nature Preserve, and it's advised to confirm all amenities remain open prior to your visit. The Preserve follows all safety guidelines of North Carolina and City of Raleigh.


Photos courtesy of George Randy Bass (georgerandybass.com).


If you know of a "Hidden Gem" you think our readers should learn about in a future issue, please let us know at info@circamagazine.com.
Robyn Goss-Bennai
Local writer.