Hidden Gem
New Hope Valley Railway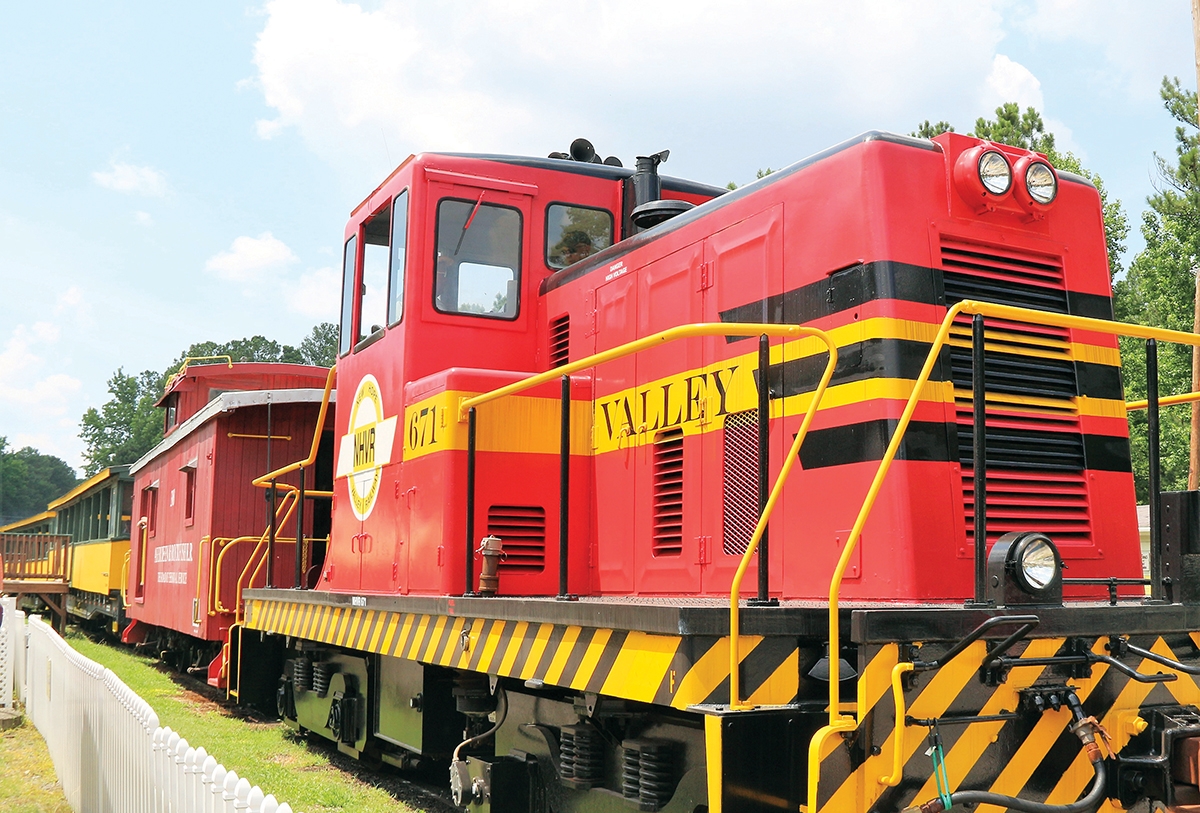 There's something about hopping aboard a train ... the feeling of nostalgia it brings, of an era long gone by; the sweet memories of childhood days spent playing with your favorite choo choo; the beauty of Mother Nature breezing by as you gaze out the window. Who isn't fascinated by a train?
If you find yourself dreaming of a leisurely trek on the tracks, then this issue's "Hidden Gem" that is located just about 40 miles southwest of Wake Forest is just for you. The New Hope Valley Railway, which has been treating train lovers with the thrill of a ride on a real train for 30 years, straddles the historic towns of Bonsal and New Hill, off U.S. Highway 1, Exit 89.
After a winter hiatus, New Hope Valley Railway (NHVR) – the Triangle's only tourist railway – re-opened to the public on April 10 and offers a full season of special events in its rail yard. Once you arrive at this hidden gem, you'll discover a fleet of four real working diesel locomotives – and a caboose – that will take you and your fellow passengers on an eight-mile round trip, one-hour scenic excursion through the piney woods and over a wooden trestle in covered, open-air train cars.
EXPERIENCE THE JOY
From April through December, NHVR typically offers two 10:30 AM weekday rides, one "Slow Down Sunday" ride, and one Saturday "Brew 'n' Choo" ride event each month (you can't really beat a spring Saturday spent on a train, enjoying delicious food truck fare with a cold beer from a local brewery in your hand). And even though they are months away, go ahead and mark your calendar for October's "Track or Treat: Halloween Express" and December's "Santa's Reindeer Roundup Express" trains.
In addition to riding real working trains, train enthusiasts and visitors can also tour the North Carolina Railway Museum (for free!), which is home to antique railroad cars, artifacts, memorabilia, and more; and view the Garden Railroad (G scale) that runs on more than 1,000 feet of track. Garden model railroad trains, including Thomas and Friends train cars, are built to represent real trains and the Garden Railroad features tunnels, bridges, plants, trees, houses, churches, and its own engine house. Multiple tracks allow several trains to run simultaneously.
If you have a special occasion to celebrate this spring, consider hosting it at NHVR by renting its vintage 1913 party caboose. Or tap into your inner train engineer and experience the thrill of driving a real diesel locomotive through the organization's Operate-a-Loco program. This program, which is open to anyone aged 16 and up with a valid driver's license, puts you in the engineer's seat and lets you spend an hour at the throttle for the entire eight-mile route. (Participants are able to bring up to two additional people as riders.)
PLAN YOUR VISIT
When planning your visit, there are several important details you should know about the rail yard and trains. Most importantly, dress appropriately for the weather the day of your ride.
– The railroad operates open passenger cars with a covered roof, rain or shine. These open cars are furnished with cushioned bench seats for comfortable seating, with limited seating in the caboose, cupola, and window compartments.
– The train cars and property have rugged areas, so shirts and shoes are required. Please note there are no bathrooms on the trains, so plan accordingly. However, there are portable toilets in the rail yard.
– Arrive 30 minutes before your train's departure time. Allow ample time to park and board the train, and boarding is first come, first serve (if the train is full, there is a chance the trains will depart a tad early). Additionally, free guided walking museum tours begin 45 minutes prior to each train departure time on weekend ride days. Guided museum tours are available upon request during weekday rides. It should be noted that the New Hope Valley Railway is 100 percent staffed by volunteers, so while they don't operate on a regular basis, you can plan ahead, purchase your tickets online, and count on a memorable experience. However, it's recommended to call to verify the trains are operating before visiting.
– Adult tickets on NHVR's diesel trains range from $10 - $14, with children's tickets (ages 2-12) ranging from $7 - $14. Special pricing is available for seniors age 60+ and children under two years of age can ride for free when sitting on the lap of an adult ticketholder. (All ticket sales and donations help fund the restoration and construction projects at the railway.)
– Since train departure times and ticket fares can vary, it's best to check the ride calendar at www.TriangleTrain.com/buy-tick... for exact details.
"For more than 30 years, children, parents, grandparents, and others have visited us to enjoy a ride on a real train," said Peter Jasion, NHVR director of sales and marketing. Join those throes of folks, and don't wait another day to unleash your inner train lover – this spring, on a beautiful, warm day, make the drive with your family over to the Wake-Chatham county line, and hop aboard this edition's "Hidden Gem." Not only will you make memories together, you'll help keep the spirit of railroading alive in the Triangle.
New Hope Valley Railway, the Triangle's Train, is the Operating Division of the North Carolina Railway Museum, Inc. NHVR is located at 3900 Bonsal Road in New Hill, about 40 miles from Wake Forest, just off Old US 1 South. The 501(c)3 organization was chartered in 1983 as the East Carolina Chapter of the National Railway Historical Society and soon began its all-volunteer operated public train ride days.
To learn more about the railway, its history, view a full up-to-date schedule, purchase tickets, and more, visit www.triangletrain.com. You may also connect with them on social media – Facebook: @TriangleTrain; Twitter: @Triangle_Train; Instagram: @TriangleTrain; and YouTube: Triangle Train – New Hope Valley Railway.