Hidden Gem
Wake Forest Historical Museum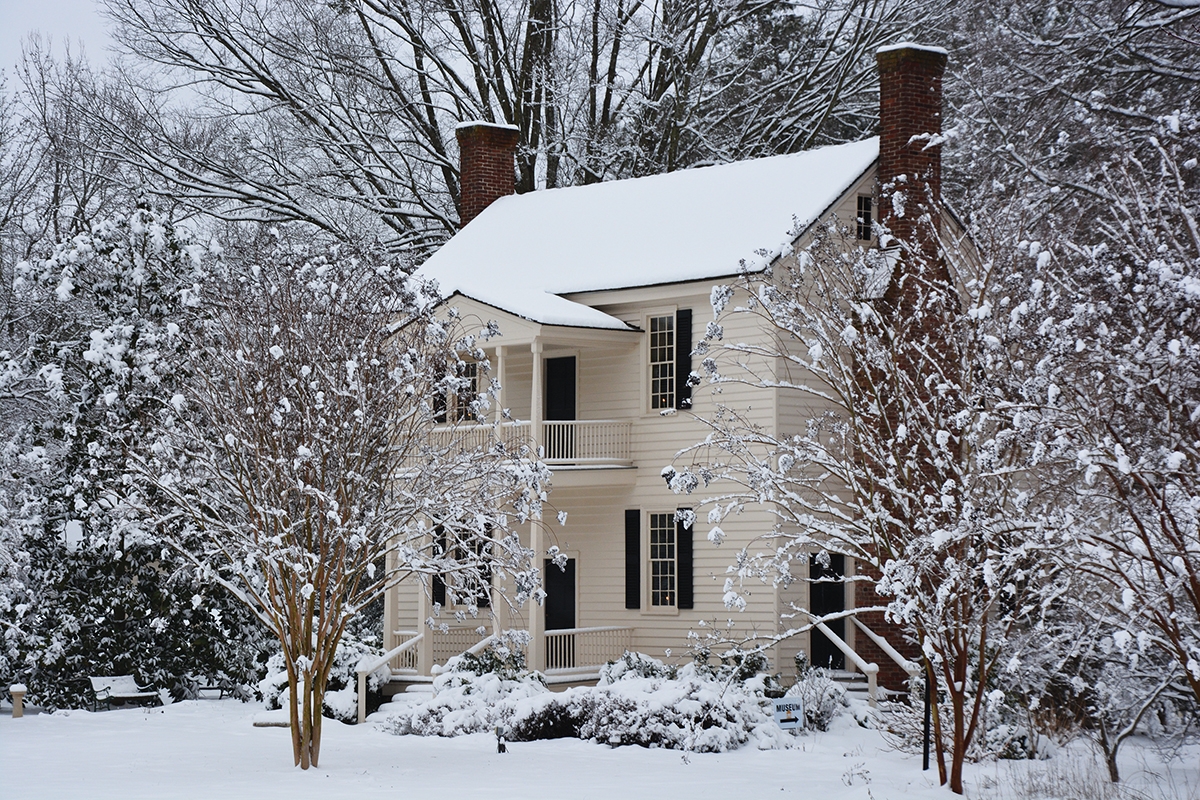 If you have traveled or strolled down the street that is North Main in Wake Forest – once called "Faculty Avenue" because of all the Wake Forest College professors who lived there – you have been lucky enough to witness some of the beauty and magnificence of what was officially designated as the town's first historic district on May 10, 1979. Many historical homes – such as the Charles Brewer House (1892), the George Davis House (1905), the Poteat House (1925-1928), and the W.C. Powell House (1895) – proudly stand along this splendid tree-lined street as a reminder of wonderful days gone by.
The area, known as the Local Historic District, is also home to the Calvin Jones House. You have likely seen this two-story Greek Revival house that features a two-story porch and exterior chimneys with freestanding stacks as you've journeyed along this street, as it sits right in the heart of a four-acre complex, adorned with beautiful gardens and stately walkways. You may have thought to yourself what a stunning addition to an already stunning street.
But did you know that this house – the town's oldest dwelling – is also home to this issue's "Hidden Gem?" OK, so maybe it's not so "hidden." But if you haven't yet paid a visit, what's inside is a gem waiting to be discovered. The Wake Forest Historical Museum is a
treasure that residents of and visitors to Wake Forest – whether you're a town local, have resided here for years, are new to this wonderful town, or are here as a welcomed guest – must experience.
A LITTLE BACKGROUND
It all began in 1821, when Calvin Jones – a noted physician and former mayor of Raleigh who moved from Massachusetts in 1795 – purchased the home, along with a 615-acre farm in northern Wake County. The region, known as the "Forest of Wake," lent its name to his plantation – Wake Forest. The Calvin Jones House, which also served as a doctor's office and post office, was home to Dr. Jones and his family for a dozen years. But by 1832, Dr. Jones wanted to move west, so the property was sold in 1832 to the North Carolina Baptist Convention, which was seeking a suitable location to educate young ministers. What was first called the Wake Forest Institute, then Wake Forest College, and now Wake Forest University, opened here in 1834, and under the guidance of the college's first president, Samuel Wait, began to develop a flourishing student body, advanced curriculum, and new brick campus.
Fast forward over a century to the spring of 1956 … for the first time in their 122-year history, the town and the college broke apart. Wake Forest College had vacated its Wake Forest campus and moved to Winston-Salem, taking with it the people, books, and furniture that once filled the halls.
Starting that same year, a group of volunteers from the Wake Forest Garden Club began working to save the historic Calvin Jones House, relocating it from campus to where it currently stands on North Main Street, so that even though the college was no longer a physical part of the community, its vibrant history of personalities, events, and traditions could remain.
THE KEEPERS OF HISTORY
That group of volunteers evolved into what is now the nonprofit Wake Forest College Birthplace Society, the organization that preserves and shares the unique history of the college, the town, and the university, keeping the story of Old Wake Forest alive. What began as a small group of activists in 1956 has grown into a substantial and significant nonprofit organization.
The Society owns over 15,000 pages of documents, ranging from lecture notes of Dr. Willis Cullom – who directed bible training at the college for more than 42 years – to the football plays of Coach "Peahead" Walker; boasts a collection of over 5,000 photographs; showcases approximately 1,000 books; and features hundreds of historical artifacts.
As soon as you enter the museum, located behind the House, you'll encounter sloped ceiling architecture, high windows, and exposed beams that were designed to evoke the atmosphere of the 19th century barn associated with the original home and farm. Visitors will notice the added roofline resembles the seven outbuildings described as part of the Jones property when it was sold to the North Carolina Baptists – this offers a sense of how it may have looked back in 1834, the inaugural year of what would eventually become Wake Forest University.
Within the halls of the museum you will discover a refined exhibit space, beautifully detailed and climate controlled to protect the museum's many documents, portraits, and artifacts. Some of the exhibits include: Wake Forest – The Country of My Heart; Demon Deacon; Early Days of Wake Forest Sports; Wake Forest Medical School; Wake Forest Law School; Literary Notables; and The Women's History Exhibit. As you wander among these displays, you can peruse documents bearing the signatures of Calvin Jones and Samuel Wait; see for yourself the medical bags of Dr. Matthew Dalton Phillips, once carried on horseback over 100 years ago; and "travel back in time" with an antique buggy that shows how people traveled Wake Forest's roads in the early part of the 20th century, as well as a reconstructed moonshine still that offers a little taste of life in the Harricane, the area west of town that was famous for its illegal liquor operations. In addition to the exhibit hall, the museum also features an auditorium, library, and the Edwin G. Wilson Reception Gallery, named in honor of the Wake Forest University Provost Emeritus whose decades of service have included contributions as student, teacher, leader, and advocate of this town and university.
The Wake Forest Historical Museum is located at 414 N. Main Street and is open for tours every day but Mondays and Saturdays (visit wakeforestmuseum.org for times). There is no admission fee to visit, but if you would like to help support the museum and preserve the history of Wake Forest, consider a donation or museum membership (more information can be found on their website).
Registered visitors numbered approximately 7,000 last year, from 32 states and nine countries. 7,000 people can't be wrong – a visit to the Wake Forest Historical Museum is a must. So this winter, instead of sitting inside on a cold afternoon, make it a point to cruise on down to this hidden gem for an outing of historical enjoyment.