Hey Y'all, It's Fall!
Fall Decorating Q&A To Help You Celebrate The Season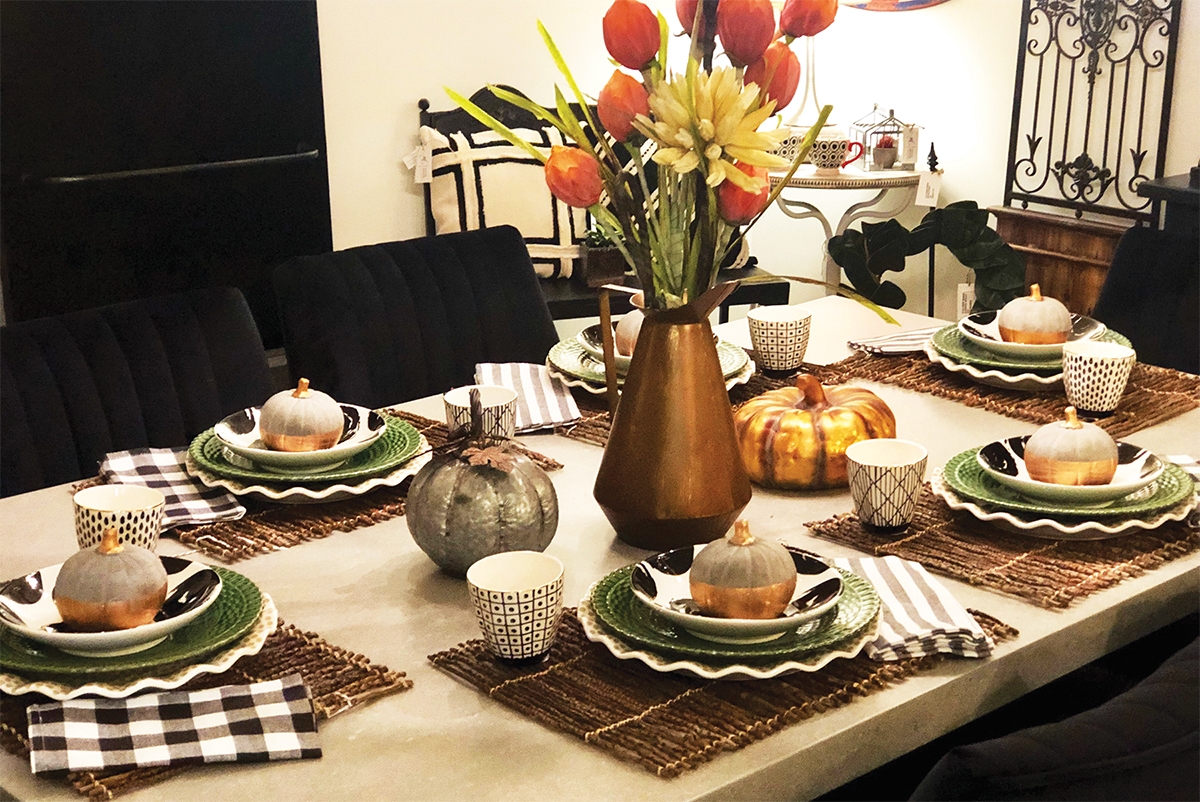 If you ever wished you could ask an interior designer his or her top decorating tips for fall, you're in luck! Following are some of the top Q & As that we have received for the upcoming season.
Q: What are the top home trends for the fall 2019 season?
A: Color, color, and color. Did we say color? Adding pops of color throughout your home creates a happy, inviting atmosphere that you will be sure to love. A few of the best hues for the fall season, according to Pantone's 2019 predictions, include:
– Chili Pepper Red: A beautiful red color that pops in any room, whether you are painting an accent wall or want to add some spice to a bathroom or your kitchen;
– Biking Red: A more adventurous tint, which you can easily incorporate into your décor with pillows and throws;
– Crème de Peache: A soft peach tone that compliments many bold colors;
– Eden Green: More of an emerald rich green to add throughout your room with accent pillows or wall décor.
Another huge home décor trend for the season is adding natural elements to your spaces. Natural elements such as stone, copper, metal, wood, and granite help bring a sense of serenity and peace to a home. The combination of such metals and stone creates a custom feel and helps to make your space feel more unique.
Q: What are a few inexpensive ways to spruce up the inside of my home for fall?
A: Adding just a few autumn pieces to your home can add a fabulously festive feel that will surely bring smiles to the faces of your family as well as your guests. Here are a few tips for bringing fall into your home and easily incorporating it into your existing décor (remember that you don't have to spend a lot of money to achieve this; including just a few of the following options can perfectly transform your interior rooms into inviting autumn spaces).
– Replace greenery in your home with fall foliage such as branches, wheat stalks, hay, and other accents that will warm up your space.
– Swap your traditional candles with ones in a fun pop of color, such as a bright orange or dark green for a seasonal feel.
– Toss a few new pillows and a throw to your couch. You can incorporate burlap along with mixing patterns such as plaid or striped pillows together to spice things up.
Q: What can I add to create a welcoming fall front porch?
A: Again, you don't need many items to create a warm, autumn feel to this part of your house … just a few of these will look great and create a space that invites friends and family to your home.
– Wood signs are all the rage right now. Whether it says "Welcome" or "Welcome Fall," a wood sign looks great when placed next to a bench or near the front door.
– Change up the typical orange pumpkins or add to your orange favorites a variety of shapes and colors of other pumpkins and gourds. For a bit of extra glam, spray paint them in such colors as gold or silver, or top with a festive ribbon.
– Add some vibrant fall plants such as mums to your porch. These are beautiful when placed in different natural element containers such as metal and wood.
– Add a colorful mat to your front door, or layer the front door with two mats, one larger than the other.
– Change out your outdoor rocking chair or bench pillows with a few new ones in the colors that match your new colorful fall porch.
Q: What are some easy ways to decorate an eye-catching place setting for the season?
A: Fall is also a great time to invite your friends and neighbors over for dinner and share in the excitement of the season. Take advantage of this opportunity and be as creative as you want with your table setting. The following suggestions will definitely make an impression on your guests.
– Change out your placemats to a textured material such as jute or burlap, or layer two placemats on top of each other for a fun setting.
– Layer two decorative plates to add a colorful appeal to your table. Add place cards for your guests by writing their names on small pumpkins or add frames with a festive fall cardstock displaying their names.
We hope these fun, easy, and inexpensive fall decorating tips will add tons of joy to your life for this special season!
Style House Designs
Written by the interior design team at Style House Designs. There are two teams of design professionals (Jennifer McCoy and Becky Hill, and Melissa McCaskill and Janet O'Furey) who would love to help restyle your home to a home you love. You can contact them by reaching out on the website or visiting their Facebook page. Style House Designs also has a gorgeous home décor/furniture/and gifts store.