Hey Wake Forest ... We're B-A-A-A-C-K!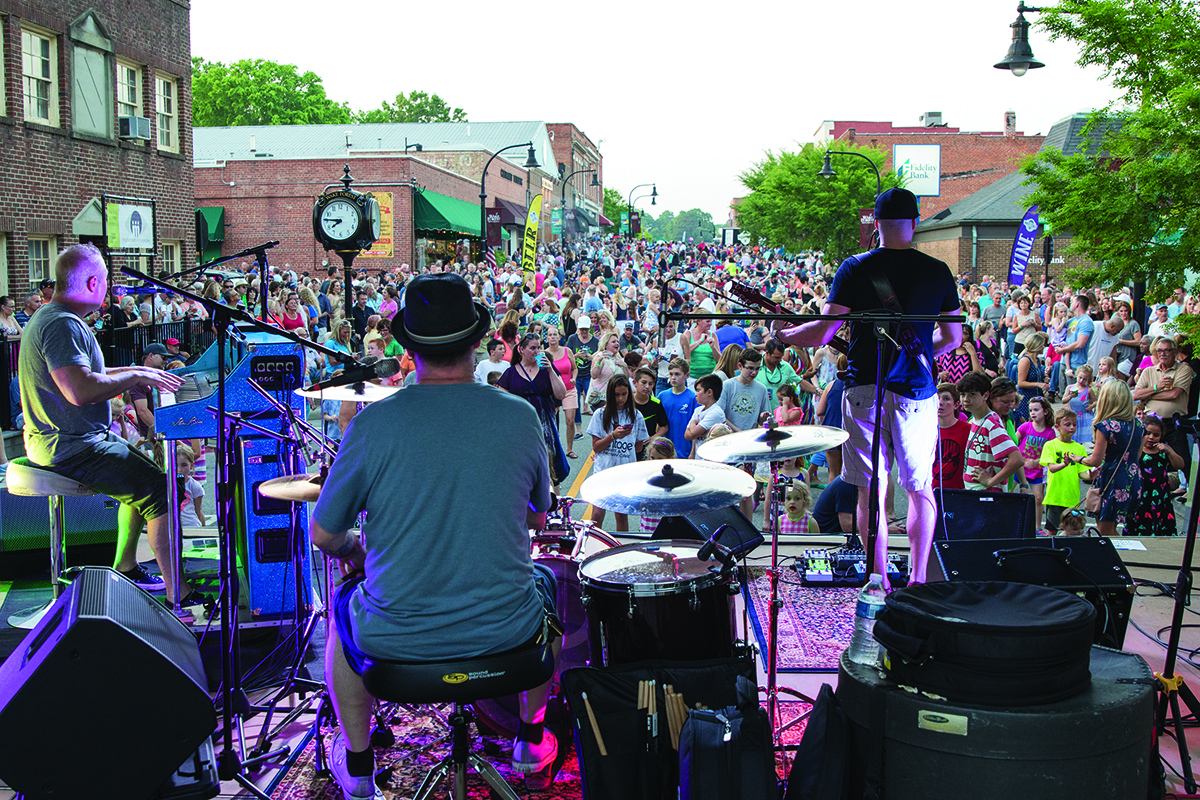 Now that North Carolina has lifted all indoor and outdoor capacity requirements and masks and social distancing are no longer required, the Town of Wake Forest is pleased to announce the return of several popular in-person events.
"From the outset of the pandemic, we said that once state restrictions were lifted, we'd resume hosting in-person events," said Mayor Vivian Jones. "We're beyond thrilled that we can resume gathering in-person with our family and friends for so many of our favorite community events."
Just in time for summer, here's a listing of upcoming events so you can mark your calendar and make plans to attend!
Family Movie Nights at Joyner Park
Enjoy a movie – or two – under the stars. The Wake Forest Parks, Recreation & Cultural Resources Department is pleased to offer two free movie nights this summer. Join us on Saturday, July 24, for Aladdin (2019) and Saturday, August 7, for Black Panther. Free and open to the public, the movie screenings begin at dusk, around 8:30 PM. Bring chairs or a blanket and arrive early to give you and your family time to find a spot before the movie begins. You may also want to bring bug spray, a flashlight, and an umbrella – just in case. Food trucks will not be on-site this summer, but families are welcome to bring their own food and non-alcoholic beverages.
Six Sundays in Fall
We missed Six Sundays in Spring this year, so we're making up for it by offering Six Sundays in Fall on six consecutive Sunday afternoons from September 5 through October 10. Bring the kids, friends, a picnic, and a blanket and settle in for some foot-tapping, finger-snapping good times. Sponsored by ARTS Wake Forest in partnership with Wake Forest Parks, Recreation & Cultural Resources, these free concerts take place from 5:00 PM – 7:00 PM at the E. Carroll Joyner Park Amphitheater. Families are encouraged to bring their own food or snacks as there will be no food trucks or refreshments on-site. The September 5 concert will be held in conjunction with Wake Forest Unplugged, which will feature a variety of organized games and activities. These concerts typically take place rain or shine, so make plans now to join your friends and neighbors at Joyner Park and make this year's Six Sundays in Fall your best Sundays of the year.
Friday Night on White
Friday Night on White returns to Downtown Wake Forest on Friday, September 10. Crush, one of our area's most popular party bands, will perform along South White Street from 6:00 PM – 9:00 PM. While you're downtown, check out the sponsor expo, visit the variety of outstanding dining establishments, or enjoy delicious food from several food trucks that will be on-site. Beer and wine will also be available for purchase, but age identification is required. So grab your lawn chair and come enjoy the music while experiencing the undeniable charm of Downtown Wake Forest. See you there!
Legacy Motown Revue
The July 24 Malpass Brothers concert is already sold out, but plenty of tickets are available for our Rockin' the Forest concert featuring Legacy Motown Revue on Friday, September 24. The Legacy Motown Revue pays tribute to the legendary icons of Motown. Backed by an amazing six-piece horn section, the four talented performers dance, sing, and transport you back to one of the most influential periods in musical history. The bar will be open for wine, beer, and other refreshment purchases. Tickets go on sale July 30, and can be bought online or at the Renaissance Centre Box Office. Reserved seats are $25 and general admission is $15.
In case you're interested, the Renaissance Centre also offers an interesting variety of camps and workshops, including Musical Theatre Studio and the Golden Age of Gaming for Lego-Loving Adults. To view the full list of camps and workshops, or to purchase tickets to an upcoming performance, visit wakeforestrencen.org.
But wait, there's more! Save the dates for these upcoming events later this year.
Spirits of Wake Forest
If you're looking for a "hauntingly" good time this fall season, then don't miss the "Spirits of Wake Forest" ghost walk returning to Downtown Wake Forest. Presented by Wake Forest Downtown, Inc., these tours will be offered Thursdays, Fridays, and Saturdays in October. Ticket information coming soon!
Halloween Boo Bash
A free, family-oriented festival for children ages 12 and younger, the Halloween Boo Bash is scheduled for Thursday, October 21, at Joyner Park Community Center. Get your costumes and candy bags ready.
Murder Mystery Dinner Theatre – Lights! Camera! Murder!
The Wake Forest Renaissance Centre's next Murder Mystery Dinner Theatre – "Lights! Camera! Murder!" – is set for Saturday, October 30. Welcome to the "Gimme Awards," North Carolina's answer to the Academy Awards. Each year, prizes go to the best in the growing film industry that makes our state a leader in film and television production. This year's awards are being held at the Renaissance Centre. The posh surroundings could make an elegant backdrop for the drop-dead gorgeous as well as those who simply drop dead! So, grab your camera and your autograph book and get ready for a taste of show business as you've never sampled before. Guests are encouraged to dress in their best red-carpet attire, or come as you are. Tickets are $45, which includes a three-course dinner catered by Crumbstruction. For tickets, visit wakeforestrencen.org.
Wake Forest Cares Holiday Kick-off
Our Wake Forest Cares Holiday Kick-Off is coming to Downtown Wake Forest on Saturday, November 13. Join us as we welcome the holiday season with an array of family-friendly activities, plus a late after-noon concert featuring the ACE Party Band playing hits from Top 40, Rock, R&B, Beach, and Motown.
Rockin' the Forest
Everybody's favorite beach music band, The Band of Oz, is coming to the Wake Forest Renaissance Centre on Saturday, November 20. Once the cool temperatures arrive this fall and you find yourself longing for summer and the sweet sounds of beach music, meet your friends for some summertime fun featuring the live music of this dynamic eight-member group. The bar will be open for wine, beer, and other refreshment purchases. VIP seats are $40, reserved seats are $25, and general admission tickets are $15. For more information, visit wakeforestrencen.org.
Lighting of Wake Forest
Experience the wonder and magic of the holiday season in Town Hall's Centennial Plaza on Friday, December 3. The evening's festivities will get underway with the lighting of the Town's 30-feet-tall Christmas tree, followed by Santa Claus' exciting arrival aboard a Wake Forest fire truck. This is a night you won't want to miss!
Downtown Holiday Open House
Join us in historic Downtown Wake Forest on Saturday, December 4 for a hearty dose of holiday cheer.
The Town of Wake Forest is hard at work planning a full array of activities to round out 2021. As of press time, all information is current. Additional details about Town happenings will be provided in the coming weeks. In the meantime, area residents are urged to sign up for special events reminders via E-Notifier at www.wakeforestnc.gov/communications/e-notifier. You may also visit our website at wakeforestnc.gov and search "meetings and events." 
Town of Wake Forest
To learn more about town events, sponsorship opportunities and how you can get involved, contact Amanda Cochrane.