Happy Healthy Holidays
5 Tips To Help You Stay On Track This Season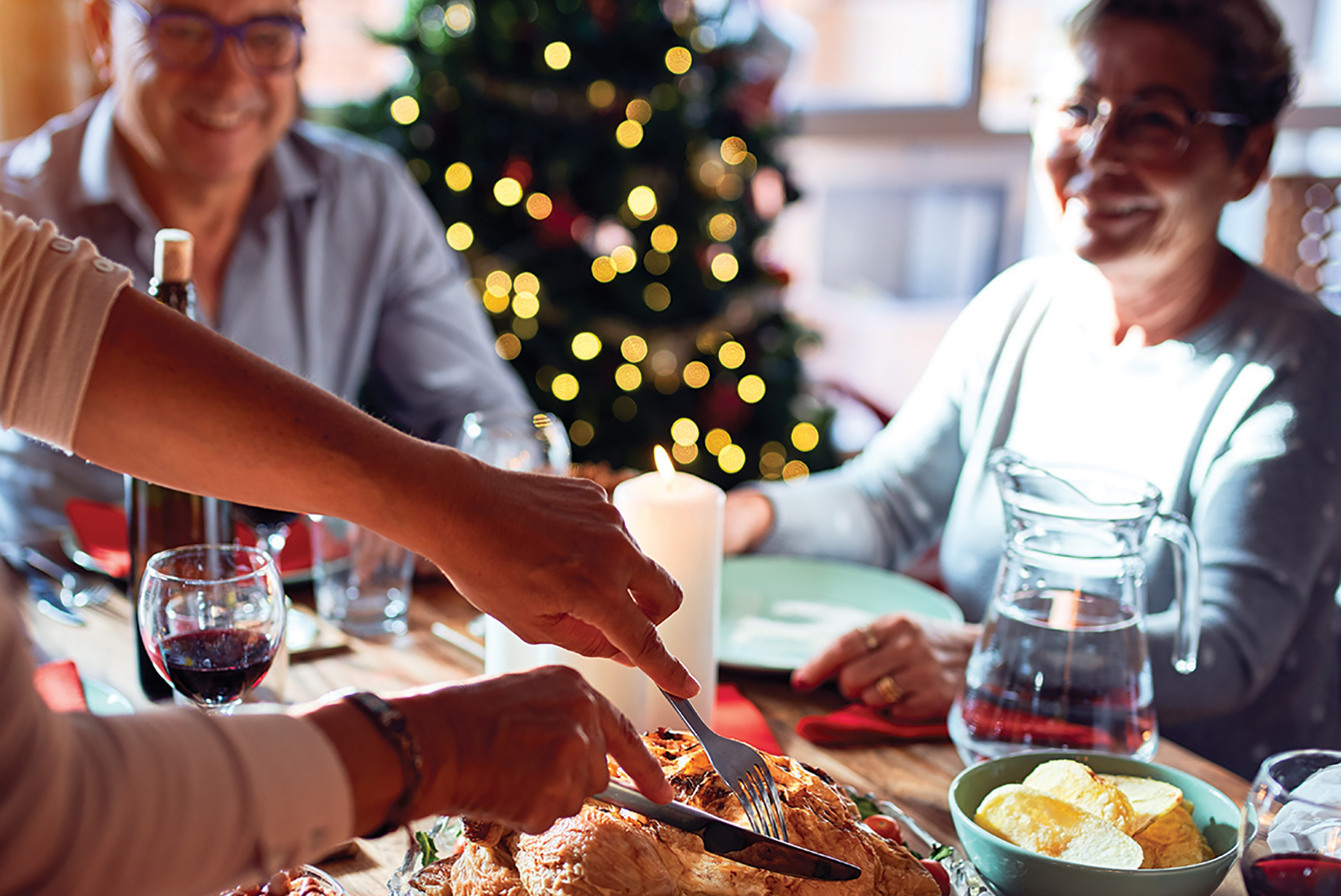 The holidays are a time to enjoy with friends and family ... and food. On average, Americans gain approximately one to two pounds during the holiday season. While this weight gain isn't dramatic, research shows that it tends to stick and accumulate over the years. Following are tips to help you create a healthy balance of food, physical activity, and fun to stay on-track through the holiday season.
1. Be realistic. Don't try to lose weight during the holidays. Rather, focus on maintaining your current weight.
2. Don't skip meals. Being overly hungry often leads to overeating. A small snack such as a piece of fruit or some raw veggies with hummus can help to curb the temptation to over-indulge later on.
3. Bring a healthy dish to a holiday gathering. This is a great way for you to ensure there will be something healthy to consume no matter what is offered. This is also very helpful if you have a food allergy/intolerance.
4. Scope out the food table before dishing up your plate. Fill half of your plate with fruits and vegetables and then choose small portions of your favorite foods to enjoy in moderation.
5. Sit. Savor. Satisfy. Sit down to eat, savor your food, and only eat until you are satisfied, not stuffed. Don't feel obligated to clear your plate.
6. Moderate your intake of caloric beverages. Soda, alcohol, mixed coffee beverages, hot cocoa, juices, and eggnog all contain calories which can contribute to weight gain. Stay hydrated with water instead and enjoy a drink in moderation on occasion.
7. Plan time for physical activity. Exercise can help to relieve holiday stress and prevent weight gain.
8. Take the focus off of food. Projects such as making wreaths, sculpting dough art decorations, or playing minute-to-win-it games are great options for friends and family gatherings. Others include signing up to serve your community a holiday meal and going on a walk around the neighborhood to view all the holiday splendor.
To go a little further, here are a couple of healthier holiday recipes. Give these a try and enjoy with your family and friends this holiday season.
Quick Holiday Nog
– 4 bananas
– 1-1/2 cups skim milk or vanilla almond milk
– 1-1/2 cups plain nonfat yogurt
– 1/4 teaspoon rum extract
– Sprinkle of ground nutmeg
Place all of the ingredients (minus the nutmeg) into a blender and puree until smooth. Pour in serving glasses and sprinkle with a touch of nutmeg.
Creamy Mashed Cauliflower
Recipe by EatingWell Test Kitchen
For your holiday feast, try this fabulous low carbohydrate recipe in exchange for mashed potatoes – not only will it lighten your caloric load, it will also provide a nutritional boost. Try topping it with some shredded cheese or chopped fresh herbs. Even the pickiest eater will love this dish.
– 8 cups bite-size cauliflower florets (about 1 head)
– 4 cloves garlic, crushed and peeled
– 1/3 cup nonfat buttermilk (if you do not have buttermilk, you can make sour-milk by mixing 1 tablespoon lemon juice or vinegar to 1 cup milk)
– 4 teaspoons extra-virgin olive oil, divided
– 1 teaspoon butter
– 1/2 teaspoon salt
– Freshly ground pepper to taste
– Snipped fresh chives for garnish
Place cauliflower florets and garlic in a steamer basket over boiling water, cover, and steam until very tender, 12 to 15 minutes. (Alternatively, place florets and garlic in a microwave-safe bowl with 1/4 cup water, cover, and cook on high for 3-5 minutes.) Place the cooked cauliflower and garlic in a food processor. Add buttermilk, 2 teaspoons oil, butter, salt, and pepper; pulse several times, then process until smooth and creamy. Transfer to a serving bowl. Drizzle with the remaining 2 teaspoons of oil and garnish with chives, if desired. Serve hot.
WakeMed Voices
Visit the WakeMed Voices blog for more healthy lifestyle tips. The WakeMed Voices blog provides an outlet for their many experts to share information on topics important to the health of patients and the community.