Handcraft For The Holidays
Serve Up Some Holiday Spirit With These Coffee Concoctions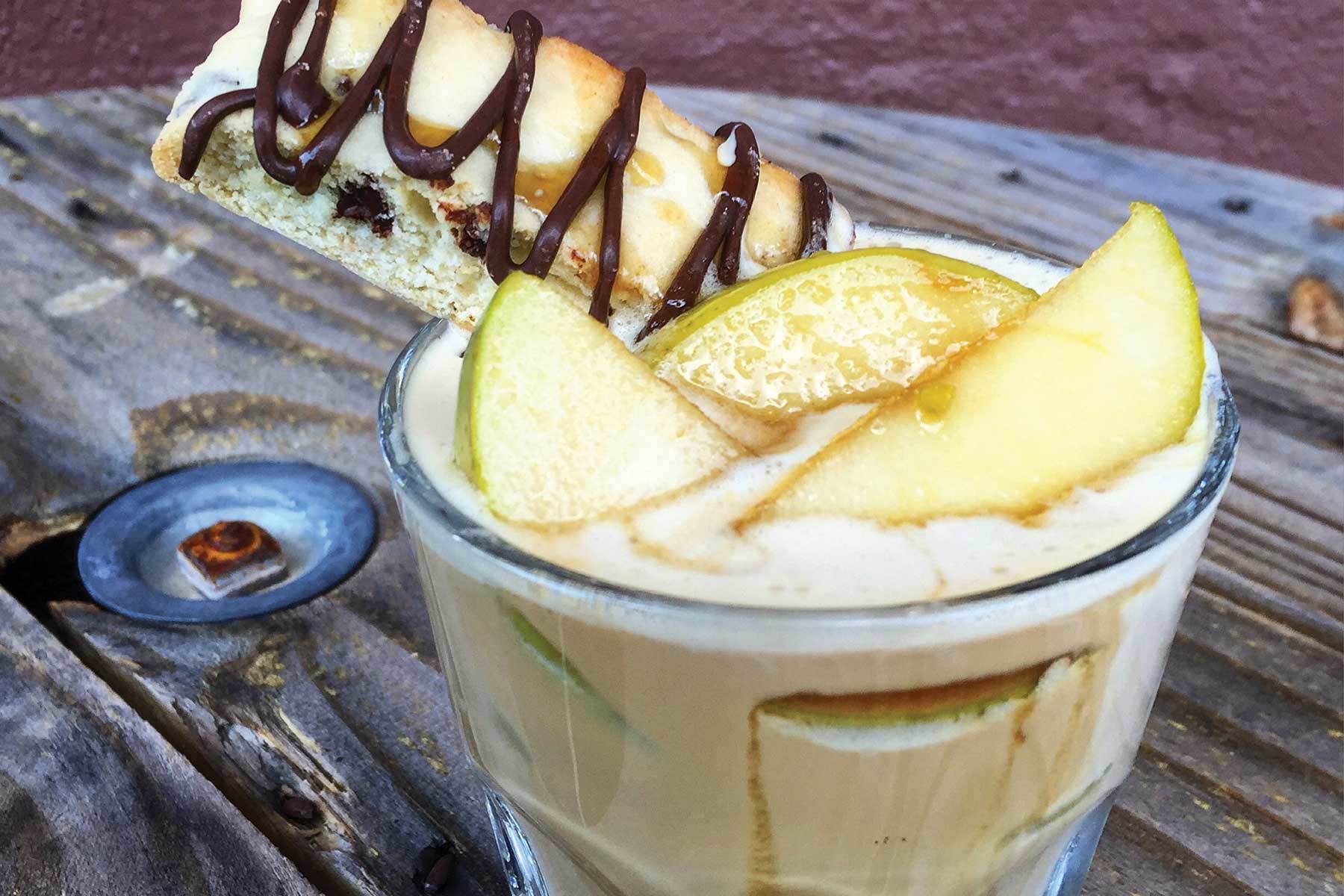 The holidays are right around the corner and coffee season will soon be in full swing. Your Instagram feed will slowly begin to fill with pictures of pumpkin spice lattes, white chocolate peppermint mochas, and selfies with Santa. All the while your bank account will quickly drain down into the red from daily trips to the closest coffee chain. What if you could make bespoke coffee drinks in your own kitchen? It's time to become your own barista and craft drinks for friends and family this holiday season. My fellow baristas at Back Alley Coffee's Pour Over Lab and I have designed two drinks that are incredibly simple to make at home and will make you look like a coffee connoisseur at your next party. All you need is an AeroPress and a few ingredients from the local market.
The AeroPress and Pour Over
The first step in creating both of these drinks is to make the coffee base. You will make an espresso-style shot for the Caramel Apple Affogato by using the AeroPress and can make a handcrafted cup of coffee with a pour over system. You can find the AeroPress and Pour Over kit at our shop or on Amazon.
The Caramel Apple Affogato
Sweet and savory are the staples of the holiday season. We have created an easy Affogato that will take you and your friends back to the fall festivals you enjoyed as a kid.
Ingredients:
– Colombia coffee
– Corn starch
– 1 Granny Smith apple
– Butter
– Brown sugar
– Vanilla ice cream
– Chocolate chip biscotti
Step 1: Making The Coffee Base ...
– Grind 23 grams (about 2-3 tablespoons) of Colombia coffee at a medium grind setting and place into the AeroPress.
– Heat water to 175 degrees. Pour an initial 20 grams of water over the coffee and let sit for 15 seconds and
stir the grounds five times.
– Add 180 grams of water and stir once.
– Place the AeroPress over a cup and quickly press the plunger down.
Step 2: Making the Drink ...
– In a saucepan, add ½ teaspoon of cornstarch to ½ teaspoon of cold water.
– Stir until the mixture is dissolved.
– Take half of a green apple and slice it into a few slices. Add the apple to the corn starch mixture.
– Add a knob of butter (2-3 tablespoons) to the mixture and fry the apples on high until crisp.
– Remove the apples and place them in a bowl.
– Add 1/8 cup of butter and 6 tablespoons of brown sugar to the saucepan. Stir until caramelized.
– Toss the apples into the caramel sauce.
– Add 1-2 scoops of vanilla ice cream to a glass tumbler.
– Pour the coffee you made earlier over the ice cream.
– Garnish the drink with biscotti and the caramel apple mixture, serve, and enjoy!
CocoaMint Pour Over
This handcrafted CocoaMint pour over will impress your date and win over the most hard-hearted in-laws. We have combined the trifecta of Christmas treats to form an easily made drink that you can flaunt to the neighbors. Made with peppermint, dark chocolate, and a sweet coffee, the CocoaMint is Christmas in a cup.
Ingredients:
– Back Alley Don Miguel coffee
– Dark chocolate (we recommend Videri)
– Heavy whipping cream
– Peppermint extract
– Peppermint candy
– Whipped cream
Step 1: Making The Brew ...
– Brew 12 ounces (365 grams) of Don Miguel coffee. We chose to brew using the pour over method at a medium grind size for this drink. If you do not have a pour over system available, drip coffee can be used as a substitute.
Step 2: Add A Little Christmas ...
– Mix ¼ cup of heavy whipping cream with 2 drops of peppermint extract.
– Add 30 grams of dark chocolate to a double boiler.
– Add 4 tablespoons of heavy whipping cream until the chocolate has fully melted. Combine the peppermint cream and chocolate mixture to the pour over coffee. Pour into a serving glass and top with whipped cream, crushed peppermint candy, and dark chocolate shavings, and serve up and enjoy!
The holidays are a great time to have people over, enjoy family, and spend time with friends. Let's bring back the days of handcrafting a drink for a friend and catching up over a beverage. Choose to be a barista this holiday season and serve up some great memories with the folks you love.

Matt Flinn
With Back Alley Coffee Roasters, where you can enjoy their coffee for yourself. Also check them out on Twitter, Facebook, and Instagram.