Grilling Up A Summer Feast
Serve Up Some Seasonal Deliciousness With This Fabulous Fare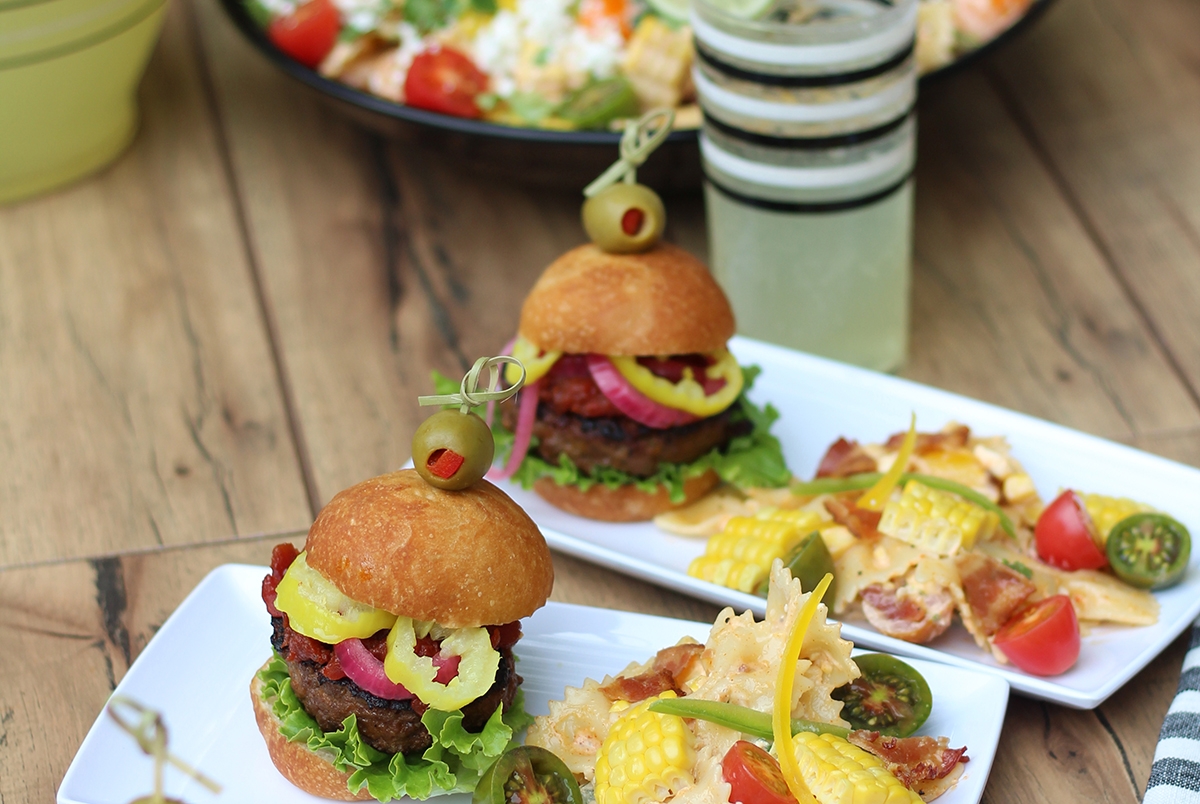 There it is! Did you catch that waft of smoky goodness? The smoky goodness that lets us know that summer is here, and it's in full swing. Yes, summer is here, so let the lighting of the grills begin, or go ahead and break out the briquettes or wood for your grill. It's time to throw that summer celebration for friends and family you've been planning for weeks, or that impromptu cul-de-sac cookout with the neighbors.
Whichever summer gathering you're hosting, there's always that burning question at the top of your mind – what will you serve? Hot dogs? Frozen burger patties? Chips? Store-bought potato salad? No, no, no ... no need for the typical cookout fare – no, we have the perfect grilling menu you need right here. These easy dishes full of fun flavors will truly surprise your guests, leaving a lasting impression on them as they secretly hope you'll be hosting the next backyard summer bash sooner rather than later.
To start, you need a burger centerpiece – and ours is a true winner. Forget Taco Tuesdays this summer – make it a Fiesta Burger Friday for your feast instead! Following is a recipe for a juicy and tender burger that combines ground beef with the creaminess of North Carolina sweet potatoes and the smoky seasonings found in your favorite Mexican foods – a truly delicious combination. Surprise: it is also good for you because sweet potatoes are loaded with fiber, vitamins, and minerals. The best part? The kids will happily scarf down these burgers and not even notice that they just ate their veggies. Yup, that's right … Mom and Dad: 1 – picky kid: 0. Adults love them too, simply because they are delicious. While you're at it, be sure to make extra for that last-minute summer get-together … simply mix up a big batch and put some in the freezer so you'll be prepared for your next outdoor grilling feast.
To top these scrumptious burgers, skip the typical ketchup, mustard, and dill pickles. Instead, try some of the following non-traditional topping ideas that are simple to make and will keep in the fridge for many other uses – you will want to keep these bad boys on hand for salads and sandwiches all summer long as well. For you pickle lovers out there, try our simple pickled onion recipe for a crunchy, tangy-sweet, and super colorful burger topping alternative (using red onions provides the perfect color pop). Or give one of my favorite new recipes – Roasted Tomato Relish – a whirl. This scratch-made condiment could easily replace your standard store-bought ketchup. Have you ever noticed that one of the primary ingredients in ketchup is high fructose syrup? You don't really want to serve that, do you? Tap into the relish's natural sweetness and depth of flavor by using simple canned tomatoes and roasting all the ingredients together in the oven, low and slow. If you don't like the natural chunky texture, simply puree it in your blender – you'll still achieve the delicious flavors ... either way, the roasted tomato relish is a sure-fire winner that will keep people coming back for more.
And to go with this epic burger, I'm letting you in on one of my favorite pasta salad recipes – Mexican Street Corn Pasta Salad. It, too, is loaded with lots of summer veggie goodness and bright colors. Creamy and delicious with the perfect combination of mayonnaise and some full-bodied flavors from spices, as well as a little zip of lime, this cookout accompaniment is a summer must. Set out a bottle of your favorite hot sauce for folks to spice it up as hot as they like.
Go ahead and invite your friends and neighbors over for a fun-filled summer afternoon of conversation, corn hole, water balloons, and of course, food – and shake up your grilling plans a little by giving these great recipes a try. But if you notice your party goes completely silent once the food is served, don't worry – that's actually a great sign, as it means that everyone is too busy enjoying your delicious food to have time to talk. In this case, silence is truly golden.
Southwest Sweet Potato Burger
– 1 tablespoon canola or olive oil
– 2 cups finely diced onion
– 2 teaspoons cumin
– 2 tablespoons chili powder
– 2 teaspoons dry oregano
– ¼ cup water
– 1 teaspoon Sriracha
– 1 tablespoon mustard
– 2 tablespoons soy sauce
– 1 medium sweet potato, baked and mashed (approximately 1½ - 2 cups)
– 2 pounds ground beef (or turkey)
– Salt and pepper, to taste
Preheat oven to 350 degrees or heat up your grill. Heat the oil over medium heat in a sauté pan and add the onion. Stir and cook for 2-3 minutes, or until translucent. Add cumin, chili powder, and oregano. Stir and let cook for 1 minute. Then, add the water and soy sauce. Stir and cook until most of the liquid has evaporated. Remove from heat and let cool. In a separate bowl, combine the mashed sweet potato, ground beef, and salt and pepper. Once sautéed ingredients have cooled, add them to the meat and potato mixture. Using your hands, mix all ingredients thoroughly so everything is combined well. Form into patties and set aside. If grilling later, store them in the refrigerator before cooking. To cook on the grill: cook on each side for 3-5 minutes, depending on the size of the burger. To bake in the oven: place on a foil-lined sheet pan and bake for 14-20 minutes, depending on the size of the burger.
Enjoy as a "naked burger" or on your favorite bread. Top as desired, or not – these burgers are so flavorful and moist that they are great with little or no toppings. And instead of burgers, you can use this recipe to create a meatballs versions (simply add to your favorite sauce) for a dinnertime change of pace.
Roasted Tomato Relish
Makes approximately 3 cups
– 32-ounce can diced tomatoes
– ¼ cup brown sugar
– 3 tablespoons cider vinegar
– 1 tablespoon balsamic vinegar
– 1 tablespoon Dijon mustard
– 1 teaspoon Sriracha
– Salt and pepper, to taste
Preheat oven to 350 degrees. Place all ingredients in a deep roasting pan and stir to combine. Roast for one hour, uncovered, checking on it every 15 minutes. Stir each time you check. It will be done when most of the liquid has evaporated and the tomatoes are slightly charred on the edges. Remove from oven and stir. Let cool. Once completely cool, transfer to a mason jar, plastic container, or divide up into small freezer bags. Relish will keep in the refrigerator for up to two weeks, or freeze for up to three months (if frozen, remove from the freezer the night before serving).
Pickled Red Onions
– 2 large red onions, sliced thin
– 1 cup apple cider vinegar
– 2 tablespoons honey
– 3 teaspoons salt
Place onions in a heat-safe bowl. Mix vinegar, honey, and salt in a small sauce pan and bring to a boil. Pour the liquid over the onions and stir to coat. Let sit at room temperature for a minimum of an hour. Keep up to two weeks, covered in the refrigerator. Red onions are best because they turn a beautiful color, but any onion will work.
Mexican Street Corn Pasta Salad
Makes approximately 2 quarts
For the salad:
– 2 cups dry pasta (I prefer bow tie)
– 3-4 ears of corn (or 3 cups frozen corn)
– 1 cup cherry tomatoes
– 2 colored bell peppers
– 3 green onions
– 1 small bunch of cilantro
– ½ cup queso fresco (or feta)
For the dressing:
– 1 cup regular mayonnaise
– Zest and juice of 2 limes
– ½ teaspoon ground cumin
– 1 teaspoon paprika
– 1 teaspoon chili powder
– 1 teaspoon Sriracha
– Salt and pepper, to taste
Cook the pasta or until al dente. Drain pasta and let sit out to cool and dry in the colander.
If using fresh corn, cook the corn on the cob (grill, boil, or bake) and cut the kernels off the cob. If using frozen corn, measure out 3 cups and thaw. Prep the rest of the veggies: cut the cherry tomatoes in half; seed the colored bell peppers and cut into thin strips; trim the green onions and cut into small pieces; and rough chop the cilantro (reserve some for garnish).
To make the sauce, in a large bowl, whisk together all the ingredients until thoroughly combined. Taste and adjust seasonings as needed. Add the pasta to the bowl and stir to coat all the pasta. Add in all the vegetables and stir gently to combine. Taste and adjust salt and pepper to your taste. Top with crumbled cheese and reserve cilantro. You can also sprinkle a little paprika on top for added color.
Holly Hopkins
Holly has spent many years working with food, starting off at her Grandma's elbow, making wedding cakes and cookies galore. Since then, she has been a manager and business owner and is thrilled to be combining her passions for high quality food and superior customer service at Chef Mario's.