Good Reads
Refresh Your Spring Reading List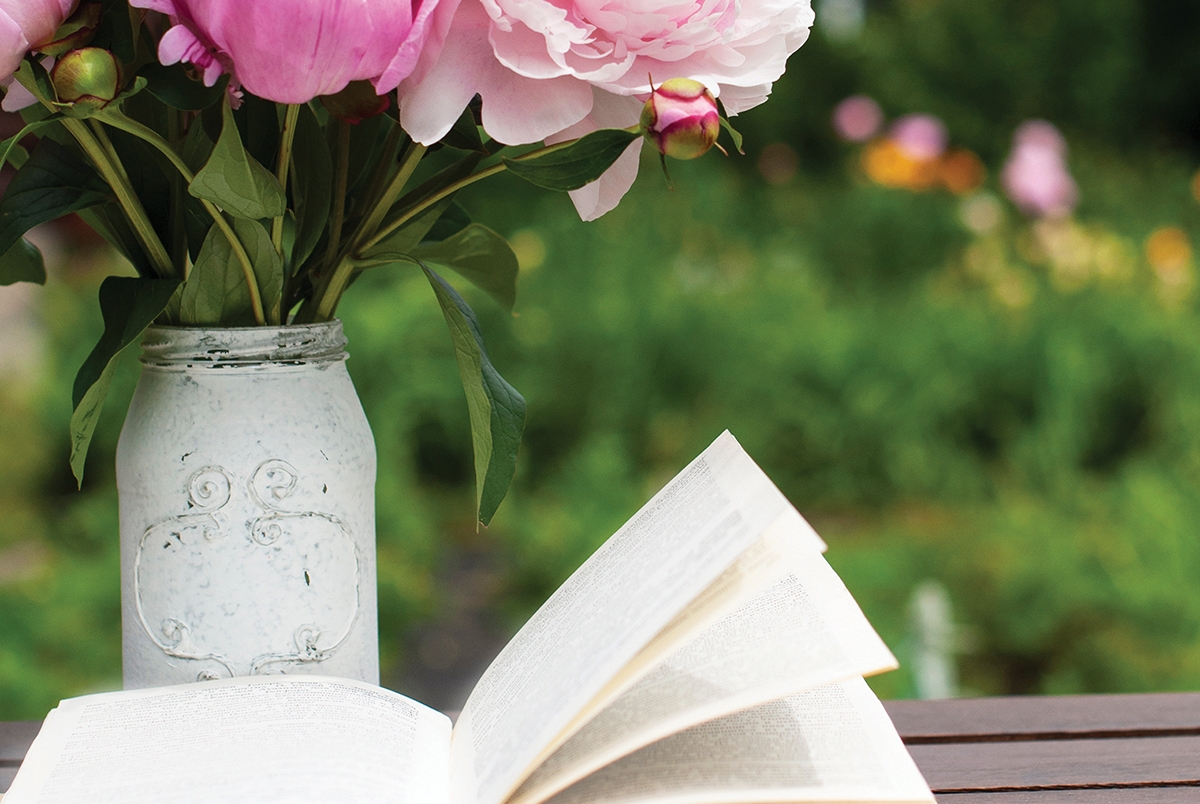 We hear it all the time – spring is a time of renewal. It's a time to revitalize our homes, our bodies, and our minds. What better way to refresh our homes than with a good spring cleaning? What better way to refresh our bodies than with warm weather workouts? What better way to refresh our minds than enjoying a good book? So this spring, rejuvenate your brain – and your reading repertoire – with this crop of good reads.
CHILDREN
Who Will You Be? by Andrea Pippins
While intended for little readers, this poignant and stunning picture book is the perfect baby shower or graduation gift, as it stirs up the wonder and joy that we all want and hope for our children. As described by publisher Penguin Random House, Who Will You Be? "features gorgeous artwork and gentle words that celebrate childhood and is an ode to the power of our village – and a reminder that every child is uniquely wonderful."
There's An Alien in Your Book by Tom Fletcher
Every single one of Tom Fletcher's works entices giggles and non-stop fun – and There's An Alien In Your Book is no different. What do you do when an alien crash lands in your book? How can you get him out? Shake? Bounce? Or do you just accept it? This out-of-this world interactive adventure, with its gentle message about inclusion and acceptance, speaks to all readers, young and old.
How to Solve a Problem: The Rise (and Falls) of a Rock-Climbing Champion by Ashima Shiraishi
This true story of strength and perseverance by one of the world's youngest rock-climbing champions will amaze you. There are books about young people taking chances and making names for themselves by tackling difficult situations, but Ashima Shiraishi has taken it to the apex. One of the youngest climbers to summit the most difficult rocks in the world, she uses her experiences to show others how to break down and conquer their (non-rock climbing) problems.
Peter and the Tree Children by Peter Wohlleben
From the author of the New York Times bestseller Secret Life of Trees comes this brilliant new children's picture book that shares the real story of how trees communicate, feel, and grow.
YOUNG ADULT
The Ballad of Songbirds and Snakes (A Hunger Games Novel) by Suzanne Collins
Available May 2020
As described by Scholastic, "The Ballad of Songbirds and Snakes will revisit the world of Panem 64 years before the events of The Hunger Games, starting on the morning of the reaping of the Tenth Hunger Games." As there has been a significant number of pre-order requests for this highly-anticipated prequel, I have not yet been able to get a review copy ... but I am very excited to read about President Snow!
Wonder Woman: Tempest Tossed by Laura Halse Anderson
Available June 2020
A master of historical fiction for young adult readers, Laura Halse Anderson is releasing her first graphic novel, featuring 16-year-old Princess Diana. As described by publisher DC Comics, her "new thought-provoking young adult graphic novel will spotlight powerful themes, including American idealism and the refugee experience." This is a story of finding your strength, friendship, and what it means to make a difference.
ADULT
The Southern Book Club's Guide to Slaying Vampires by Grady Hendrix
A Southern town in the '90s is where you'll meet a group of tired, underappreciated women who are united through their mystery book club ... but when real mysteries start to occur, they are ignored. As reviewed on Booklist, "Hendrix has masterfully blended the disaffected housewife trope with a terrifying vampire tale, and the anxiety and tension are palpable ... a cheeky, spot-on pick for book clubs." Brilliant, laugh-out-loud funny, and scary, this book is relatable and just what everyone needs right now.
Shakespeare for Squirrels by Christopher Moore
Available May 2020
According to chrismoore.com, "A rollicking tale of love, magic, madness, and murder, Shakespeare for Squirrels is a Midsummer Night's noir – a wicked and brilliantly funny good time conjured by the singular imagination of Christopher Moore." While Shakespeare may not be everyone's favorite author, Moore just might be. This absurdly hilarious, highly-entertaining murder mystery is filled with magic and madness that will surely not disappoint.
The Book of Longings by Sue Monk Kidd
I have loved all of Sue Monk Kidd's books, so when I read the premise of her latest work, I couldn't contain my excitement ... and I'm delighted to report that it did not disappoint! Her incredibly interesting and inspiring storytelling provides a re-imagined view of Jesus in his 20s and his wife Ana, described in a review by Good Housekeeping as "a courageous, intelligent woman who marries Jesus long before his public ministry begins." They add, "Based on meticulous historical research, this is a humanizing look at Jesus the man, as well as an inspiring story of a strong woman living in a society bent on her silence."
The Book of Lost Friends: A Novel by Lisa Wingate
From the bestselling author of Before We Were Yours comes The Book of Lost Friends – historical fiction at its finest. You'll quickly find yourself swept up in the story while learning about people and the hardships they had to survive. Set in post-Civil war, Wingate, according to her website lisawingate.com, "brings to life startling stories from actual 'Lost Friends' advertisements that appeared in Southern newspapers after the Civil War, as newly freed slaves desperately searched for loved ones who had been sold away." This great-for-book-club-discussion book is easily one of the year's best.
Camino Winds by John Grisham
"Welcome back to Camino Island, where anything can happen – even a murder in the midst of a hurricane, which might prove to be the perfect crime …" So states Grisham's website jgrisham.com. Yes, a hurricane has hit the island, and while most people board up their homes and vacate, best-selling author Mercer Mann stays – and is found dead after. Who would want him dead? Are the characters in the book real? His newest manuscript may offer clues. The website continues,"Camino Winds is an irresistible romp and a perfectly thrilling beach read – #1 bestselling author John Grisham at his beguiling best."
A Very Punchable Face: A Memoir by Colin Jost
We all need a good chuckle, and this book of hilarious essays penned by Saturday Night Live head writer and Weekend Update co-anchor Colin Jost will definitely have you laughing out loud. Throughout the pages of A Very Punchable Face, you'll learn how Jimmy Buffet saved his life and how he watched a fireman perform CPR on a raccoon. You will be taken behind the scenes of SNL and you'll discover that he competed in – and almost won – a 25-man match at WrestleMania. Your emotions will be stirred as you read his mother's account of the Twin Towers' collapse on 9/11. This self-proclaimed "slightly smarter Forrest Gump" shares a peek into his world, one where he's learned to take a beating, both physically and metaphorically.
Suzanne Lucey
Suzanne, along with her husband, Dave, owns Page 158 Books, located at 415 S. Brooks St. in Downtown Wake Forest.