Good Reads
Hot Books For Summer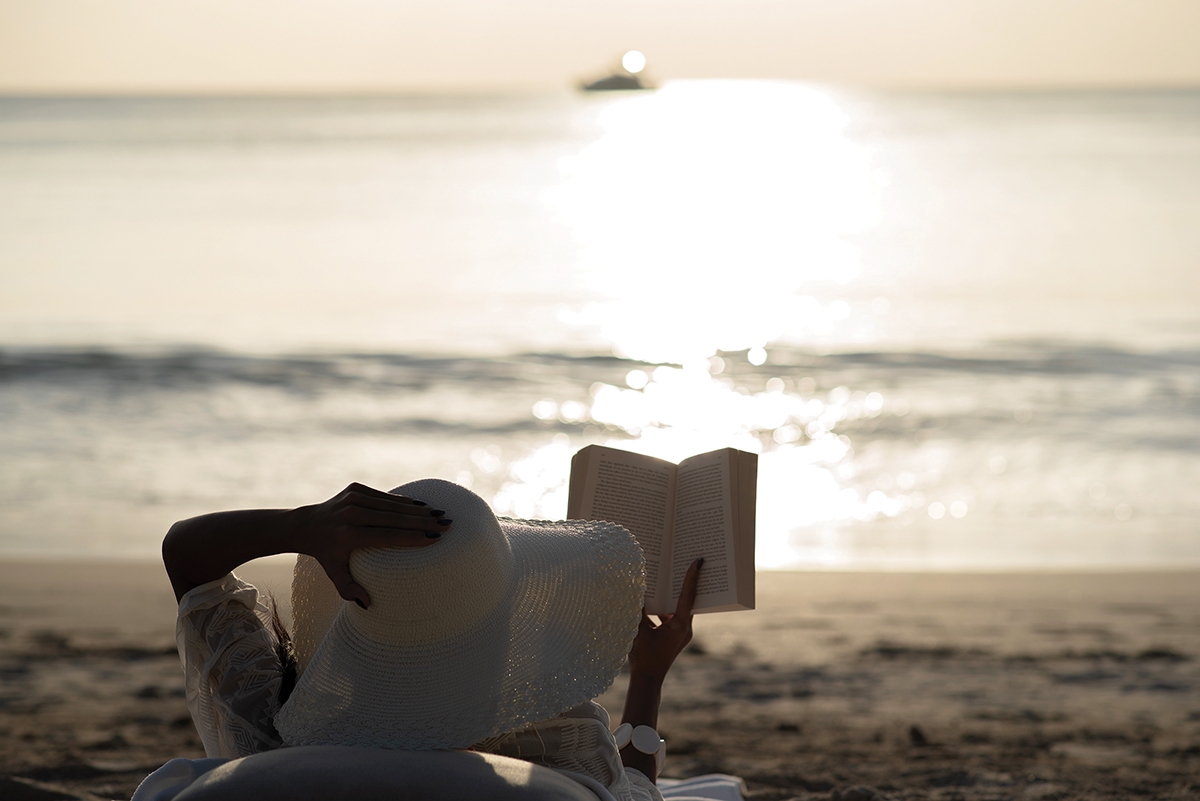 Your long-awaited trip to one of North Carolina's magnificent beaches is finally here. You've almost finished packing and are going through the checklist one last time to make sure you haven't forgotten anything. Swimsuits ... check. Sunscreen ... check. Sunglasses ... check. Summer reading material ... oops! If you haven't yet stocked your beach bag with books to enjoy as you lounge and relax under your umbrella, no worries. Whether you're looking for hot summer reads for the youngest reader in your family, the teen in your life, or for yourself, I've got you covered.
For Children
Adrian Simcox Does Not Have a Horse by Marcy Campbell
(ages birth to 100)
This beautifully illustrated, heartwarming book will bowl you over with its ingenuity and cleverly knitted story. Expertly told through a "smarty pants'" eyes, you will want to reread this gem as soon as you finish, so you can once again witness the clever way it ends. Teaching young and old to always be kind, because you never know what someone else is going through, this classic-in-the-making is about empathy and imagination, and a must read for one and all.
Brave Enough For Two by Johnathon D. Voss (Grades 1-3)
Wake Forest's own Jonathan D. Voss's author-illustrator debut children's book is garnering a lot of national attention and is bound to become a true classic, with its nostalgic and whimsical feel that instantly reminds you of a certain silly old bear. Little girl Olive and her stuffed animal owl Hoot are destined to win hearts among all kinds of readers, not just the young ones. When Hoot asks Olive to go on an adventure not inside a book, Olive wants to make sure the adventure is just right and not too much. As things progress, in the way that adventures often do, Olive realizes that there is never "too much" when it comes to helping a best friend.
Lions and Liars by Kate Beasley (8-12 years old)
This unique book, with protagonist Frederick Frederickson and his food-chain theory about life, is a coming-of-age story featuring a great bond between unlikely friends and shows how overcoming odds can bring people together, making it the perfect read for any child.
The Lifters by Dave Eggers (Grades 4-6)
This quirky fable by the brilliant, Pulitzer-nominated author of The Monk of Mokha and Her Right Foot, takes you on a journey underground where adventure awaits and heroes are made, all while promoting family, community, and most of all, teamwork. As stated by Booklist, The Lifters is "original … and always intriguing … Eggers' story moves along briskly, thanks to mounting suspense and bite-size chapters," letting this contemporary novel wrap up your young reader right from the start.
For Teens
Getting Things Done for Teens: Take Control of Your Life in a Distracting World by David Allen, Mike Williams, and Mark Wallace
The most interconnected generation in history is navigating unimaginable amounts of social pressure, both in personal and online interactions. Very little time, focus, or education is being spent teaching and coaching this generation how to navigate this unprecedented amount of "stuff" entering their lives each day. However, this book – an adaptation of the business classic for a new generation – is here to help save the day. An essential how-to manual for stress-free productivity, Getting Things Done For Teens provides helpful tools for today's modern kids to gain momentum and confidently face whatever comes their way.
Anger Is a Gift by Mark Oshiro
Moss and his fellow classmates are treated like prisoners in their own school in Anger Is A Gift, one of the hottest books for teens right now. When the students organize against the new restrictions, the police strike back harder, forcing those students to choose between fight over flight – and love over hate. Mark Oshiro joins the powerhouse ranks of Jason Reynolds and Angie Thomas in this much-needed and beautifully-crafted examination of police brutality in the lives of high school students. You will fall in love, you will grieve, and you will learn – yes, anger is a gift.
For Adults
The Word Is Murder by Anthony Horowitz
The Word Is Murder is a mystery featuring a fictional version of Horowitz himself as the main character. Starting off with a murder, this novel reads so much like non-fiction that I checked the front cover more than once to verify that the story wasn't true. Unexpected death, an unsolved mystery, and a trail of bloody clues are all found within this page-turner that takes you on a thrilling ride right from the start.
Everything Happens For a Reason: And Other Lies I've Loved by Kate Bowler
Duke Divinity School Professor Kate Bowler's personal story of a terminal cancer diagnosis and the road she's traveled amongst good intentions while fighting for her life and her faith, Everything Happens For A Reason: And Other Lies I've Loved is a beautiful, raw, inspiring, and convicting memoir, sometimes frank, sometimes funny, sometimes dark, and sometimes wise.
The Line That Held Us by David Joy
(Available August 14, 2018)
Producing some of the finest writing the South has to offer, David Joy's non-fiction works are thoughtful, yet have a visceral quality that is unmatched. His latest fiction work, The Line That Held Us, is no exception. This novel about the coverup of an accidental death, and the dark consequences affecting the lives of four people who will never be the same again, will grip you and not let go, just like a Dwayne Brewer bear hug, from the first page to the last.
Three Days Missing by Kimberly Belle
When a child goes missing, two mothers' lives collide in a shocking way in Three Days Missing, a gripping and compelling thriller about mistaken identity, divorce, and the struggles both parents go through when the divorce gets nasty. This story of child abduction and what parents experience when their child simply vanishes is a summer must-read that will keep you turning page after page with breathless suspense.
Suzanne Lucey
Suzanne, along with her husband, Dave, owns Page 158 Books.