Good Reads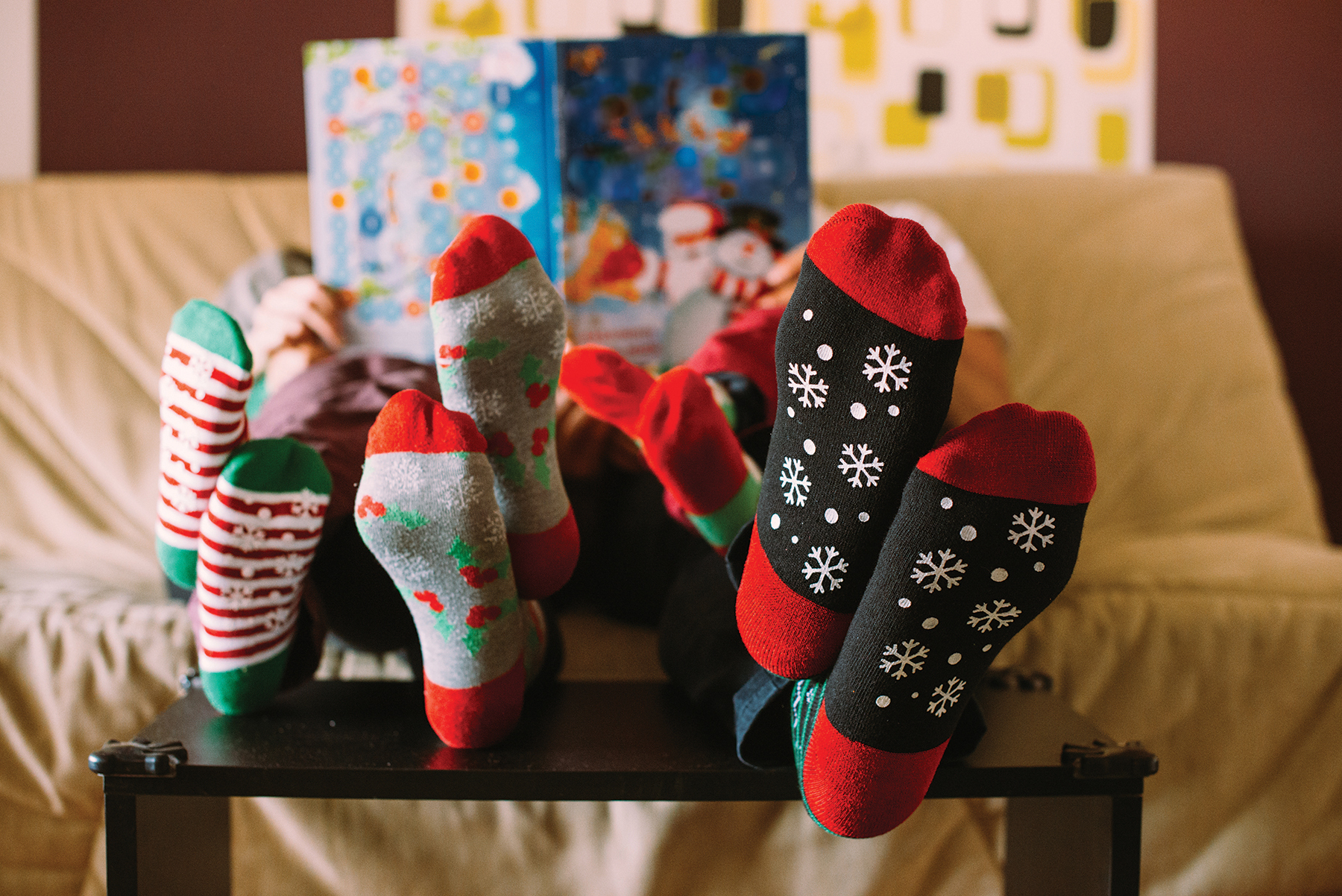 With the holidays just around the corner, it's time to start thinking about your gift-giving list. Not sure what to buy? How about the gift of reading? After all, as author Neil Gaiman states, "Books make great gifts because they have whole worlds inside of them. And it's much cheaper to buy somebody a book than it is to buy them the whole world!" So no matter if your list is full of wee ones or some a bit on the older side, I've got you covered. Following are a few good reads coming out this fall that I highly recommend for anyone on your holiday gift giving list.
FOR CHILDREN
The Three Billy Goats Gruff by Mac Barnett
This modern-day retelling of one of my favorite books as a child is the first in a groundbreaking fairy tale series by the New York Times bestselling author Mac Barnett and illustrator Jon Klassen. This dynamic duo didn't alter the story of the beloved classic much, which I love, but I truly enjoyed the humorous twist and modern takes throughout this fun and beautiful book that is perfect for any childhood collection.
We Would Pretend by Andre Marois
This book, with its retro illustrations and fantastical storyline, takes me back to the days of the classic Dick and Jane stories. The story spotlights friendship, myths, and children being children.
Holidays are Better With Friends by Micol Ostow
Happy Thanksgiving, Merry Christmas, and Happy Hanukkah! Your holidays are sure to be booked with this wonderful picture book geared for kids ages 6-8 … but I know you will enjoy it too! As described on publisher Scholastic Inc.'s website, "Celebrate all your favorite Friends holiday moments in this adorable picture book. From the Holiday Armadillo to Rachel's beef trifle to the Geller Cup, this book is packed with hilarious and relatable holiday moments featuring all your favorite characters. Rachel, Ross, Joey, Phoebe, Chandler, and Monica make every holiday fun … most of the time. After all, could this picture book be any more festive?"
Cat Kid Comic Club: Collaborations by Dave Pilkey
As shared by publisher Graphix – Scholastic, "Excitement and imagination run wild as Naomi, Melvin, Poppy, Gilbert, Curly, and their siblings get back to making comics with originality and laughter. But wait – have they cleaned their rooms yet? After their chores, the rambunctious group presents even more amazing mini-comics: a thrilling ride in 'Chubbs McSpiderbutt,' an action-packed romp in 'Frogzilla,' reflective haikus in 'In the Autumn Pond,' a candy-coated mystery in 'Mallo Cop,' and much, much, more. By working together, the baby frogs discover that small things can have a huge impact."
FOR YOUNG ADULTS
The Heartstopper Yearbook by Alice Oseman
A full-color companion book for fans of the Heartsopper series, "The Heartstopper Yearbook is full of exclusive content from the Heartstopper universe – never-before-seen illustrations, an exclusive minicomic, character profiles, trivia, and insight into Alice Oseman's creative process, narrated by a cartoon version of Alice herself," according to the author's website, aliceosemancom.
Cursed (Gilded Duology #2) by Marissa Meyer
In the follow-up (and finale) to Marissa Meyer's incredibly popular retelling of Rumpelstiltskin, you will quickly find yourself mesmerized at the world they envelop. Described by the New York Times as the "reigning queen" of reimagined fairy tales, Meyer's thrilling work is packed full of adventure and romance, bringing this classic tale to life once again.
FOR ADULTS
Surrender: 40 Songs, One Story by Bono
No sneak peaks for this one, but the buzz from publishers say it is eye-opening and full of surprises, featuring the ever popular Irish band U2. Loaded with pictures and never-before heard stories, this will make U2 fans everywhere swoon.
Friends, Lovers and the Big Terrible Thing by Matthew Perry
Not your average tell-all, Perry's memoir spills the beans on life behind the scenes of the hit sitcom that made him a household name and his struggles with addiction. His humorous, hopeful, and relatable story delivers a powerful message of hope and persistence.
Go-To Dinners with Ina Garten by Ina Garten
This classic Ina cookbook is chock full of satisfying, uncomplicated, and hearty recipes, as well as tips and tricks to make life a bit easier – who wouldn't want to find this treasure under their Christmas tree?
The Princess Bride: The Official Cookbook by Jenn Fujikawa
Because, well, who isn't a fan of The Princess Bride? As described by publisher Smart Pop, "Few films have captured the hearts and imaginations like The Princess Bride. Based on the book by William Goldman, the 1987 film … is as universally beloved as it is quotable. Now, for the first time, The Princess Bride: The Official Cookbook features more than 50 recipes for dishes seen in, and inspired by, the film." I have no doubt you will love the Spaniards Paella and the Six Finger Sandwich.
Our Missing Hearts by Celeste Ng
This new novel by the number one bestselling author of Little Fires Everywhere is a powerful story of love, loss, and the legacy we leave behind. After suffering through a crippling economic crisis, the country adopts a severe policy penalizing anyone not deemed "patriotic" enough. Ng paints a frightening world that does not seem too far-fetched, handling this heavy subject with the skill and beauty that leaves the reader hopeful at the end.
The Passenger by Cormac McCarthy (the follow-up Stella Maris will be available December 6)
Cormac McCarthy is here with a one-two punch, launching two books coming out on the heels of each other for the first time in 16 years. And he doesn't disappoint in his latest thrilling work. Bobby Western, a salvage diver, troubled by the tragic death of his mathematician sister and the legacy of his father, investigates a small plane crash off the coast of Louisiana that raises question after question.
Signal Fires by Dani Shapiro
Dani Shapiro explores family secrets like no other – and Signal Fires is no exception. When three teenagers go out drinking and then get behind the wheel of a car, tragedy ensues. What happens next leaves everyone stunned for years – this gripping and sensational story will have your head spinning.
It Starts With Us by Colleen Hoover
Switching between the perspectives of Lily and Atlas, It Starts with Us picks up right where the epilogue for the heart-stopping bestselling phenomenon It Ends with Us left off. Revealing more about Atlas's past and following Lily as she embraces a second chance at true love while navigating a jealous ex-husband, It Starts With Us proves that "no one delivers an emotional read like Colleen Hoover," says Anna Todd, New York Times bestselling author. This quite possibly could be the "it" book of the year.
Suzanne Lucey
Suzanne, along with her husband, Dave, owns Page 158 Books, located at 415 S. Brooks St. in Downtown Wake Forest.