Good Reads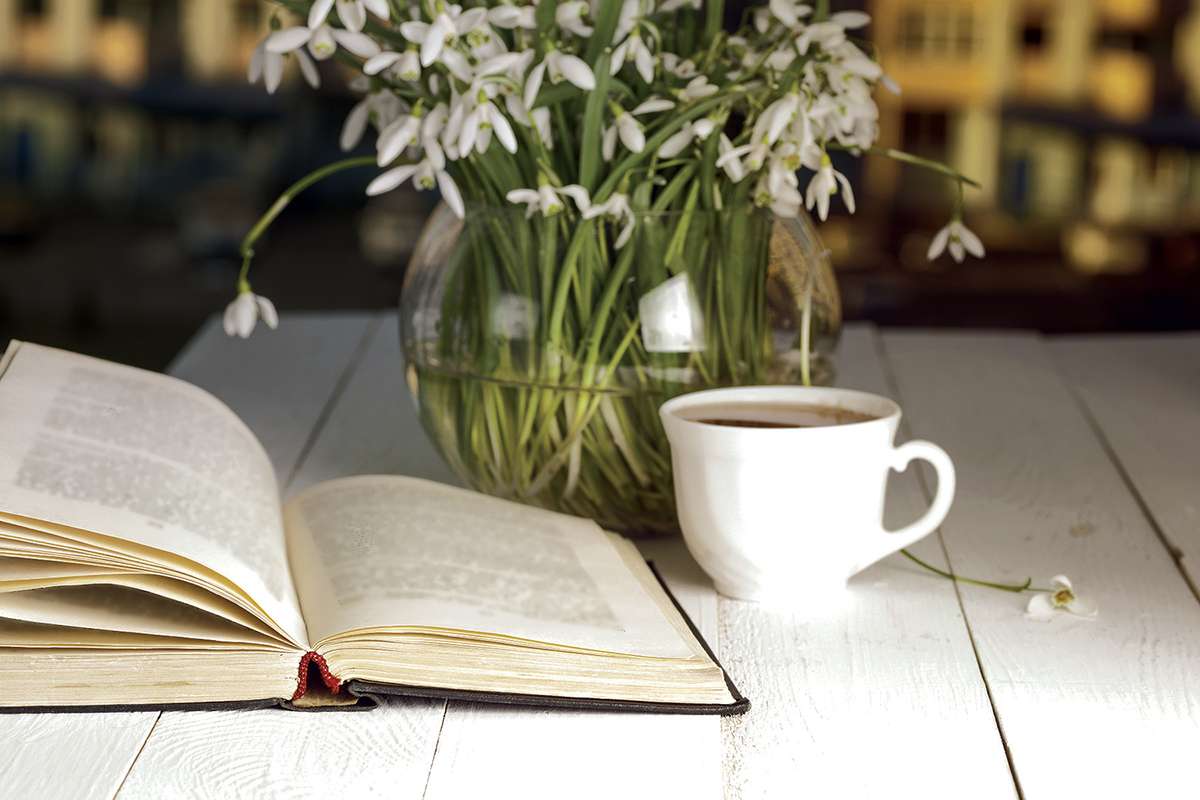 Spring brings such a feeling of hope and renewal. Longer days, windows open, and more time to be outside. Vaccines are being rolled out and there is even more hope that a "new normal" will soon be upon us. No matter what is happening this spring, reading can transport you to where you want to go.
CHILDREN
Those Are Not My Underpants! by Melissa Martin
(Available May 11)
One morning, Bear Cub wakes up to see a pair of underwear waving down at him from a tree. Always inquisitive, he seeks to solve the tighty whitey mystery of to whom those bloomers belong. What ensues is so hilarious that you will want to read this picture book again and again so you can enjoy the giggles of even the most reluctant underwear-wearer.
Too Much Stuff! by Emily Gravett
(Available June 22)
Marie Kondo will make no appearance in this fun book as a pair of birds gather supplies to make their new homes comfortable. But when is it too much? Too Much Stuff! teaches that we can have too much stuff and that a home is made with love, not things.
YOUNG ADULTS
Ace of Spades by Faridah Àbíké-Íyímídé
(Available June 1)
As described by publisher Feiwel & Friends, "with heart-pounding suspense and relevant social commentary comes a high octane thriller by debut author Faridah Àbíké-Íyímídé. Gossip Girl meets Get Out in this contemporary thriller about two students, Devon Richards and Chiamaka Adebayo, and their struggles against an anonymous bully." And according to Aces, the anonymous bully, "All you need to know is ... I'm here to divide and conquer. Like all great tyrants do."
For The Wolf by Hannah Whitten
For The Wolf is getting some serious buzz in the book world. Filled with fantasy and fables, it's a wild ride. The story goes that a young woman must be sacrificed to the legendary Wolf of the Wood in order to save her kingdom. But what is the Wolf? Are the fables real? Find out in this new fantasy novel.
ADULTS
Under the Southern Sky by Kristi Woodson Harvey
Under the Southern Sky is my all-time favorite Kristy Woodson Harvey book! This must-read from "the next major voice in Southern fiction" (as described by #1 New York Times bestselling author Elin Hilderbrand) shares a great deal of depth, reflection, and thought-provoking questions that hit home for so many. The characters are real, and you root for them all as they adjust to life's best-laid plans gone accordingly to Murphy's Law. Amelia and Parker are the children of best friends and next-door neighbors. Life takes them for a ride, and those aforementioned best-laid plans die … and that is when real life unfolds.
The Newcomer by Mary Kay Andrews
(Available May 4)
The Newcomer is Mary Kay Andrews – queen of the beach reads – at her finest. Her latest page-turner is full of romantic tension, murder, and crookedy crooks, featuring a beautiful little girl who is grieving for her mom and is protected by a tough-as-nails aunt, a hunky cop, and a beautiful Florida beach. The Newcomer is paradise with an underlying chutzpah. Once again, Mary Kay supplies all the wit and sense of humor she has mastered while leading you into a den of murder.
Local Woman Missing by Mary Kubica
(Available May 18)
Holy smokes Batman! I think I lost a couple years off my life with this book. Local Woman Missing wrapped around my neck, squeezing the whole way through. There were no clues to its mind-blowing ending – I need my fellow thriller lovers out there to read this ASAP so we can talk about it! Mary Kubica has always been a favorite of mine, but she has definitely upped the ante with this one. Her latest work is destined to be in every beach bag this summer (along with a flashlight and a baseball bat)!
With Teeth by Kristen Arnett
(Available June 1)
What the heck are you making for dinner? How do you stay in love in a marriage? How do you talk to your teenager? These questions are so relatable and so run-of-the-mill, but With Teeth's characters and the situations in which they end up are so not. This fun, unlike-no-other read will transport you to Florida and bake you in the absurd.
Five Days: The Fiery Reckoning of an American City by Wes Moore
Written by Wes Moore and journalist Erica Green, this telling of the Baltimore Rising in the spring of 2015 gives detailed points of view from all sides, including a white district attorney, a black woman protesting her brother's death, the executive vice president of the Baltimore Orioles, and the black captain of the police. Penguin Random House says, "Each shifting point of view contributes to an engrossing, cacophonous account of one of the most consequential moments in our recent history – but also an essential cri de coeur about the deeper causes of the violence and the small seeds of hope planted in its aftermath." As described by Publishers Weekly, "Readers will be enthralled by this propulsive account."
It's Always Freezer Season: How to Freeze Like a Chef with 100 Make-Ahead Recipes by Ashley Christensen
The freezer is the secret weapon in the home kitchen of renowned Raleigh chef Ashley Christensen and her wife, cookbook author Kaitlyn Goalen. It makes a convenient 15-minute meal more delicious. It makes project cooking worth the effort. It makes grocery shopping less wasteful and more economical. And it enables Ashley and Kaitlyn to use food to support their friends and community. In It's Always Freezer Season, they reveal how the freezer can easily become the single most important kitchen tool for a home cook. Within its pages, you'll discover make-ahead meal prep solutions to help you transform your kitchen workhorse into a fully provisioned pantry. Stock it with freezer pantry staples and use those staples to make cornbread panzanella with watermelon, cucumber, and za'atar vinaigrette; pan roasted chicken breast with preserved lemon-garlic butter; and braised short ribs with cauliflower fonduta. Create make-ahead dishes, like pistachio croissant French toast with orange blossom soft cream, chicken and kale tortilla soup, and pimento mac and cheese custard, plus snacks, sweets, and drinks ready to be pulled out of the freezer and enjoyed at a moment's notice.
Suzanne Lucey
Suzanne, along with her husband, Dave, owns Page 158 Books, located at 415 S. Brooks St. in Downtown Wake Forest.