Good Reads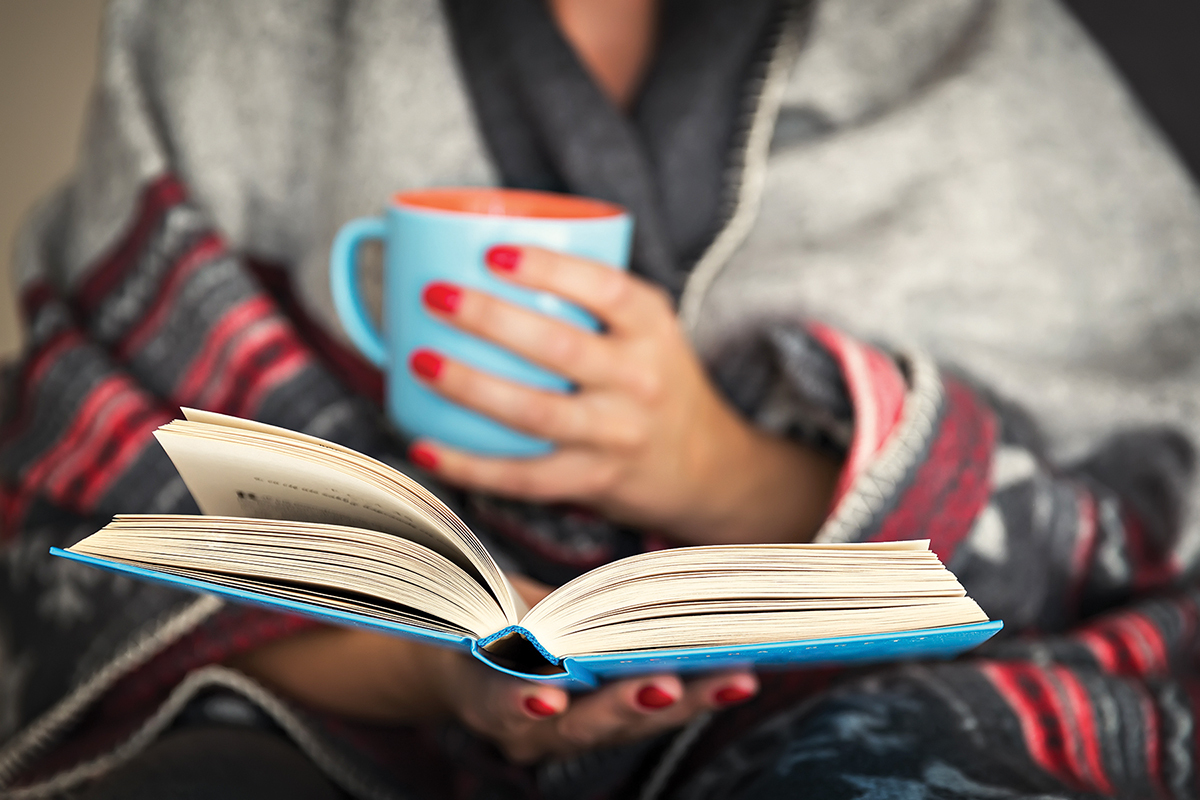 The nights are getting longer, the temperatures are cooling down, and the promise of a new season is upon us. What's better than finding a spot on the couch, snuggled up with a soft blanket, sipping a cup of tea or coffee (or maybe a glass of wine) while you escape this world for a while within the pages of a good book? Did you know that you can reduce your stress by 68% by simply reading a book for 10 minutes? So if you're feeling a tad anxious with all that's going on these days – not to mention the busyness that looms with the upcoming holiday season – let me help you find the perfect book for a perfectly relaxing autumn afternoon of couch sitting, blanket snuggling, tea sipping, and yes, reading.
BABIES, TODDLERS, AND NEW READERS
Indestrutcibles
As described on their website, "Indestructibles are books built for the way babies 'read': with their hands and mouths. Chew-proof, rip-proof, and drop-proof, they're printed on a unique 100% non-toxic, paper-like material that holds up to anything babies can throw at them – gumming, spilling, dragging across the floor. And if they get dirty, just wash them off." These "books" are the perfect gift for any baby parent this holiday season.
My Very First Cookbook: Joyful Recipes to Make Together! by Danielle Kartes
(Available October 13)
Family time in the kitchen – what better way to make memories, while learning math, and helping understand what goes into food? The recipes found throughout My Very First Cookbook are unique, delicious, and contain ingredients that are easy to work with and you already have in your home.
No Reading Allowed: The WORST Read-Aloud Book Ever by Raj Haldar, Chris Carpenter (Illustrated by Bryce Gladfelter)
The English language is hard – and this book pokes fun at it while teaching homonyms and synonyms, and the crazy rules we should know. But it's done in such a fun way that your young reader will want to read it again and again. Honestly, I'm not sure who will enjoy it more – kids or adults!
CHILDREN AND YOUNG ADULTS
Tristan Strong Destroys the World by Kwame Mbalia
Local author Kwame Mbalia spent much of last year on the New York Times bestseller list, and he is back at it once again with the second book in his trilogy. This next installment, presented by Rick Riordan, will not disappoint fans with its puns, fast-paced story line, and fascinating folklore. Parents will love that their kids are reading it, and those kids will be lost in another world as they turn each and every page.
Lightbringer by Claire Legrand
The final book in the Empirium Trilogy, this just might be the best book of them all. You will find yourself laughing, crying, and your heart racing as you slowly make your way to the end of this incredible journey, knowing that you don't want to close the world in which you are in.
If you're looking for even more good reads for the kids in your life this fall, I also recommend:
– Tower of Nero by Rick Riordan: The breathtaking, action-packed finale of the #1 bestselling Trials of Apollo series.
– Ickabog by J.K. Rowling (Available November): A warm, fast-paced, funny fairy tale of a fearsome monster, thrilling adventure, and hope against all odds.
– Diary of a Wimpy Kid – Deep End by Jeff Kinney: In book 15 of the wildly popular Diary of a Wimpy Kid series, Greg Heffley and his family hit the road for an adventure of a lifetime … but things take an unexpected turn.
– The Office: A Day in the Life of Dunder Mifflin Elementary by Robb Pearlman: Discover "The Office reboot fans never knew they needed" with this kid-friendly adaptation of everyone's favorite workplace comedy (Entertainment Weekly).
ADULTS
A Time for Mercy by John Grisham
As described on Grisham's website, "Jake Brigance is back! The hero of A Time to Kill, one of the most popular novels of our time, returns in a courtroom drama that showcases #1 New York Times bestselling author John Grisham at the height of his storytelling powers." A Time For Mercy – the third and perhaps best of the series – has small town secrets and a wild plot twist roaring off its pages. The roller coaster ride it leads you on will ensure you aren't disappointed.
Moonflower Murders by Anthony Horowitz
(Available November)
The brilliant continuation to the worldwide bestseller Magpie Murders, this "book inside a book" by master storyteller Anthony Horowitz will make your head spin – though the idyllic English countryside and manor may appear tranquil, it is far from it. Everyone from old Hollywood to the local clergyman have dirty hands. This "labyrinth of clues; a mystery novel hiding a deadly secret; a killer with a fiendish plot" is a brilliantly intricate and original thriller that is a must-read.
The Archer by Paolo Coelho
(Available November)
Paolo Coelho's The Alchemist may be one of his most famous works, but this master storyteller with slim volumes of works packs another punch to the heart with his newest title. Publisher Little Brown states "Paulo Coelho's story suggests that living without a connection between action and soul cannot fulfill, that a life constricted by fear of rejection or failure is not a life worth living. Instead one must take risks, build courage, and embrace the unexpected journey fate has to offer."
The Last Days of John Lennon by James Patterson, with Casey Sherman and Dave Wedge
(Available December)
Three fabulous authors dive deep to share with you a strong sense of the genius that was John. Described on James Patterson's website, "The Last Days of John Lennon is the amazing story of John Lennon's life and career, from his earliest days and first songs up to his last seconds. It tells the story of the most profound rock-and-roll genius of all time – and of Mark David Chapman, the consummate Nowhere Man who took him from us. Enriched by exclusive interviews with Lennon's friends and associates, including Paul McCartney, the book is a true-crime drama about two men who changed history. One whose indelible songs still enrich our lives today – and the other who ended the beautiful music with five pulls of a trigger."
No Time Like the Future: An Optimist Considers Mortality by Michael J. Fox
(Available November)
We all know who portrayed Marty McFly and Alex P. Keaton, but what is the real story of actor and advocate Michael J. Fox? Diagnosed in 1991 with Parkinson's, No Time Like The Future is an open and honest story of his life's ups and downs – one that will no doubt latch onto your heart. The words of America's favorite "brother" provide a moving account of resilience, hope, fear, and mortality, and how these things resonate in our lives.
Sisters and Rebels: A Struggle for the Soul of America by Jacquelyn Dowd Hall
Within Sisters and Rebels – a timely and thought-provoking work – Chapel Hill author and National Humanities award–winning historian Jacquelyn Dowd Hall "follows the divergent paths of the Lumpkin sisters, tracing the wounds and unsung victories of the past. Hall revives a buried tradition of Southern expatriation and progressivism; explores the lost, revolutionary zeal of the early twentieth century; and muses on the fraught ties of sisterhood."
For those of you looking to expand your culinary repertoire, especially as it has likely been exhausted the last few months, be sure to check out the following new cookbooks available this fall:
– Modern Comfort Food: A Barefoot Contessa Cookbook by Ina Garten: A collection of all-new soul-satisfying dishes.
– This Will Make It Taste Good: A New Path to Simple Cooking by Vivian Howard: Howard says she wrote this " to inspire ... change the way you cook, the way you think about what's in your fridge, and the way you see yourself in an apron."
– 7 Ways: Easy Ideas for Every Day of the Week by Jamie Oliver: Discover seven ways to reinvent your favorite ingredients with this bestseller, featuring 120 exciting and tasty new recipes.
Suzanne Lucey
Suzanne, along with her husband, Dave, owns Page 158 Books, located at 415 S. Brooks St. in Downtown Wake Forest.