Getting Dirty
VOLUNTEERING AT A LOCAL COMMUNITY GARDEN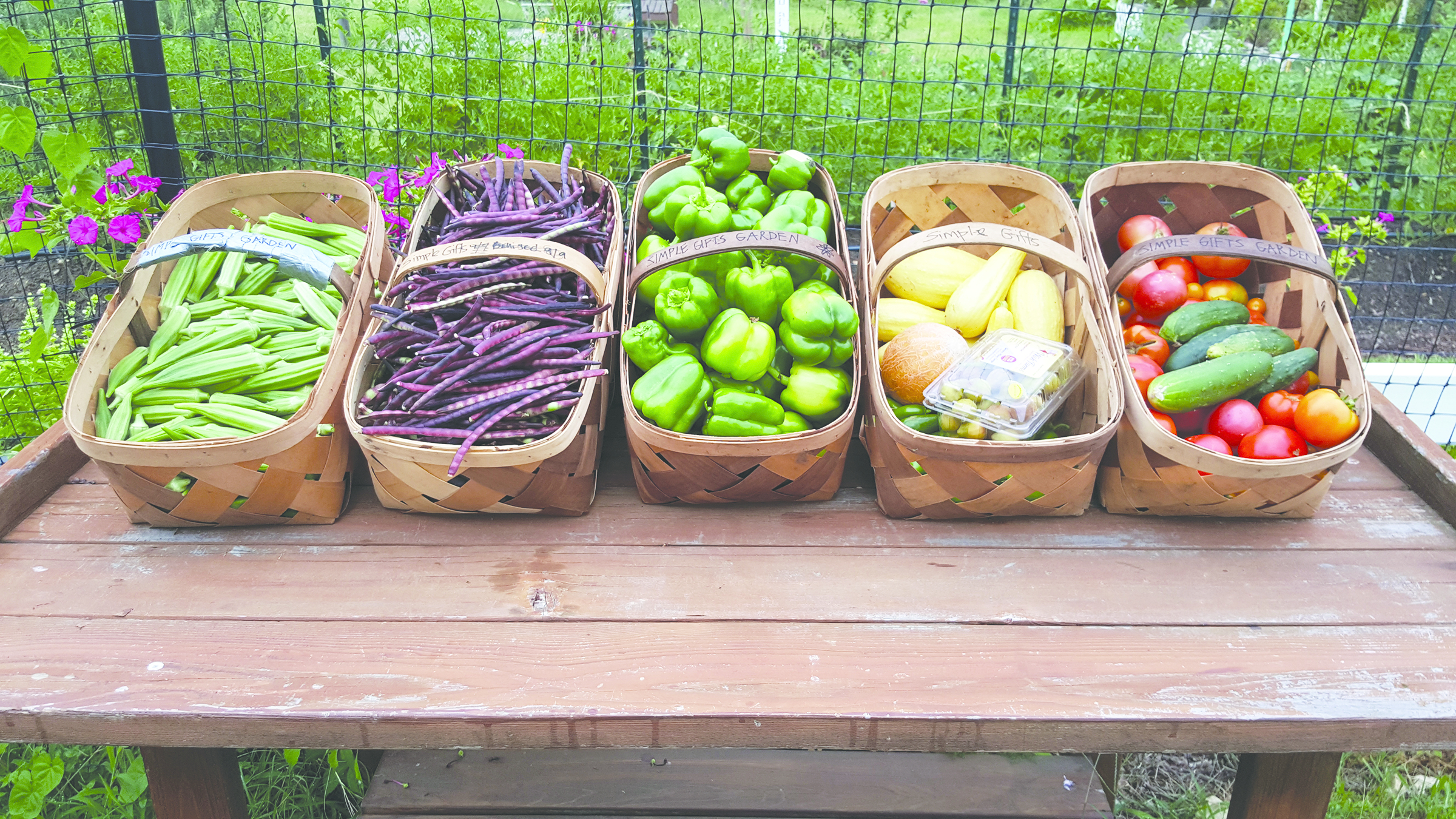 Spring is finally here and there's a sense of outside calling us there. Feel the warmth? Ready to get together with old friends or meet new ones? Want to feel the earth in your hands? If so, then do something new by signing up and volunteering at a community garden.
There are several community gardens in the Tri-angle, all with the same goal: to feed the community. And the costs make that feasible. For example, Simple Gifts Community Garden out of Apex has a membership of $10 for an annual family fee. With that fee, members get a compost bucket, a garden tour, and a chance to share in working the land. The membership for Durham's Briggs Avenue Community Garden is $35 per year. This price is based on a sliding scale, and in some cases, is free. Yet this $35 pays for seeds (except for corn), soil, compost, classes, and portions of the shared herbs, fruits, and honey.
So how does a community garden work? Usually it takes land, grants, and volunteers to get it started. In the case of the Briggs Avenue Community Garden, community gardeners buy and work their plots that they purchase. And then master gardeners not only plant other portions of the garden, but they also are trained in horticulture and can answer questions as a free service. Master gardeners are trained for five months, intern for a year, and then are certified in a specific area. And master gardeners participate in a radio show called "Getting Dirty in Your Garden."
Volunteers working in community gardens are welcoming to outsiders, but may direct you to a garden closer to your home in order to invest in your community. On any given volunteer day, you may see regular volunteers such as retirees both in the farming and gardening industry, older folks, and families. On occasion, you may see Boy Scout troops, sorority members, children who are tracked out of school, and even preschoolers, as explained by Anne Harrison of Simple Gifts Community Garden. These groups usually come out about once or twice a year.
And yes, I did say preschoolers. There are gardening projects at some of the community gardens where little ones can also get their hands dirty, learn about healthy eating, and take home something that they've helped to harvest.
Wondering what kinds of foods are available at a community garden? I thought you would never ask. Some grow onions, garlic, and shallots, which are planted in the fall. Also planted in the fall, but grow best covered, are the leafy greens such as spinach, kale, collards, and Brussel sprouts. And fruit crops, melons, potatoes, tomatoes, cucumbers, eggplants, and squash are best when planted in the warm seasons. Though the fruit crops vary between gardens, some offer the following: figs, grapes, apples, blueberries, raspberries, blackberries, pears, cherries, persimmons, and plums. And hot vegetables, such as okra and sweet potatoes, are best planted when it's hot.
But it doesn't seem to stop at fruits and vegetables. More and more community gardens are getting into working with bees to produce honey for recipients. Planting pollinator flowers to attract bees keeps them in the vicinity of about three miles from their hives. This allows the community gardeners to keep tabs on what they are providing to the bees.
And the same with the land. Though not all are "organically certified," many use organic processes. Such processes are raised beds with organic matter on the surface. Offering the mentality of "no bare earth," crops are covered with legumes such as peas, clovers, or buckwheat, which helps in the cold seasons. Legumes cover crops enabling a "no till" process. According to Wikipedia, "No-till farming (also called zero tillage or direct drilling) is a way of growing crops or pasture from year to year without disturbing the soil through tillage." It goes onto say, "No-till is an agricultural technique which increases the amount of water that infiltrates into the soil and increases organic matter retention and cycling of nutrients in the soil."
Also beneficial is the community building that takes place. When it's winter and too cold to work the land, one garden donates their time making soups and stocks from the blemished vegetables. In addition to making stocks and soups, volunteers at Simple Gifts offer "Tomato Sandwich Night" when the tomatoes are ready to be picked. They also have a "Chocolate Fondue Night" when the strawberries are ready. And they celebrate a "Harvest Night" in the fall, preparing and sharing recipes with the new garden crops, and they also usually do something special on Earth Day as well.
But what is most appealing to community gardens is the people whom they touch. In most cases, the members who pay in are not just the only recipients of this homegrown food. Durham Technical Community College Harvest Pantry, R N Harris Elementary School, Western Wake Crisis Ministry, St. Mary AME Church, the Fuquay-Varina Food Pantry, and the Interfaith Food Shuttle's "Plant a Row for the Hungry" Program are just a few that receive these fresh goodies on a regular basis.
So, will you answer the plea of the land to work it this spring? If so, go ahead and sign up, and volunteer at a community garden today.
Questions for master gardeners in Wake County, call 919-250-1100 and in Durham County, call 919-560-0528.
Photos courtesy of Simple Gifts Community Garden Leadership Team.