Game Day Grilling
Pre-Game Recipes For The Win!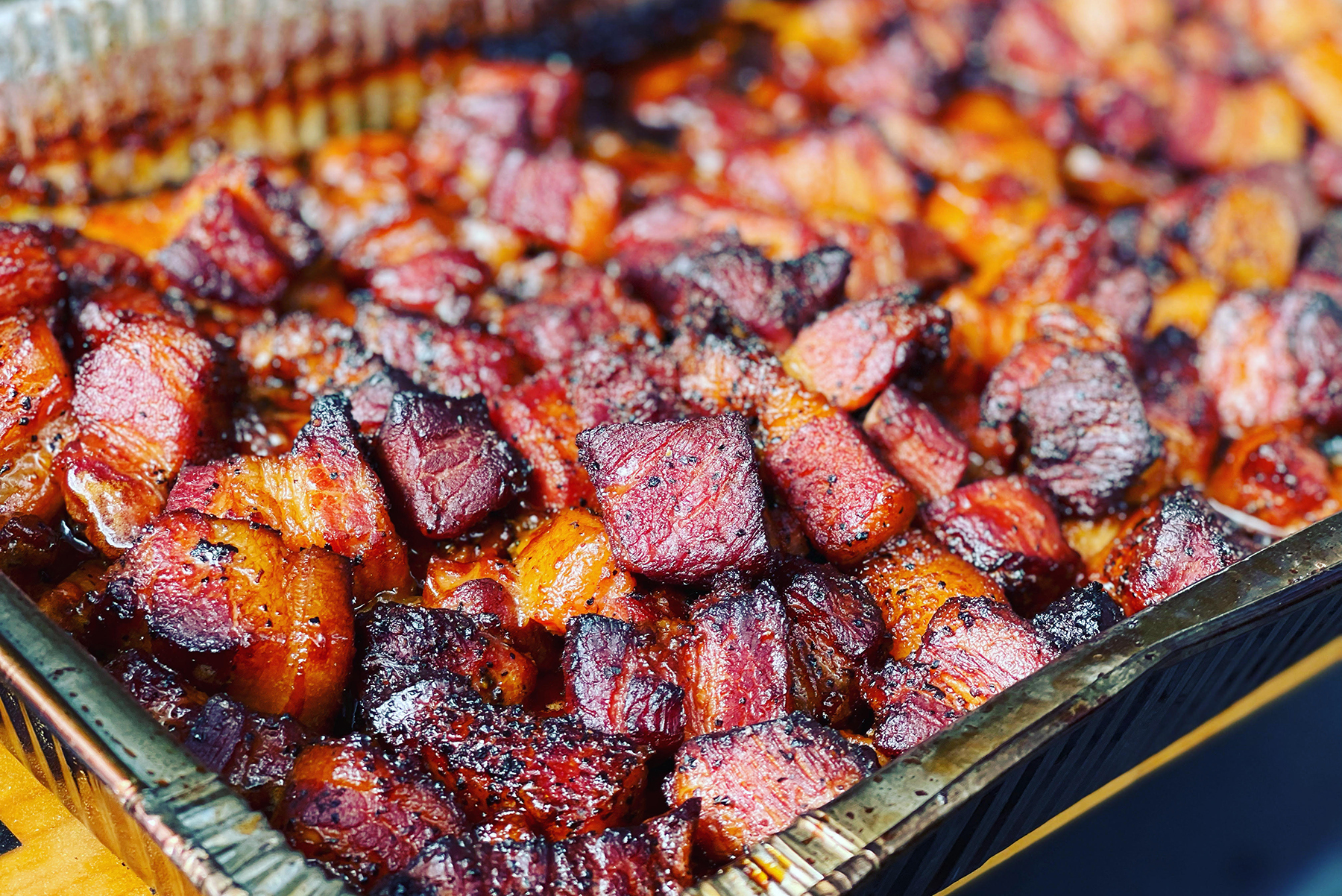 There's nothing quite like football season … cheering on your favorite team while enjoying fabulous fall weather, fun with family and friends, and of course, food! While there are many terrific dishes you can enjoy while tailgating in the parking lot before the big game or while hosting a pigskin party on your back porch or patio with fellow football fans, the tradition of grilling this time of year simply can't be beat. We reached out to our friends at Smith's Smokehouse & Smoothies and Traeger grill distributor B&W Hardware for a couple of their favorite crowd-pleasing game day grilling recipes that are sure to make your tailgate or football watch party the talk of the season. So go ahead and load up that portable grill that's perfect for serving up pre-game refreshments or crank up the smoker in your backyard and enjoy these mouthwatering recipes that are just right for any football fan.
Pork Belly Burnt Ends
Courtesy of "Smitty" with Smith's Smokehouse & Smoothies
– 1 skinless pork belly
– ½ cup Worcestershire sauce
– ¾ cup maple syrup
– 2 dashes of coarse black pepper
– 3 dashes of kosher salt
– ½ cup of light brown sugar
Preheat smoker to 250-275 degrees.
Cut the pork belly into cubes, ¾ inch strips long ways, and then ½ inch across. Place in aluminum pan.
Mix remaining ingredients together with your hands until they begin to turn into a syrupy consistency.
Set the aluminum pan in the smoker for 3-5 hours, stirring every hour and paying attention to the color. Cook until the internal temperature is at least 185 degrees and the burnt ends are a golden color.
While these can be the star of your tailgate as a standalone dish, pork belly burnt ends also make great, convenient-to-eat game-day sliders! Simply serve in soft potato or Hawaiian rolls and top with your favorite fixings, such as cheese, pickles, jalapeños, or slaw.
Smoked Bacon-Wrapped Chicken Wings
Courtesy of B&W Hardware and Traeger.com
– 2 pounds whole chicken wings
– 24 fluid ounce beer
– 2 teaspoons red pepper flakes (optional)
– Cajun seasoning
– 1 pound (10-12 slices) bacon
Plan ahead – this recipe requires 12-24 hours to brine the wings. Trim the tips of the wings and discard or set them aside for homemade stock. Cut the skin flaps between the flats and drumettes so the wings stay a little more straight and are easier to wrap. Place the wings in a large bowl and cover with beer and red pepper flakes (if desired). Refrigerate for 12-24 hours before grilling.
Remove the wings from the brine and pat dry. Season liberally with Cajun seasoning. Wrap each wing with a slice of bacon. You can secure with toothpicks, if necessary.
When ready to cook, set grill or smoker temperature to 400 degrees and preheat, lid closed, for 15 minutes.
Place the wings directly on the grill grate, close the lid, and cook for 30 minutes. Flip the wings and cook for an additional 30 minutes, or until the bacon is crisp and the chicken is fully cooked (to at least an internal temperature of 165 degrees).