Fruitful Decor
DIY Decorating With Fresh Produce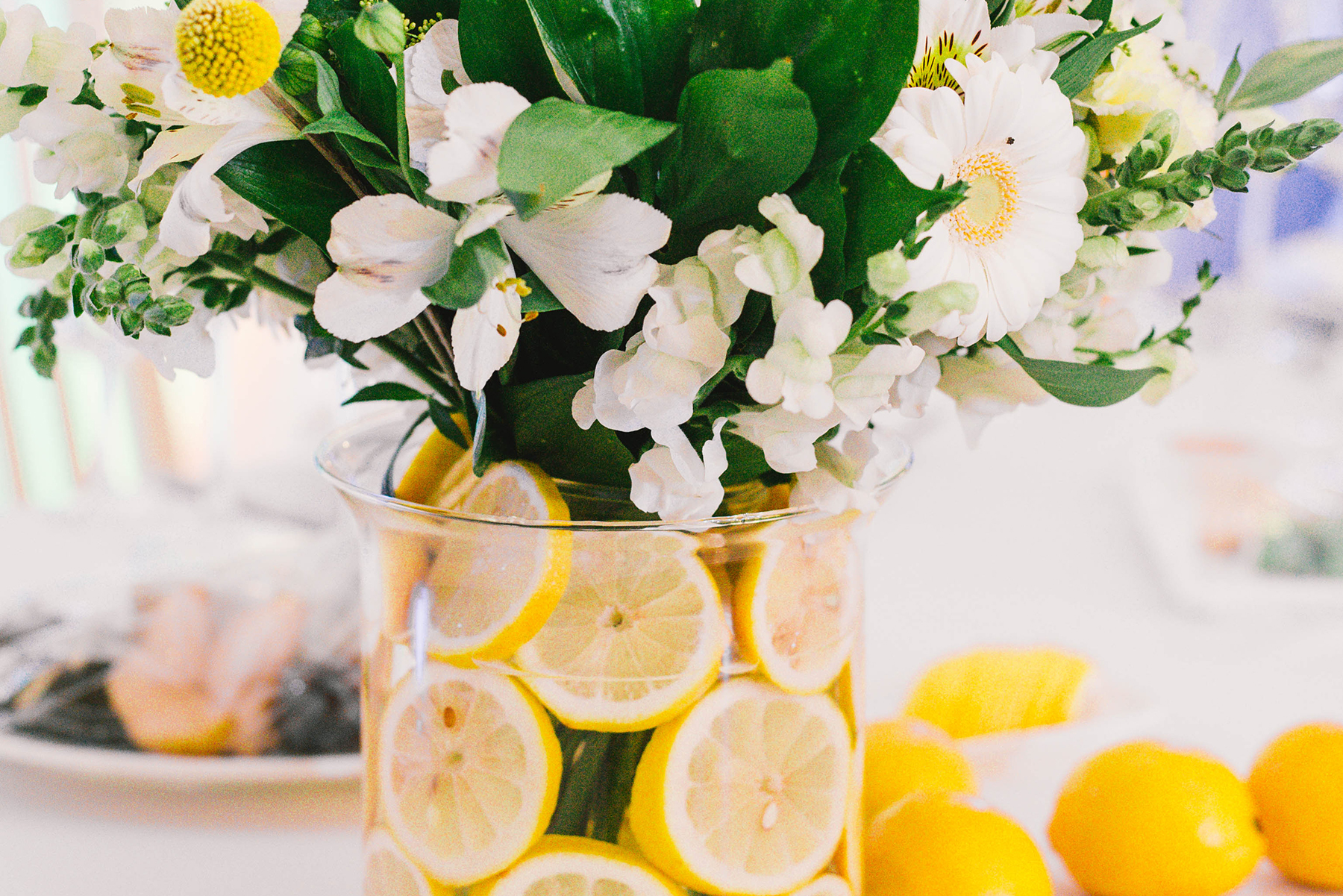 What does summer mean to you? Maybe beach trips and backyard cookouts. Or perhaps the childhood traditions of catching fireflies and staying out past dark playing hide and seek. While my family and I eagerly anticipate these summer staples every year, for me, summer also means it's time for another of my favorite past times … decorating my home to embrace the brightness of the season! I love transitioning my decor season to season, and summer is no different. Mother Nature's bounty of fresh fruit and summer flowers, along with items such as bowls, ginger jars, and mason jars (of course!) make this task quick and easy without breaking the bank.
First, let's talk lemons! These beautiful yellow pops of color will instantly brighten any room, and their decorating possibilities are endless. While fresh lemons are lovely, artificial ones are certainly a good substitute. For a statement piece for your kitchen counter or family room coffee table, simply grab a glass vase or a ginger jar and fill it with these bright beauties. Group three jars of assorted sizes together for a stunning centerpiece for your summer tablescape. Scatter a few extra lemons around the base of the jars for depth and additional splashes of sunshine yellow to the space. Throw in some limes and/or oranges for added vibrancy, and a little greenery for extra texture. Wooden dough bowls are a creative alternative for showcasing the lovely lemon. While showstoppers on their own, they are equally as stunning when surrounded by fresh greenery. If you don't have a dough bowl on hand, you can achieve a similar aesthetic by spreading greenery atop a tablecloth and topping with the summer citrus.
Who doesn't love flowers fresh from the garden or the local farmer's market? For a simple, creative, summery aesthetic, why not combine these beauties with slices of lemon? Gather a large vase and a small vase that are approximately the same height (cylinder vases tend to work best). Slice a few fresh lemons. Place the smaller vase inside the larger one, then add water to both. Do not overfill either container, leaving room for the water to rise when the flowers and slices are added. Slide the sliced lemons in between the two vases, making sure the face of the fruit is visible. Top off with a little more water. Add your beautiful blooms for a gorgeous, citrusy, flower centerpiece.
Lemons aren't the only summer fruits that make beautiful floral arrangements. Watermelons can easily be transformed into great vessels for flowers, especially when entertaining. The trick to turning this sweet summer treat into a creative floral container is quite easy, and your guests will certainly be wowed by its beauty. Any size watermelon can be used for this project, but a smaller one will work better. Also, make sure it has a flat bottom so it can stand on its own. Slice off the top and scoop out the inside just enough to be able to slide a jar in. But don't throw that fruit away – it makes a great snack to enjoy while the creative "juices" are flowing! Place your favorite summertime blooms in the jar and stand back to enjoy this clever creation. For a different look or party theme, use a pineapple and follow the same steps (you may want to fill the cored-out center with a plastic baggie or a small glass to protect the flowers from the acid of the pineapple). This tropical vase will surely add that extra oomph to your party décor.
We all know how useful mason jars can be anytime of the year. Summertime is no exception – in fact, I think summer screams mason jars! Serve freshly squeezed lemonade in them, and add a festive paper straw at your next cul-de-sac cookout. If you're feeling extra crafty, wrap bright green twine around a small section on the lower portion of the glass and add "watermelon seeds" with a permanent black marker. Spray paint a few jars yellow, pink, or orange to match your citrusy centerpieces, and add a narrow piece of ribbon or burlap around the top for a fun and colorful set of utensil holders at your next summer soiree.
While mosquitoes are not invited to summertime cookouts, they seem to show up anyway. Instead of store-bought repellents, why not make your own? Mason jar luminaries are pretty and so simple to assemble, and are helpful in keeping pesky pests at bay. Fill each jar three-quarters full and add a few sprigs of fresh rosemary. Place 10 drops of your favorite essential oil into the water. Cedarwood, lemon, lavender, and tea tree are particularly helpful in keeping those nasty bugs away. Place one slice each of lemon and lime into each jar, adding more water if needed. Finally, place a floating tea candle on top and enjoy a pest-free evening with family and friends.
Summer fruit, flowers, mason jars, dough bowls, glass vases, ginger jars, and more can all be used to bring a bit of happiness and joy into your home, whether you're entertaining or you just enjoy pretty things. Their decorating possibilities are limitless. Just tap into your creative side and enjoy the fruits of your decorating labor all summer long.
Dolores Riggins
Co-owner of Southern Suds & Gifts, located at 213 S. White St. in Downtown Wake Forest, featuring over 35 craftsmen and artists.