From Sweet To Savory
Sweet Potato And Acorn Squash Hash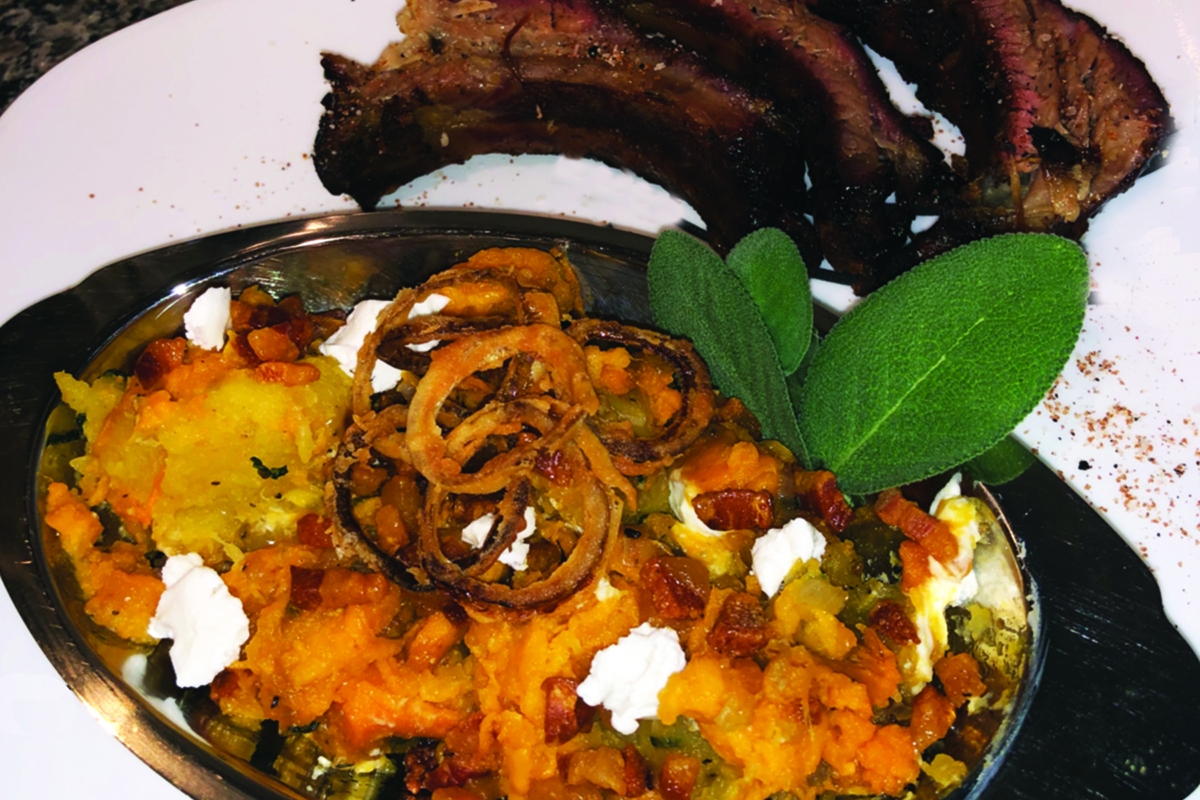 Sweet potatoes are probably one of the most common ingredients in our local autumn repertoire and we see them all over this time of year in their usual forms: candied or caked with sugar, cinnamon, and butter, even sometimes as fries or tots … but always sweet, buttery, and delicious.
Acorn squash is another seasonal item that's readily available now. But what to do with it? Aside from decorating a kitchen or dining table bowl in the fall – bake it with butter, cinnamon, and sugar … sweet, buttery, and delicious if you will.
These two typically sweet autumnal items can be combined into a delicious and savory side dish that I call sweet potato and acorn squash hash. This tasty dish is perfect for any cool weather meal or holiday feast. I usually pair it with slow-smoked baby back ribs, but it would certainly be great with chicken or wild striped bass as well.
For this culinary creation, all you need are a few ingredients, including sweet potatoes and acorn squash (obviously) and a few drops each of honey and maple syrup. I never said all sweet is a bad thing!
SWEET POTATO AND ACORN SQUASH HASH
– 1 large sweet potato, cooked, peeled, and diced
– 1 acorn squash, cooked, peeled, and diced
– 1 large shallot
– 3 ounces pancetta
– 2 ounces goat cheese
– 1 teaspoon honey
– 1 teaspoon maple syrup
– 2 fresh sage leaves
– 1 3-inch sprig of fresh thyme leaves
– Salt and pepper to taste
First, bake off the sweet potatoes and acorn squash (the acorn squash can be microwaved for time savings). Cook them both with the skin on and then leave them to cool. After cooling, peel off the skins and dice the flesh (there are also seeds to scoop from the middle of the squash).
Next, dice the pancetta into small cubes. Cut the shallot into slices. Set aside a few of the nicest slices to become shallot rings and dice the rest. Sliver up one large sage leaf and strip about a teaspoon of fresh thyme leaves off the stems.
Cook the pancetta until browned and crispy in a skillet. Drain off the grease and set the crispy pancetta aside. Add half the pancetta fat back to the pan and heat to medium-high. Dredge the shallot rings through a bit of milk then salt and flour, and fry until crispy and browned. Set aside. Using the rest of the fat, sauté the diced shallot for a minute or so, and then add the diced squash and sweet potatoes, and salt and pepper to taste. Toss this all gently until everything is sizzling hot, then stir in the goat cheese, half the crispy pancetta, maple syrup, and honey.
Plate as you like and top with more crispy pancetta and a few of the shallot rings. Garnish with a sage leaf if you like.
David Greenwell
Owner of The Forks Cafeteria, offering classic Southern fare for breakfast, lunch, and dinner.