Freshen Up Your Front Porch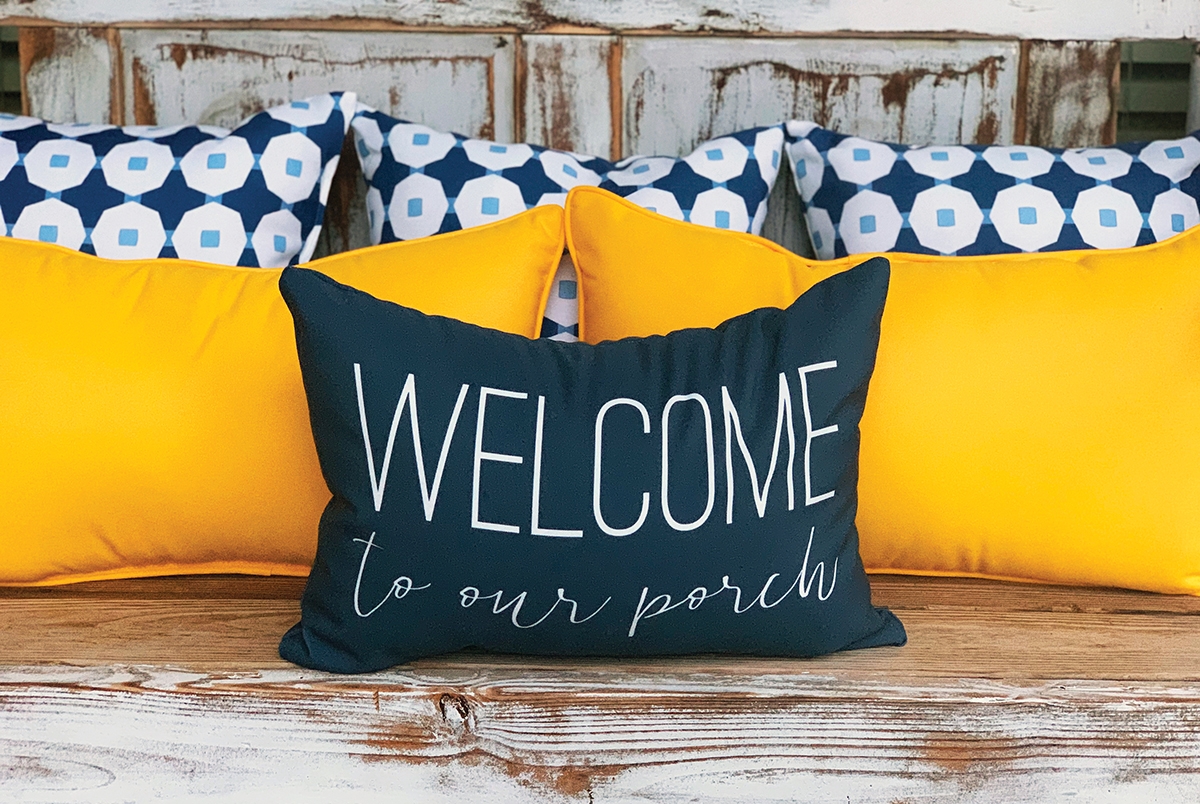 Summer has arrived, and with more of your days and evenings being spent enjoying the outdoors, it's time to spruce up your front porch ... out with dreary tones and hues, and in with pops of color, a fresh mix of textures, and a new look that you and your home deserve. Regardless of the size of your front porch, this inviting entrance to your home is a great place to dress up, so your guests will feel instantly welcome.
Mixing up colors, tones, textures, and having a clean slate are all important things to consider when you are thinking about updating your front porch this summer. Not sure where to start or finding yourself feeling a little overwhelmed at the prospect? No worries ... I've got you covered! I've broken down the steps to make this task easy and enjoyable.
– Start with a clean slate. It's important to get your home power washed … now that the pollen season is behind us, go ahead and call a professional to come out and power wash all of that dirt away. This will give you a fresh start with which to begin.
– Add simple ferns in metal canisters or other nice planters. Ferns are simple, yet lively, so they set a great base for other elements of your design. They also come in a variety of sizes, so if your porch is smaller, get smaller ferns, and if you have more room, opt for larger ones.
– Mix in pops of color to celebrate summer. Using reds, greens, and yellows is a great way to incorporate vibrant tones to your porch. Don't stop at plants! Mix in a bench with colorful pillows, a rug, and outdoor wood signs … just let those creative juices flow.
– Add wood tones to your design with a wooden "Welcome" sign. Wood tones are very welcoming and warm, which is exactly the feeling and emotion you are trying to evoke as people approach your front porch.
– Finish the look by adding a wreath or splash of color to the front door.
In addition to beautifying your porch, make sure all of the mulch in your beds is fresh, and your lawn is regularly mowed and edged. This will make a huge difference to the look and feel of your home.
Curb appeal is important in making your porch feel welcoming and warm. This is especially true if you are listing your home for sale. Many times, people will pass by the homes with the overgrown grass and un-manicured lawns, yet will take pause at those with beautiful landscaping and staged porches. The look of a home when it's for sale, and being searched online, is a time when the phrase "judging a book by its cover" could not be more true.
Allison Caudle Abbott
Owner and broker-in-charge of Southern Lux Living, serving buyers and sellers throughout the Triangle.