Fragrant Memories
Simmering Potpourri For Seasonal Scents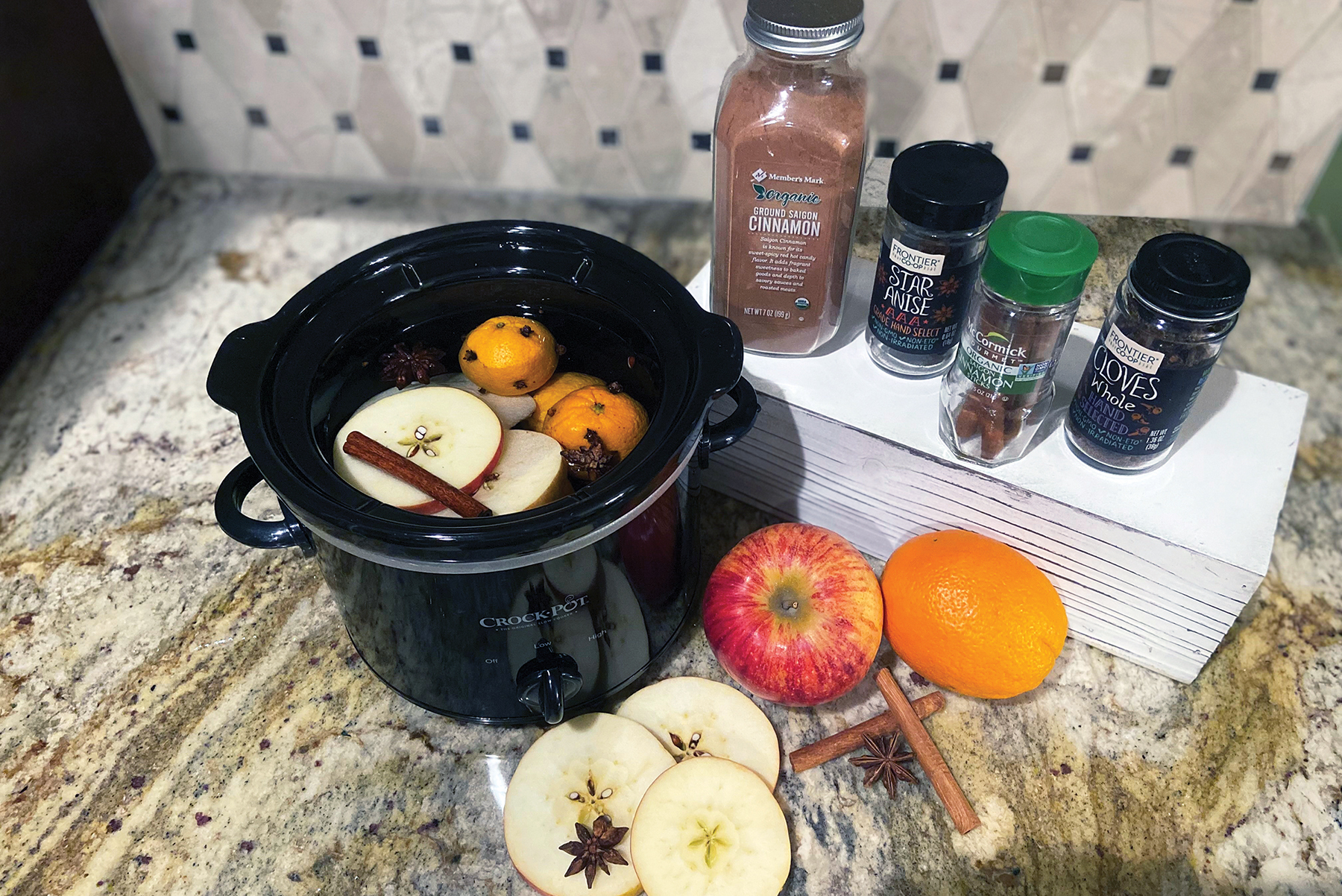 Who knew the holidays would roll around so quickly? It seems like just yesterday we were welcoming in 2021, but a new year is just around the corner. While the holiday season may have crept up on us quickly, I must admit that I love this time of year – so personally, I'm very excited that it is here. The glorious colors of autumn, trick-or-treating, the Thanksgiving feast, football and, of course, Christmas – all of these have a multitude of wonderful memories and traditions that come to mind, taking me back to a time that was extra special for me.
Scents of the season especially remind me of days gone by and trigger sweet recollections of fall fun. Who doesn't love the smell of a baking apple pie? The aroma of pumpkin spice? The lovely fragrance of a Frasier fir? If you're like me, you have a wide range of candles or essential oils in these holiday scents scattered throughout your home all season long, ensuring these magical memories are always top of mind.
When I was growing up, scented candles and essential oils weren't available. So in order to fill her home with festive fragrances, my mother would prepare a simmering potpourri – and it was wonderful! Several years ago, I brought the tradition back to life and my family loves it. Sometimes it just feels so good to go all natural. Yes, I still love candles and essential oils, but there is just something special about the aroma of fresh fall fruit and spices wafting throughout my home, welcoming friends and loved ones.
Simmering potpourri can be made in a slow cooker, a stovetop pot, or even a stainless-steel simmering tea kettle. A small dipping slow cooker is great, because the water doesn't have to be replenished as often. I have one that I have designated solely for simmering potpourri.
THE AROMA OF AUTUMN
Ahhh, fall! Its magnificently colored leaves; vibrant orange pumpkins; freshly picked shiny, red apples; bonfires; I could go on and on about all the things that give me fabulous fall feels. The smells of the season are just as glorious. Here's a very simple simmering potpourri recipe that is sure to provide your home with the perfect autumn ambience.
Save fall fruit peels (think orange, tangerine, and apple) in a covered bowl. Puncture the orange and tangerine skin with whole cloves if you'd like. If you have apples or oranges that are past their prime, use these instead of tossing them in the trash or compost.
Fill a slow cooker, pot, or tea kettle with water, bringing it to a boil, then turning down to a simmer. Next, add your desired ingredients. I prefer to use the just-mentioned fruit peels with cloves, cinnamon sticks or ground cinnamon, pumpkin pie spice, and vanilla. Get creative – toss in whatever seasonal spices that you like. The only perfect recipe is the one that you like the best! While simmering, refill with water about every 30 to 45 minutes, bringing the mixture to a boil again before cutting it down. Just be sure to check the water level regularly, because burned orange peels don't smell very good! You will be able to use this mixture for about a week.
THE SCENTS OF CHRISTMAS
The scents of Christmas are intoxicating and simmering potpourri certainly helps to set the mood for a wonderful holiday celebration. Many of the same ingredients can be used for this recipe that were used for the fall one. A favorite combo of mine includes fresh cranberries, an orange, cinnamon sticks, and nutmeg. Slice the orange into rounds and add to boiling water. Mix in a half bag of fresh cranberries, broken-in-half cinnamon sticks, and your desired amount of cloves. Simmer, and welcome Christmas into your home.
There are so many other ingredients that can be added: apple juice instead of water, essential oils, dried fruit peels, almond extract, coffee beans, cardamon pods, pine needles, star anise, and more – the options are only as endless as your imagination.
As an added bonus, this makes a great gift for neighbors, coworkers, and family and friends. Simply combine the ingredients in a pretty jar, and tie a festive ribbon and handwritten instructions or a sweet note onto it. Within minutes you have created a scent-sational gift full of holiday memories to share with others.
NOT JUST FOR fall
Simmering potpourri doesn't have to be restricted to the fall or at Christmas. Why not continue the tradition throughout the year? Numerous recipes can be created using lemons and limes, lavender, rosemary, and so many other fresh and dried herbs. One of my favorite ways to fill my home with a wonderful, just-cleaned scent during the warm spring and summer months is by simmering a potpourri comprised of a sliced lemon, two sprigs of fresh rosemary, and a teaspoon of vanilla.
When it comes to filling my home with wonderful aromas, I will always love my beautifully scented candles and delicious essential oil combinations. But there is something so special, nostalgic, and "homey" about simmering potpourri, especially in fall. Experiment with different spices and ingredients. Make it your own, enjoy the aroma, and make new memories.
Dolores Riggins
Co-owner of Southern Suds & Gifts, located at 213 S. White St. in Downtown Wake Forest, featuring over 35 craftsmen and artists.