Forgotten Edible Treasures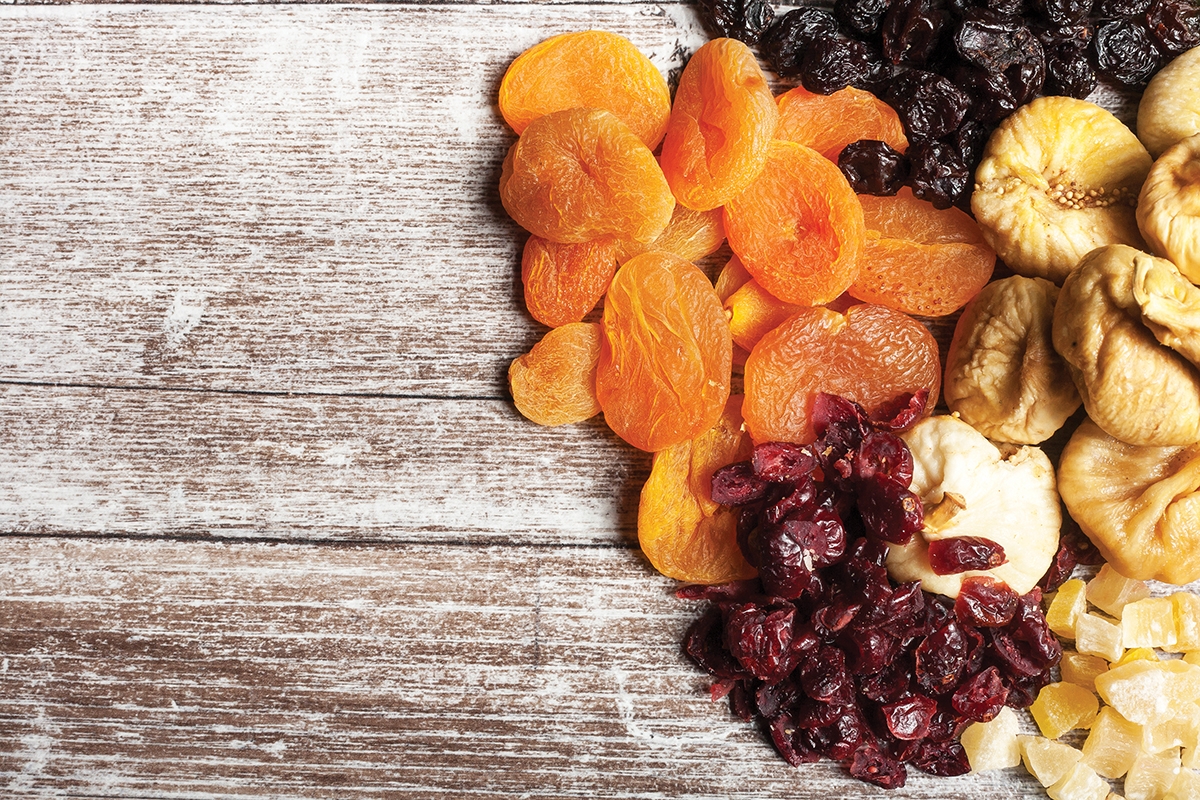 The new year brings so much hope and promise, and I'm sure by now, your resolution list is posted with prominence on your fridge. If you are like me, you've probably given yourself some lofty goals that may not be as realistic as you'd like them to be. With our lives as hectic and stressful as they are – between work, family, and other responsibilities – I resolved this year to keep it simple and hopefully make it fun for me and my family.
Even if you claim to have an adventurous palate, there are probably a few foods in your pantry that require some thought as to how to use them. I'm willing to bet you'll find some dried fruits or trail mixes in there that you might have relegated to the back, next to the dried mushrooms you bought on a whim last year. Sauces, jams, and jellies that you purchased at that cute little kitchen store while on vacation can all provide a fun accent to kick up your winter meals and get you thinking outside the food prep box. The added bonus is that you will also do a little pantry inventory, and maybe even reorganize it a bit – isn't that on your resolution list anyway?
First up – trail mix, dried fruit, and all those leftover nuts from the holidays. Trail mix can make a wonderful cookie! Just take your favorite chocolate chip cookie recipe and substitute trail mix for the chocolate chips and nuts. These tasty treats make a great afterschool snack for your little ones – and you're sneaking in some protein along the way! Those leftover nuts can be finely chopped and used as a coating for chicken breasts or fish, adding a nutty crunch and fantastic flavor to your meal. You can also mix them with panko, bread crumbs, or even cornflakes for a great crunchy coating for homemade oven-baked chicken strips that your kids will devour.
Dried fruit is a favorite ingredient of everyone in my house and I keep them on hand most of the time. They can be chopped up and mixed in with cashews for a great snacking treat or paired with cocktails. Dried apricots are a fun and tasty addition to traditional desserts – simply add just a crumble of goat cheese and a few chopped pistachios. Dried mango, apricots, bananas, and peaches are delicious when dipped in a bit of melted chocolate.
In your pantry recon mission, you may have discovered dried plums or figs. Don't toss them aside! Instead, break out a bottle of wine or port – soaking them in a little wine or other liquid will plump them up and make them part of a delightful stuffing for pork or chicken. One of my favorite pork recipes is filled with port wine figs or plums, onions, and blue cheese (see recipe) – a beautiful, delicious, and easy culinary creation. Dried fruits are also appetizing when chopped up and added to wild rice during the last few minutes of cooking. They plump up nicely and add great texture and flavor to your meal. Dried fruits also pair marvelously with different cheeses, so mix a few together to stuff chicken breasts and turn an ordinary dish into something extraordinary. Goat cheese with peaches or apricots, blue cheese with dried pears, or sharp cheddar with apples all make delectable combinations.
Jams, jellies, and sauces provide a wonderful opportunity to infuse flavor and create the perfect finishing touch to your meal. The stuffed chicken you've just created can be brushed with a bit of jam to create a stunning glaze and golden sheen. Just brush it on a couple of times during the last half of the cooking time – because of the high sugar content, you should cook at temperatures below 350 degrees so it doesn't burn. Marmalades and chunkier jams can be added to wild rice just before serving to add a hint of sweetness and flavor. Try stirring in a handful of dried sweet cranberries and a tablespoon or two of orange marmalade to wild rice – so yummy! Splurge on a loaf of crusty artisan bread for toast with a smattering of that same marmalade, or perhaps passion fruit jam. Add a slice of brie or Havarti cheese and pop under the broiler to melt said cheese for a decadent treat that beats plain old toast any day of the week. Most jams can be melted on the stove and drizzled over cheeses, chicken, or fish –
and even your favorite ice cream, for an instant sauce that will add great color and the perfect end to your meal.
However you choose to use them, enjoy experimenting with these forgotten edible treasures. You'll continue to amaze yourself with your creativity and culinary genius.
STUFFED PORK LOIN
– 1 pork tenderloin
– ½ cup dried figs or plums, soaked overnight in ½ cup port wine (or your favorite red wine)
– ½ cup chopped sweet onions
– ½ cup crumbled blue cheese
– Plum or fig preserves for glazing
– Salt and pepper
Preheat oven to 325 degrees. Lay pork out and cut a slit lengthwise from end to end, being careful not to go all the way through. Open the pork and lightly pound with a meat mallet to lay flat.
Chop figs or plums coarsely and mix with the onions and blue cheese. Place mixture down the center of the pork and roll the pork around the stuffing. Tie pork with kitchen twine and place in a shallow roasting pan. Salt and pepper to taste.
Melt about ¼ cup of the preserves on the stove and baste the pork lightly. Bake for about 30 minutes, basting with jam every 10 minutes until pork is done (you'll want an internal temperature of 135-140 degrees). Delicious when served with wild rice and roasted asparagus.
Stacey Moritz
Owner of The Lemon Tree Cafe, located at 113 S. White St. in Downtown Wake Forest, offering freshly prepared salads, pastas, soups, and take-away fare.