Feeding Our Community
Food Pantry Feeds Father Of Three ... And Changes His Life Forever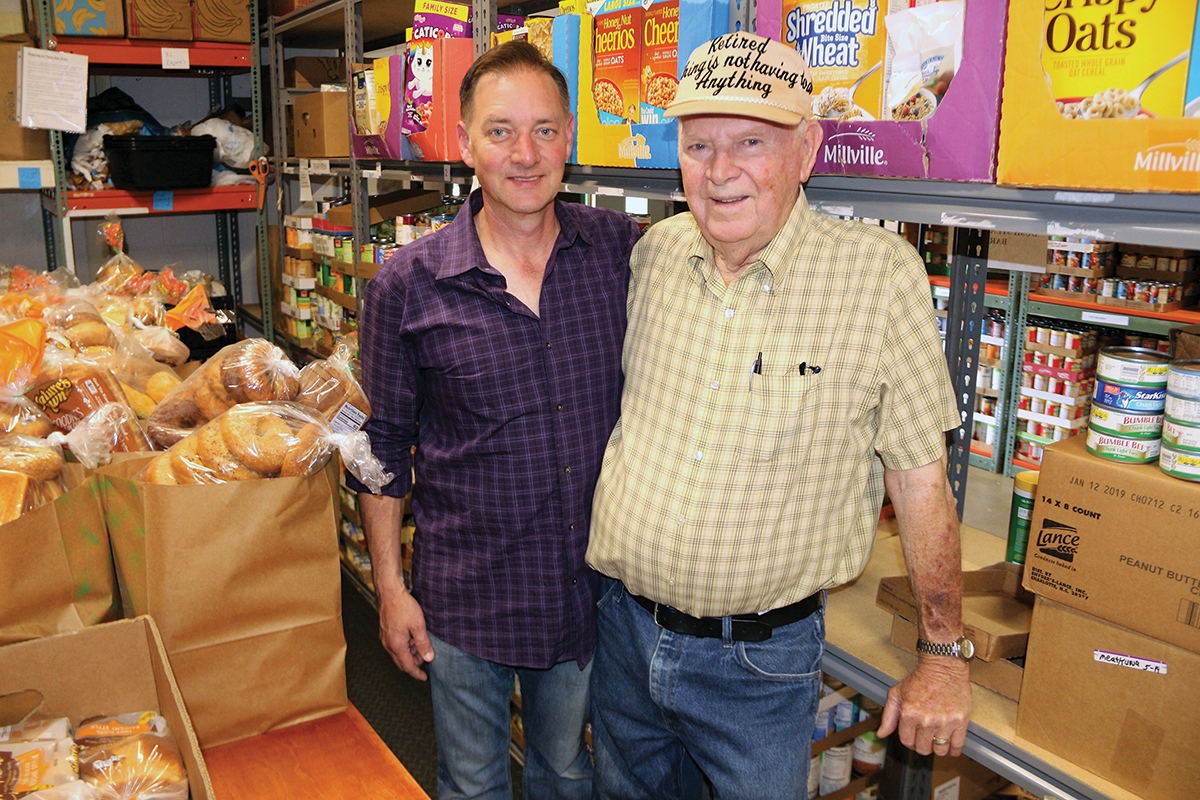 A few years after moving to Wake Forest with his wife and three young daughters, Patrick Fiore lost his well-paying job and found himself in line at the Tri-Area Ministry Food Pantry (TAMFP) in need of food to feed his young family. "I call it a life-changing line," Patrick explained. The experience made him a better person and an advocate for the food insecure.
After having lost his job in 2007 when his employer sold to another company, Patrick and his family were getting by with support from his parents and his church; but with no one hiring, their situation grew worse. After church one Sunday, Patrick noticed in the lobby a beat-up box with a little food in it, and a sign reading, "Food for the Poor." He was told it was a collection for the local food pantry. The priest said he could take anything in it, but Patrick was too proud to do so. After being told about Tri-Area Ministry Food Pantry by a friend and the priest, Patrick eventually decided to go.
When Patrick went to pick up his food, he felt angry and ashamed. Pitying himself, he noticed one of the TAMFP volunteers who smiled and greeted each person waiting in line. "His smile felt like a hug and he put everyone at ease," Patrick shared. "I learned he was a long-time volunteer and Board member. His name was Lewis, and he was the inspiration of what I wanted to be. At that moment, I changed my attitude. I wanted to get everyone out of that line. I wanted to make a difference just like Lewis did." When Patrick got his food, he thanked Lewis and said, "I'm going to give back to the food pantry 100 times." Lewis looked at him and just smiled. He likely had heard the same thing said many times before.
On Patrick's next trip to TAMFP, Lewis had bad news. Clients could only receive food one time per month and Patrick would have to wait to return in a few weeks. "He was still very kind, and this motivated me to do more for the food pantry, even though I was a client myself," Patrick said.
It took two years for Patrick to find a job, but in the meantime, he found ways to give back. That old box his church used to collect donations became a beautiful, painted wooden crate built by his daughter's Girl Scout Troop #1820. He began diligently promoting the food pantry in his church bulletin, and when the donation box was full, he delivered it to TAMFP. "I forgot about me and was living off the wonderful feeling of doing for others," Patrick said. His wife and girls were soon involved in helping deliver cans and non-perishable items to TAMFP. They loved seeing Lewis – a Wake Forest native who retired from his position after volunteering at the pantry for nearly 30 years – who would always give the girls candy.
Ellen Kilberg, a volunteer who serves as director of community relations, says coming to the food pantry can be a humbling experience, but the volunteers try to make it as comfortable as possible for visitors. They certainly did that for Patrick. Today, he works two jobs, his three teenage daughters learned from their dad the importance of giving back, and all still solicit food donations for TAMFP.
TAMFP, located at 149 E. Holding Avenue in Wake Forest, is a non-profit, non-denominational, 100 percent volunteer organization serving the towns of Wake Forest, Rolesville, Youngsville, and surrounding areas in Wake County. Food is distributed on Mondays and Wednesdays from 9:00 AM - 12:30 PM and the third Saturday of each month from 9:00 AM – 11:00 AM. Clients can receive food donations once a month. Individuals, community organizations, and churches give both financial support and food donations (and although we often think of donating around the holiday season, when giving is top-of-mind, please try to donate during the summer season as well, and all year-long). Last year, during its 30th year as a nonprofit, TAMFP served 8,524 families with 220 tons of food. In addition to non-perishable staples, clients also received fresh vegetables, bread, butter, eggs, and meat, along with baby diapers, feminine hygiene, and incontinence products.
Angela Bendorf Jamison
Special thanks to Jill Bright and Bright Funeral Home, one of the many sponsors of the TAMFP and their annual banquet ... her passion for the TAMFP helped inspire the writing of this story.