Falling For Squash
This Deliciously Versatile Root Veggie Is A Must For Your Fall Menu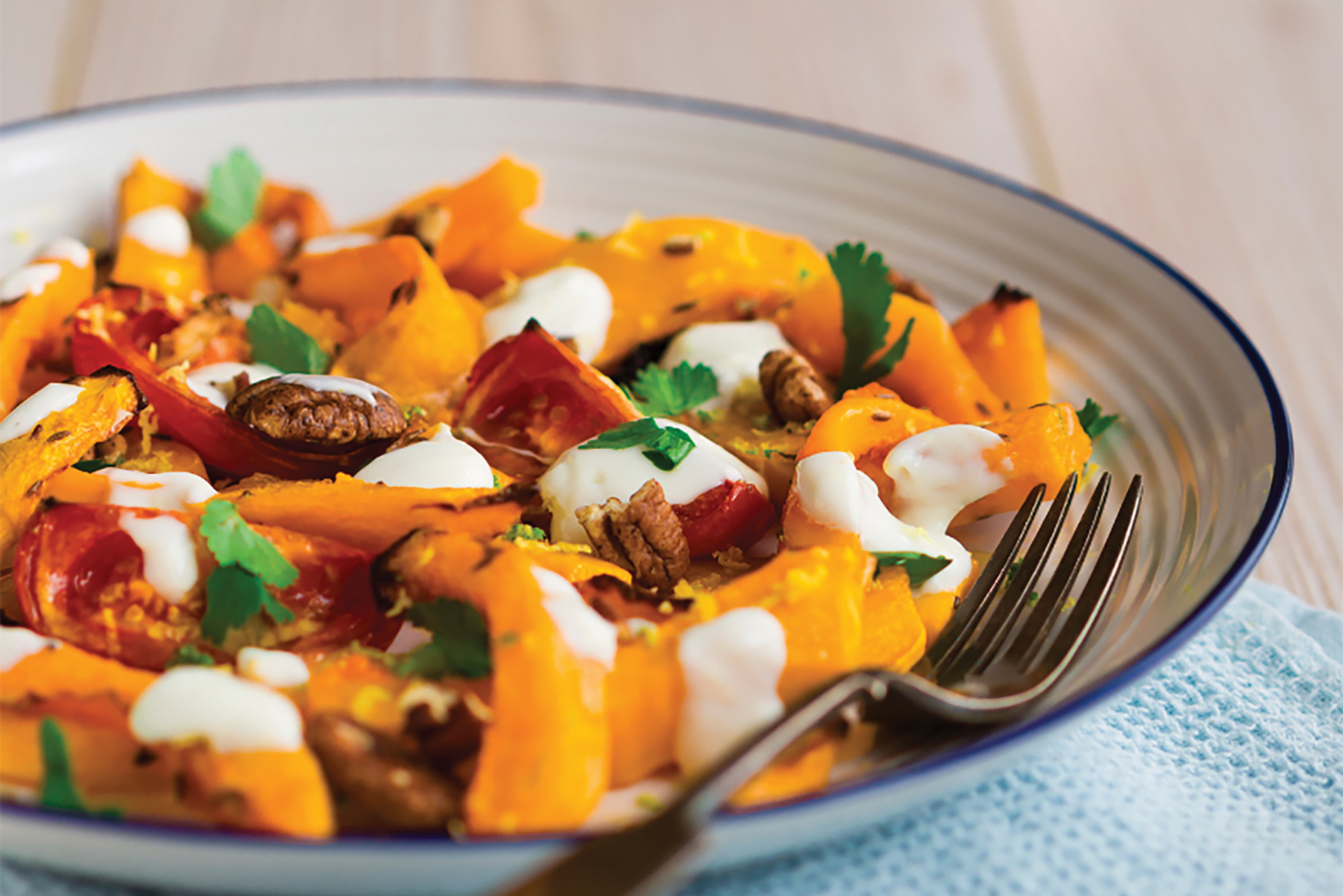 Autumn brings cooler weather, brilliant color, and a renewed desire to head into the kitchen and whip up some comfort food. As we enter the fall months, we crave hearty and savory creations that bring a welcome coziness to our tables. Nothing takes the chill out of the air better than the aroma of dinner roasting in the oven or simmering on the stove.
Fall dining is all about flavorful foods – and while we may still enjoy our meaty meals, many us have started to migrate our menus toward healthier, more plant-based options. While potatoes and other root vegetables may come to mind first, I'm here to share my favorite autumn staple – the delicious squash! There is a growing variety of squashes readily available in your farmers markets and grocery stores – with acorn, spaghetti, and butternut being the most popular and easiest to find. All are incredibly versatile and can be an ingredient, a side dish, or the base for a hearty entrée.
Roasted or simmering pulls the full flavor from your squash, offering a delightfully inherent sweetness that is the perfect ingredient to include in savory dishes. The natural sugars will caramelize, adding great depth to your dish. As an extra bonus, most varieties are colorful and packed with antioxidants and vitamins, making them a lovely and healthy addition to a multitude of menus.
If you are watching your carb intake this season, spaghetti squash is a great stand in for pasta. Cut the squash in half lengthwise and scoop out the seeds. Rub the cut sides with a little olive oil and a sprinkle of sea salt and pepper and roast, cut side down, in the oven at 350 degrees for about 30 to 40 minutes, until the squash is tender. Let cool for about 10 minutes and simply take a fork and run it through the flesh of the squash – it will fall away in long strands just like spaghetti. Top with your favorite tomato sauce and freshly grated parmesan for a mouthwatering and quick meal on a busy weeknight. Spaghetti squash is also perfect for a tasty make-ahead casserole. Add chicken, broccoli, and alfredo sauce or roasted veggies with tomato sauce topped with a little mozzarella cheese. Mix together and pop it in the oven to meld the flavors for a great one-dish, carb-free fall meal your family is sure to love.
Acorn squash is ideal for stuffing, and this root veggie variety is a great option for vegetarians and meat lovers alike. Cut the squash in half and remove the seeds. Rub cut sides with a little olive oil and roast, cut side down, for about 20 minutes until just tender. Stuff your squash with your preferred mixture (my personal favorite is chicken sausage, sage, wild rice, cranberries, and pecans – for a vegan option, simply omit the sausage) and bake for an additional 20-30 minutes. Quinoa is also a great alternative to the rice.
Personally, butternut is my go-to squash on a crisp autumn evening. When shopping for butternut squash, you can find it already peeled, seeded, and cubed at most grocery stores, making it a very convenient option for the busy chef. I love incorporating butternut into soups, stews, and chilies, especially this time of year. But it also roasts beautifully in the oven when tossed with a little olive oil, salt, and pepper – a flavorful addition to salads and veggie side dishes. Butternut squash is great for sneaking in a little healthy goodness for the picky eaters in your home. Stir cooked squash into your favorite chili or spaghetti sauce, or mix it into your taco meat next Tuesday! It melts right in so those picky eaters will get an extra dose of healthy in their favorite dish without even knowing it.
Squash is also a great complement to dark leafy greens like kale, spinach, and collards. The contrast of the beautiful golden orange and the dark green creates a stunning dish for any dinner table. Pair roasted squash with your favorite that has been sauteed in olive oil, garlic, and onion until just tender. Add a little vegetable broth and a touch of cream, toss together with cooked pasta, and let it simmer just enough to blend the flavors. Plate and top with a handful of shaved parmesan for a quick and gorgeous dinner. For the meat lovers in your life, toss in some shredded chicken or cooked.
Roasted butternut also shines in traditional salads, giving this healthy meal option a seasonal kick. Kale or spinach are the perfect base; add apples, walnuts or pecans, red on-ion, dried figs, cherries, or cranberries, and toss with your favorite vinaigrette. Make it heartier by adding roasted chicken or chickpeas for protein or a handful of blue cheese or Manchego for a delicious flavor boost.
Root veggies provide fabulous fall flavor and a hearty helping of health benefits to your seasonal menu, so be sure to pick some up on your next grocery shopping or local farmers market visit. Here's hoping your dining table is full of family and friends this season and your plates are overflowing with color and goodness.
Stacey Moritz
Owner of The Lemon Tree Cafe, located at 113 S. White St. in Downtown Wake Forest, offering freshly prepared salads, pastas, soups, and take-away fare.