Fall Fun With Braces
Tricks For Navigating The Season's Treats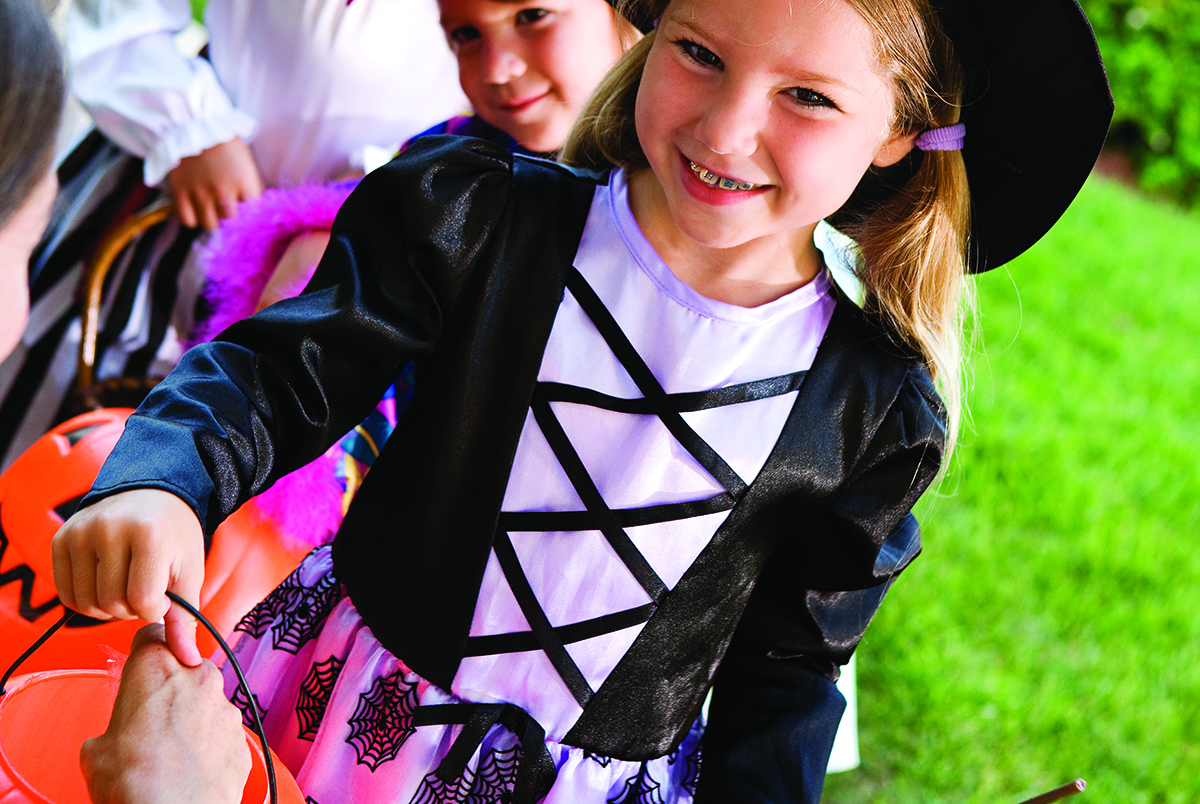 When your child or teen has braces, the fall season may seem a bit overwhelming with the North Carolina State Fair upon us, Halloween looming, and winter holidays quickly approaching. As parents, do we let them eat the candy that abounds this time of year and simply hope for the best, or encourage them to avoid sweets altogether? Most likely you want your child to enjoy these festivities, as do I; so by following these guidelines, he or she can enjoy the season while keeping his or her appliances secure.
– Avoid chewy, sticky, and hard candies. Sweet treats like Starbursts, candy corn, gum, Tootsie Rolls, Gobstoppers, and Airheads may be Halloween go-tos, but it's easy for them to become stuck between brackets or pop them off.
– Ditch the caramel. Even if it's in a soft candy bar, caramel is still sticky enough to cause serious damage.
– Switch it up. Hershey's Chocolate Bars and Kisses, plain M&Ms, 3 Musketeers, and gourmet chocolate bars are usually safe to eat. Reese's Cups and Reese's Pieces are great for the peanut butter lover.
– Make your own treats. If you're throwing a holiday party, there are plenty of fun, sweet, crowd-pleasing, and braces-safe options from which to choose. Some of my top-picks include cookies and cupcakes (have your guests decorate these themselves in the party's theme for added fun), pumpkin French Toast, pigs-in-a-blanket, and chocolate-dipped strawberries.
– Munch, don't crunch! A few of my favorite fair foods are fried Oreos, barbecue sundaes, and funnel cakes. Avoid cotton candy, candy apples, and corn on the cob to ensure dental appliances stay safe and secure. You don't want to leave all that fair fun to visit the orthodontist with a bracket emergency, do you?
Happy Fall, Brush Them All!
Since there seems to be a never-ending temptation of sweets and treats that aren't so good for the health of braces this time of year, one of the most important things to remember, and remind your kids about, is proper dental hygiene.
– Plaque is the enemy. The buildup of food debris – especially sweets, saliva, and bacteria – trapped around braces can cause cavities, swollen gums, and bad breath.
– Be sure to brush! Good hygiene while wearing braces is key. Brushing around all parts of the braces and every surface area of the teeth is extremely important to avoid permanent scars.
– Helpful tips and tricks. I recommend interproximal brushes to help with removing food around brackets and between teeth, fluoride toothpaste or rinse, and power toothbrushes to make brushing easier and more efficient.
Fall is a fun time for kids, and indulging in the season's abundance of candy and other sweets shouldn't be discouraged. The takeaway for sweet treats and those with braces is that they should be enjoyed in moderation, with a discriminating eye, and always be followed by good brushing techniques. By keeping these tips in mind, your child doesn't have to spend this season of sweets treat-free and instead, can enjoy all it has to offer.